Lenovo executives participated in two virtual sessions this week at the 2020 Women's Forum for the Economy and Society's Global Meeting, addressing fundamental issues highlighted on by the pandemic:
The New York Times Debate: Will Technology Save the World?
And a fireside chat titled Pandemic pivots: responding and recovering better.
As the only male voice on the panel, John Gordon, President, Commercial Internet of Things Group, Lenovo led the group advocating for technology. His argument in the Oxford-style debate pointed to how tech has enabled key advancements across industries, like healthcare and micro-finance, and has improved life for millions around the world. "I believe that technology will save the world because it creates opportunities, it expands our thinking and creativity, and it is the only way to solve some of our greatest problems."
He accentuated that holding a discussion in the middle of a pandemic demonstrated the power of tech to connect where prior pandemics drove people into isolation. The COVID-19 pandemic's effects mean that today students are learning remotely and people are working from home at unprecedented rates. Tech is creating opportunities in emerging markets in the world to include more people in the global economy. In Kenya, mobile banking is enabling remote financial management. Doctors are stretching their thinking for potential treatments with assistive technologies. And tech could reverse some the world's most challenging issues, like sustainable farming that aims to recapture carbon and reverse global warming. The team also captured the unprecedented speed and scale at which problems can be solved citing the sequencing of the COVID-19 virus genome in January. Since then, genome sequencing enabled by supercomputing has fostered collaboration and is helping to provide a vaccine in record time. He articulated how companies like Lenovo have a responsibility to deliver smarter technology for all as our Chief Marketing Officer Gina Qiao talks about in her article on how the brand serves as a North Star for the business. This is our part and lasting contribution in building an inclusive, trustworthy, and sustainable digital society.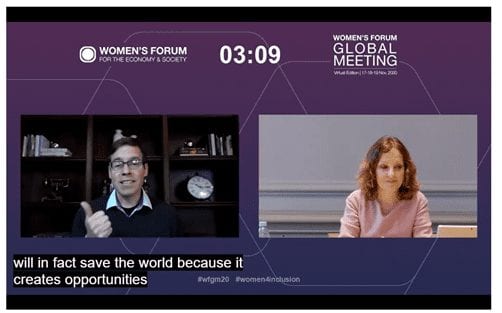 The against side argued for how tech fails to reach its potential for good and the need for regulation and responsibility from businesses and governments. They articulated how technology as a powerful tool can be used best when it is designed and implemented free from bias from diverse teams with checks and balances in place for how it's used. They argued the human factor cannot be ignored and a responsibility rests on the systems that implement it, and highlighted that the cost of innovation must be considered. In order for technology to create a better world, the team argued that there must first be a framework to address technology's manifestation within human belief systems. While both sides pointed out important considerations, the pro technology side won the debate.
In her session, Emily Ketchen, Chief Marketing Officer and Vice President, PC & Smart Devices, Lenovo, addressed the impacts of the pandemic on women in business and how Lenovo has helped support women employees who are balancing work and caregiving. She articulated the importance of choice, not chance, in determining your destiny and how technology has enabled her to make her own choices, such as transitioning into her new role at Lenovo which she began just two months ago during the pandemic.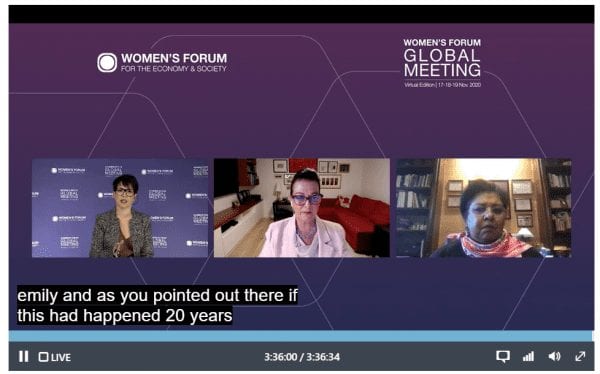 She described how workplaces can best support women in work-life integration by offering, "truly flexible work time and empowering and entrusting women in the workforce to design their own work day, have it work for them and managing to the outcome, not measuring hours spent on the work." Providing employees with the right technology to work from anywhere is also key.
The session focused on how leaders can encourage empathy by role-modeling imperfection, lifting other women up, and showing vulnerability. Key takeaways for women leaders included:
Have a responsibility to be educated on your unconscious biases and make conscious choices
Ensure other women have opportunities and use the power of sponsorship
"Be generous with your time, thoughts, and together we rise. Inclusion elevates all."