Lenovo just released Lenovo Smart Tabs, a new category of 2-in-1 tablets which turn into full-function smart screens with Amazon Alexa. They're a must-have for families and households and is remarkably simple to set up. Just place the Lenovo Smart Tab into the complimentary Lenovo Smart Dock, and the tablet transforms into a "Show Mode" smart screen device, with full-screen visuals and crisp, room-filling sound that complements Alexa's responses from nearly anywhere in the room.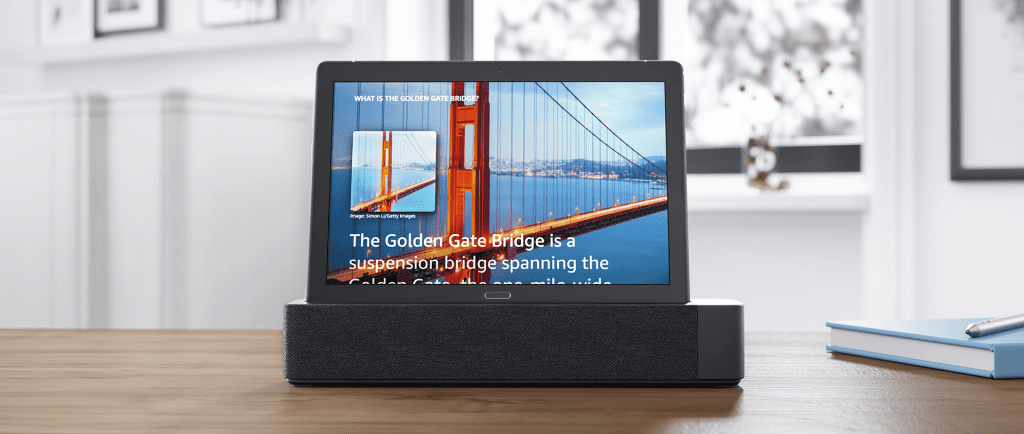 With Lenovo Smart Tabs, households now have access to a fully-featured AndroidTM tablet that doubles as a hub for your smart home devices. That capability makes this new 2-in-1 tablet plus smart dock much more than the sum of its parts, opening up new and exciting ways to make households easier to manage. To get started, here are 10 things you can do with Lenovo Smart Tabs:
1. Do more with your tablet at home and on the road
We believe that tablets and smart home hubs really complement each other: We talk to our hubs continually throughout the day while at home, but spend less than one continuous hour every day on our tablets.1 We also take tablets on the road (especially with kids).
So when you've got a Lenovo Smart Tab, you can come home after a trip with the kids, place it onto the charging dock, and just get on with your day—the tablet automatically charges with pogo pin connectors while turning on Alexa Show Mode. You can then ask Alexa to tell you the latest news updates, show your calendar or turn on Prime Video™. It's always there if you need it.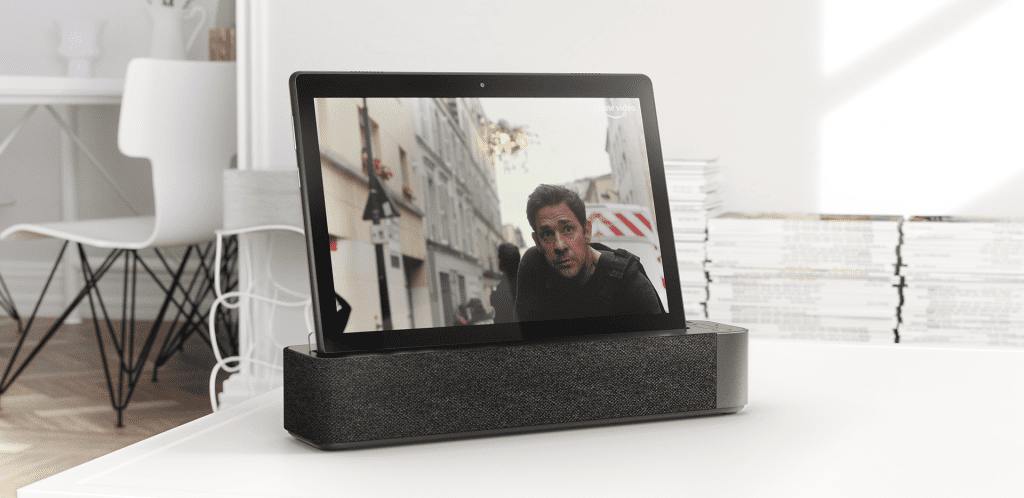 2. Keep an eye on everything with a bright and beautiful 10-inch screen
Another nice advantage of having the Lenovo Smart Tab as your smart screen is that now you've got a brilliant 10-inch full HD (FHD) screen to look at your home security feeds.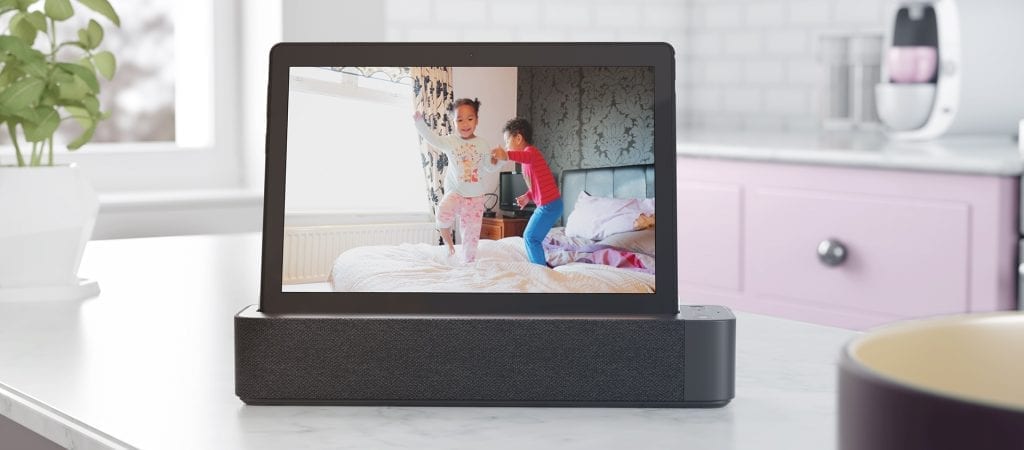 That makes a huge difference when you want to get a better view of what's happening on the front porch at night (when things get a bit too loud) or when you want to check up on what your toddler is up to in the living room (when things get a bit too quiet).
3. Access powerful audio and song lyrics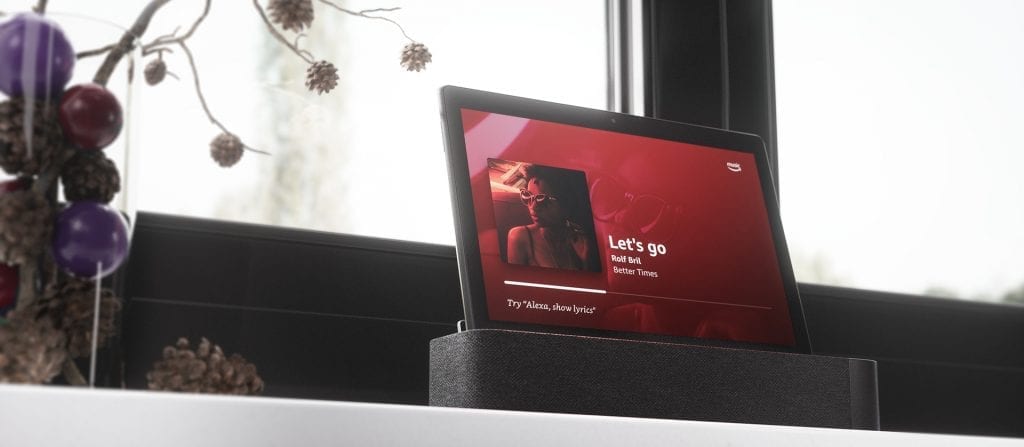 Lenovo Smart Tabs don't compromise a bit on sound either. When docked, they pump audio through full-range stereo speakers that ring out with ultra clear audio tuned by Dolby® for cinematic sound. Stream movies and shows from Prime Video or on your favorite media apps. Catch up on the newest podcasts or listen to your favorite track with Amazon Music™, and watch as the lyrics flash across the FHD screen.
4. See and hear answers, from near or far
Another advantage of having a large screen and powerful audio on your smart screen is being able to both see and hear, from nearly anywhere in the room, the information you ask Alexa for. It doesn't matter where you are, the Lenovo Smart Tabs feature three far-field microphones that can pick up your voice from as far as across the room.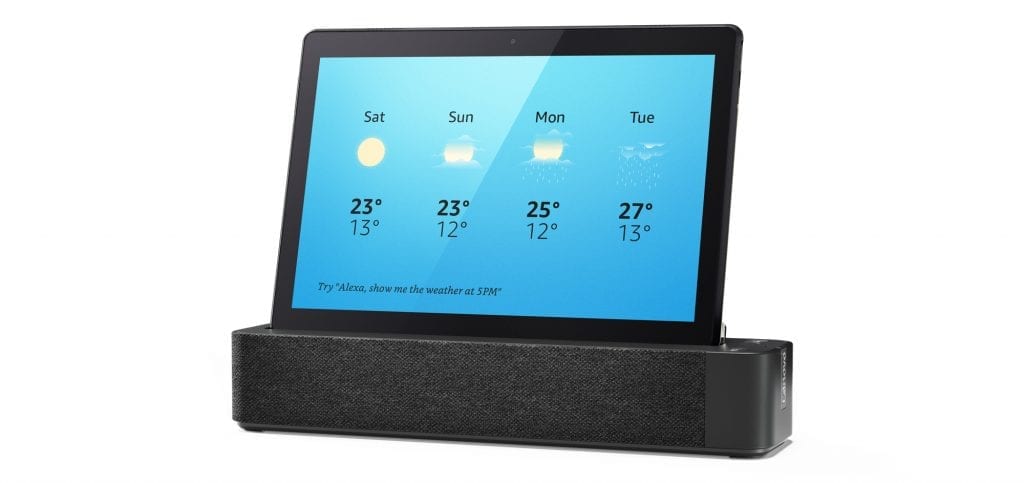 Ask Alexa for the weather, traffic or your calendar and then glance at the screen from afar. There are visuals that complement her responses, which is particularly helpful when you're running around busy with other things.
5. Get all the kitchen help you'll ever need
How can you learn to make tons of delicious food without first seeing some mouth-watering pictures of the final dish? The kitchen is where the Lenovo Smart Tabs really shine, and they're designed to completely change the way you cook.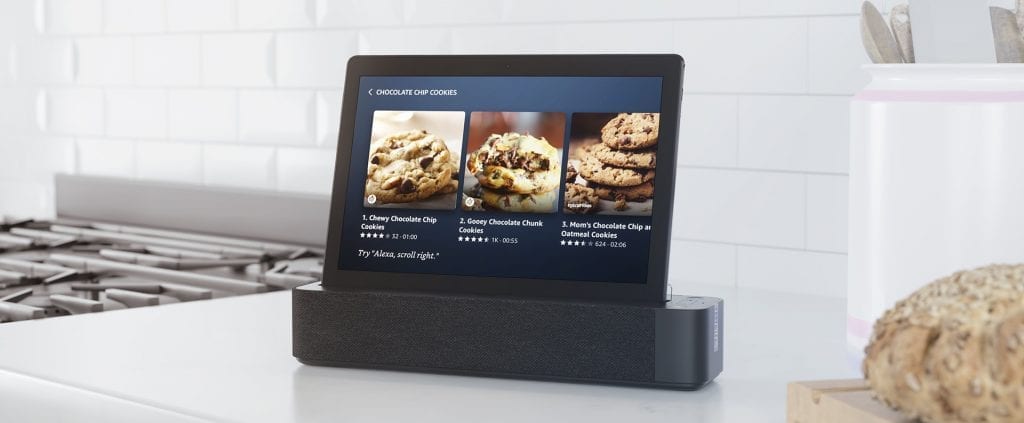 Armed with handy smart screens, budding chefs can ask Alexa to show instructional videos from the Food Network® on how to make vegetarian pasta, for example. You can also search for recipes by ingredient or dish. Once you find something you like, just ask Alexa to buy the ingredients you need.
6. Seamless, continuous media experiences between modes
The Lenovo Smart Tabs are built to excel in two modes: As tablets and as smart screens. That means it's easy switching from one mode to the other, especially when running multimedia applications. In most instances, you can continue what you're doing from one mode to the next without missing a beat.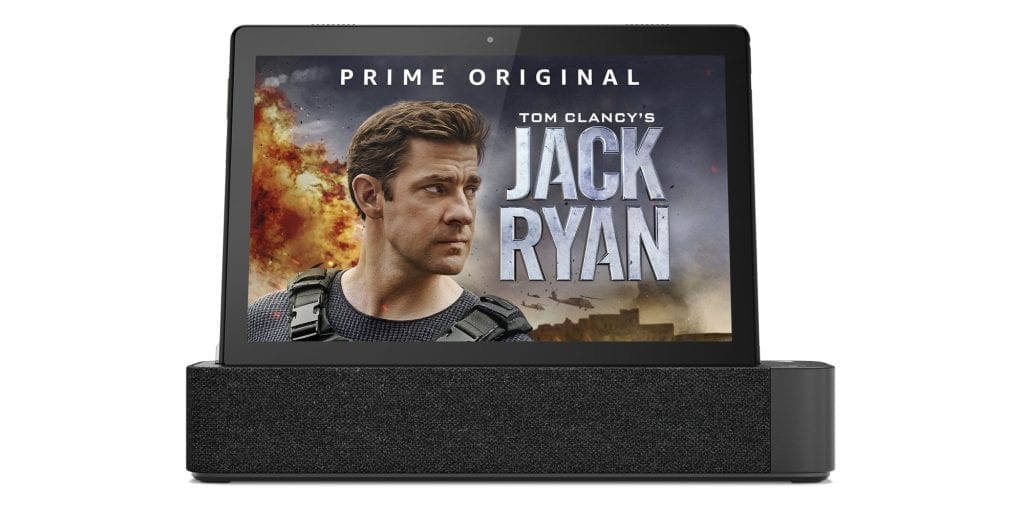 Binging the latest Tom Clancy's Jack Ryan™ episode on Amazon Prime video? Dock the Lenovo Smart Tab to enhance the audio and start that meal prepping you've been contemplating for the past hour. When you're done, pick the tablet back up and continue watching your show on your couch. No pauses, just virtually seamless streaming.
7. Share devices more easily
The Lenovo Smart Tab is intended for multiple household users, which means that every member of the family can create their own profile on the tablet. Log into your own environment with custom wallpapers, settings, apps, games and personal files. All that content is completely separate from your spouse, siblings or kids.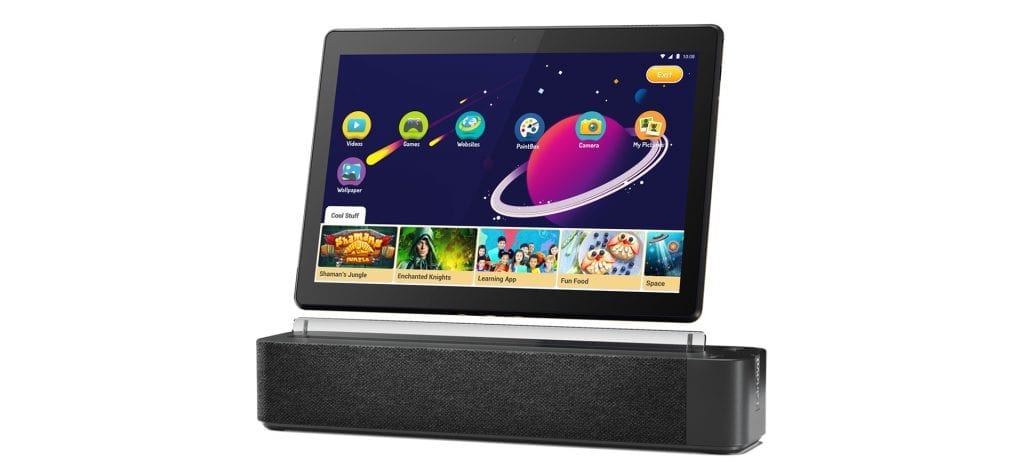 The optional ultra-fast fingerprint sensor2 also gives you access to your settings with just a tap of your finger, and a special kid's mode comes with up-to-date, curated children's content.
8. Show it off to friends
Besides being your latest conversation piece for dinner parties, the Lenovo Smart Tab also sports a head-turning design. Coming in two models, the Lenovo Smart Tab family includes the Lenovo Tab M10 in Slate Black or the Lenovo Tab P10 in Aurora Black.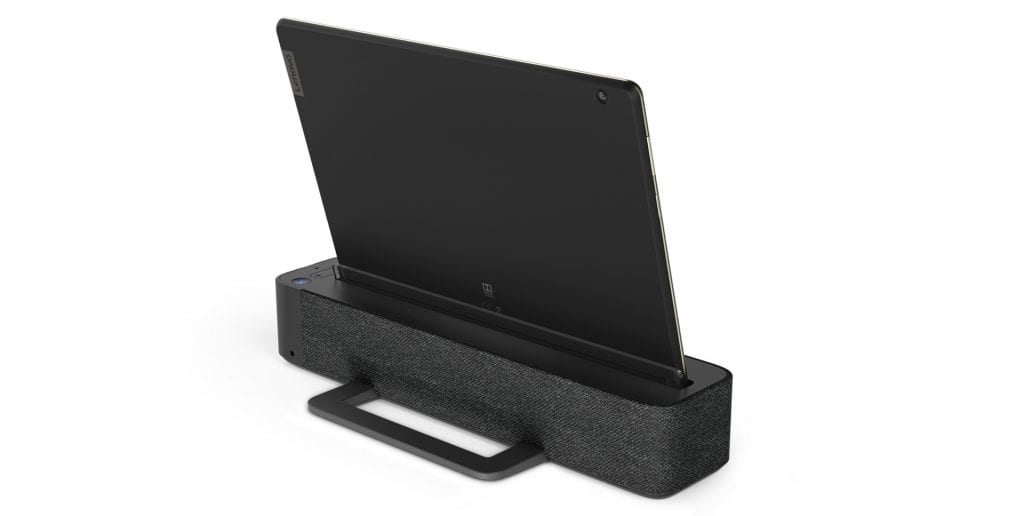 In particular, the Lenovo Smart Tab P10 redefines what a tablet can look like with its dual-glass design, all-metal framing and narrow bezels in an ultra-slim and light profile (at 7mm thick and 440g). Its casing also gives off a stunning aurora reflection design as you turn it in the light.
9. Window-shop, with your voice
Shopping with Alexa is easy, and the Lenovo Smart Tab allows you to see her recommendations, check on delivery status and more. Just ask "Alexa, find the best dog treats" or "Alexa, where's my stuff," and she will both tell and show you the answer.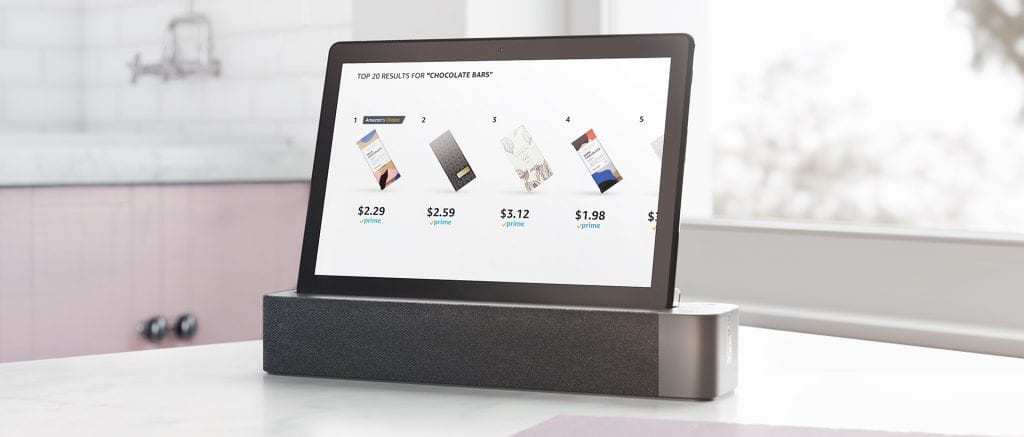 10. Watch flash briefings
Now you can say "Alexa, show me the news" and have your favorite broadcast network show you video clips minutes after they air on TV. Or, you can ask for a live feed of your go-to news outlet, with stock charts and market summaries – providing an immersive, interactive news experience each morning.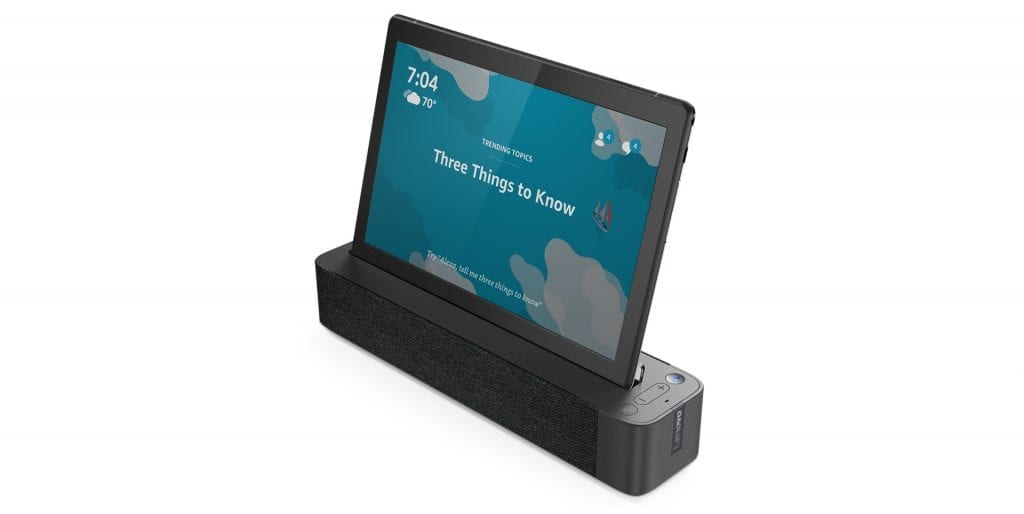 It's time for you to get more use out of your family tablet. With the new Lenovo Smart Tabs, you can now make hands-free video calls, improve your kitchen skills or take your smart home on the road. All you've got to do is ask.
Discover more at www.lenovo.com/CES and www.lenovo.com/smarttab.
CES 2019 press kit with images and full specs are available here.
Watch the product videos for more information:
Lenovo Smart Tab P10 with Amazon Alexa
Lenovo Smart Tab M10 with Amazon Alexa
U.S. Pricing and Availability3
Lenovo Smart Tab with Tab P10 is $299.99 with pre-orders available starting January 2019 on www.amazon.com and www.lenovo.com.3
Lenovo Smart Tab with Tab M10 is $199.99 with pre-orders available starting January 2019 on www.amazon.com and www.lenovo.com.3
1 Kleiner Perkins 2018 Internet Trends
2 Available only on the Lenovo Tab P10
3 Prices may not include tax and do not include shipping or options and are subject to change without notice; additional terms and conditions apply. Reseller prices may vary. On-shelf dates and color options may vary by geography and products may only be available in selected markets. All offers subject to availability. Lenovo reserves the right to alter product offerings, features and specifications at any time without notice.

LENOVO is a trademark of Lenovo. AMAZON, ALEXA, PRIME VIDEO and AMAZON MUSIC are trademarks of Amazon Technologies, Inc. Android is a trademark of Google LLC. DOLBY is a registered trademark of Dolby Laboratories, Inc. TOM CLANCY'S JACK RYAN is a trademark of Paramount Pictures Corporation. FOOD NETWORK is a trademark of Television Food Network, G.P. All other trademarks are the property of their respective owners. ©2019, Lenovo Group Limited.