I can't even remember the last time I woke up to the sound of an actual alarm clock, not saying I have anything against them, I just never thought I would need or want one since my phone has been my alarm for years and years.
That said, my perception about "wanting" or "needing" an alarm clock changed completely after experiencing the Lenovo Smart Clock. Let's just say telling time is only a fraction of what this smart clock can do.
Designed to complement your home
First, since I'm a designer, let me talk about the Lenovo Smart Clock design for a second. As a person that wants technology to do its thing and not be a distraction from life, I have a lot of respect for products that fit seamlessly into my décor.
The grey fabric that wraps beautifully around the tapered shape is exactly what I mean. It hides the speaker holes creating a more domestic, "homey" feel.
Every little detail to the rubberized buttons on top that you can feel but aren't distracting. It has a cute little display and a Lenovo "tag" that is perfectly integrated. Even the feet look good. When I put the smart clock on my side table next to my linen upholstered headboard, I gave it an "aww, you belong here".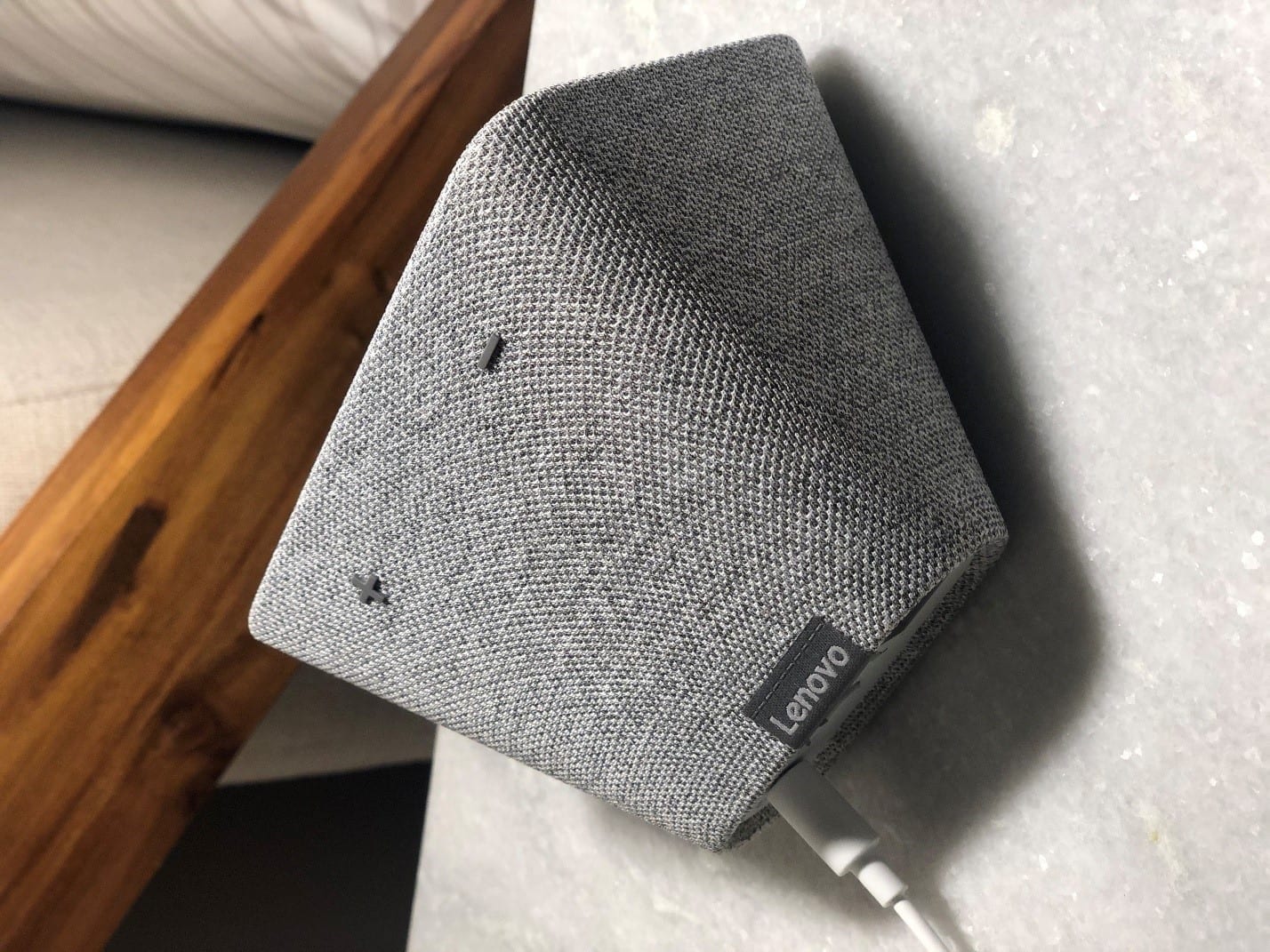 Perhaps it's the designer in me but I found the packaging quite beautiful – each piece neatly wrapped which made an enjoyable unboxing experience.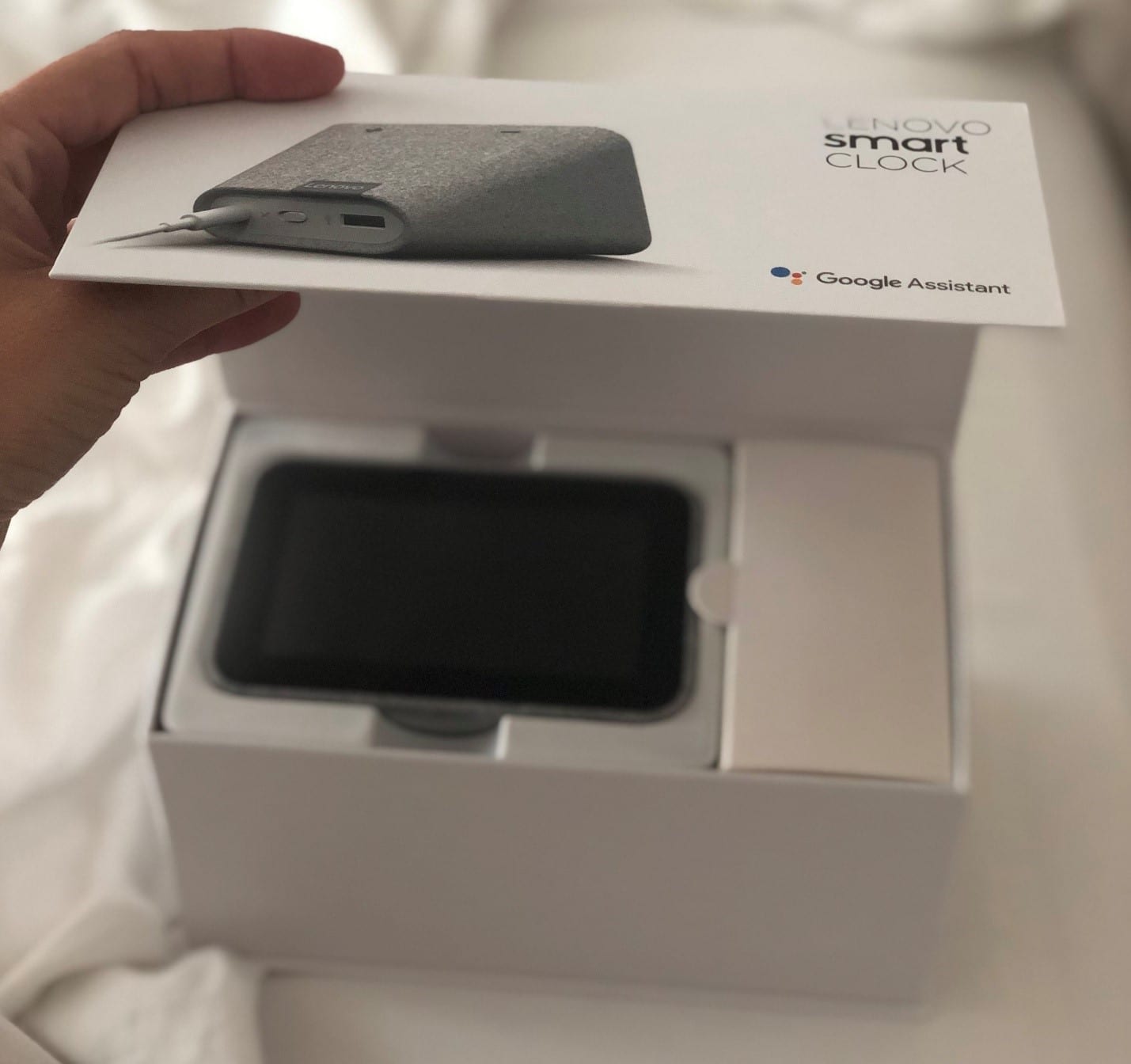 After that pleasant little experience came my least favorite part, the set-up. Even growing up, I remember not wanting to spend a lot of time setting up my toys – I'd rather just go play outside at that point. Fast forward to today, if a product takes too long or is too complicated to set up, I'm done. Back in the box, see you never.
However, with the Lenovo Smart Clock, I could not believe the seamless set up process. Seconds after I plugged the smart clock in, my phone found it via Bluetooth, the system performed some automatic updates and showed the cutest multi-colored numbers for the clock.
Play your favorite music
I immediately asked it to play music with the expectation that the sound quality would not be great given the size of the speaker. Yeah, not the case. I actually needed to lower the volume as I could just see my neighbors knocking at my door within minutes telling me to quiet down. I thought to myself, "okay, you have some pipes little guy."
Activate your routines
Initially I used it like my smart display in the kitchen. I would ask "Hey Google, what is the weather this morning?" One day, I looked through some of the settings and came across "routines". Now I've heard about this functionality before but let's be honest, what can it do that I really need it to do?
I decided to start with the good night routine and test the alarm clock. Once I opened the routine it had all sorts of options including what I say so I picked "Hey Google, I'm falling asleep". It then asked me what time it should set the alarm clock for and then I found out it can turn on and off the lights. Talk about a game changer.
A couple months back, I purchased a few smart plugs which enabled me to make commands with the Google Assistant to turn on and off all the lights in my living room right from my bedroom. But wait, my smart clock will do it automatically after it sets my alarm? Ok, now I'm intrigued.
I stayed up for another hour discovering all the fun routines that could be set up and I couldn't stop testing them. My favorite one happens in the morning. Once it plays the most peaceful alarm that gradually gets louder, I say "Hey Google, I'm up!".
Immediately it gives me the most pleasant "good morning!" and then proceeds to turn off my alarm, tell me the weather, my commute to work, it turns on my bedside light and starts playing my "relax" playlist.
You can even toggle the alarm setting so my morning starts automatically as soon as the alarm goes off.  It's a great feeling coming from a routine where I used to hit the snooze button on my phone a million times to a routine that makes me wake up perfectly every single morning.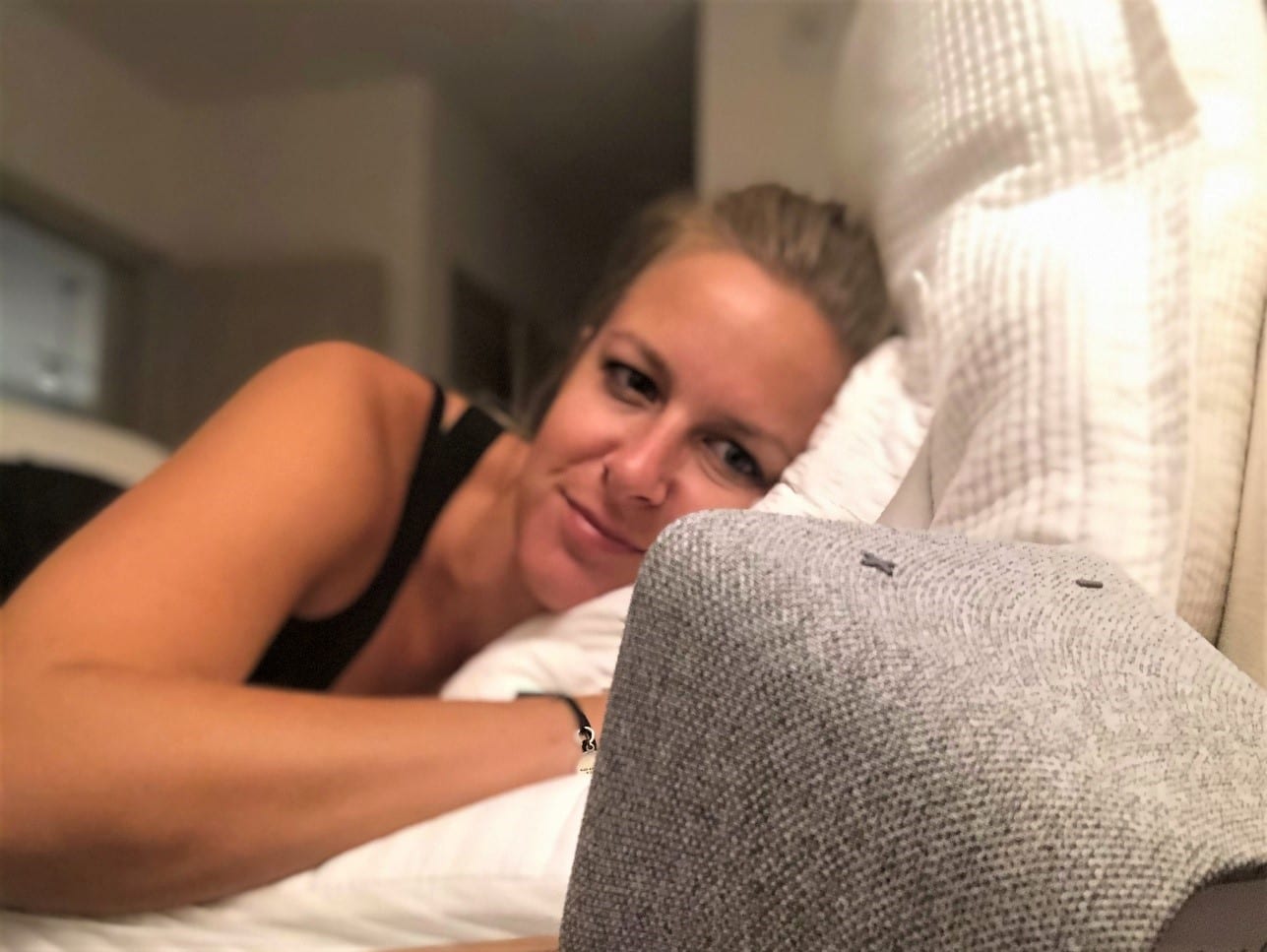 Turn on and off your lights
In addition, I've set up the "I'm home" routine that makes it turn on every light in my apartment and goodbye that turns them all off. It is simply amazing. I'm also pretty sure I haven't even begun to tap into its potential so I can't wait to see what else I can make it do.
I highly recommend the Lenovo Smart Clock to get started in creating your smart home. It's simple to grasp and I think there's something endearing about the throwback to an ole alarm clock. At first, I didn't think I would need or want one but the pleasant good mornings and all the possibilities have made it a must-have in my life.
In fact, I'm such a big fan that I bought my boyfriend the same setup for his birthday. If you want to talk about how fast the smart clock and smart display can get you addicted, he went from zero to a full smart home including bulbs, plugs, thermostats and light switches in a weekend.
Guess I'm not the only one that got tired of getting up to turn off the lights. So beware, purchase at your own risk and then once you get as lazy as I am but wake up with a smile, you'll thank me.
More about Ali
My name is Ali Ent, I'm part of the Experience Design Group at Lenovo. I started here as an Industrial Designer working on a wide range of things from the P series ThinkStations all the way to the Yoga C930. More recently, you'll find me telling the stories behind our products, presenting on stage and to our key retailers, doing videos… Really anything that gets me out from behind a desk. I get most of my work done after 5pm when everyone leaves because there's nobody left to socialize with. You can also find me on the first floor playing foosball.