U.S. K-12 education is a field dominated by women. Three quarters of teachers and district administrators are female. But according to a 2020 study, only a quarter of superintendents are women–a reality that affects the pipeline and network for prospective female leaders in public education.
Aware of this imbalance, the founders of Power Trip, a four-day summer retreat for 30 sitting and prospective female superintendents, sought to address the unique challenges of these leaders in achieving work-life balance while effectively transforming the modern learning environment in their districts. The inaugural Power Trip was hosted at Lake Austin Spa and Resort in 2019. The pandemic forced the 2020 event online, but Power Trip 2021, sponsored by Lenovo, happened in July, once again bringing female leaders from across the U.S. together in Austin to learn, network, and focus on wellness. In November, the group will reconvene online to share how they're continuing to grapple with leadership and pandemic challenges.
Marlo Gaddis, Chief Technology Officer of Wake County Public Schools in North Carolina said of the Power Trip experience: "As a female CTO, I experience microaggression, competition, and a lack of inclusion often in my work. I attend Big Deal Media's Power Trip to connect with other female education leaders with the intent to build a larger community of women in leadership that coach, recruit, mentor, and support one another. What we learn at Power Trip empowers us to model and grow leadership that is brave, vulnerable, and is led by the heart."
When the Lenovo Education team was invited by Marilyn Schutz of Big Deal Media to sponsor Power Trip 2021, Richard Henderson, Director of Global Education Strategy & Solutions at Lenovo, embraced the opportunity. "The Power Trip is right in line with Lenovo's focus on supporting women in leadership and Lenovo Education's role as a thought partner in digital transformation with school districts. Hearing from and supporting public education leaders through the summer retreat and follow up virtual conference is a win-win for attending districts and our team."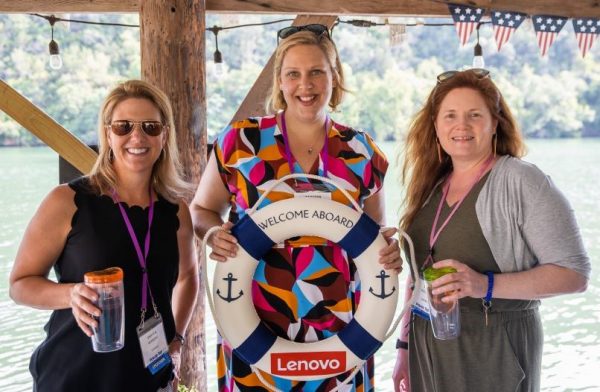 On the first day of the July retreat, Lenovo Education Solution Managers Delia DeCourcy and Shayla Rexrode facilitated "Designing Your Ideal Educational Ecosystem," a workshop to help leaders reflect on next steps in their districts' digital transformations and the role they will play with their teams in that change. "What struck me about the conversations during the workshop was leaders' awareness that transformation is required across their district's entire ecosystem–from the facilities department to the curriculum and instruction team. And that innovation must be rapid and ongoing, which can be tough when dealing with so many internal and external stakeholders," said DeCourcy. Rexrode's decision to focus the second half of the workshop on leadership style stemmed from the recent tumult caused by the pandemic. "Given all that educators have endured over the past year, it is important as leaders that we routinely take the time to reflect on our leadership style to ensure we are being highly effective leaders and multiplying those around us."
Last spring, Rexrode had attended a WILL (Women in Lenovo Leadership) webinar on burnout featuring Jennifer Broerman Spencer, Lenovo's Director of Executive Development. Spencer's dynamism, humor, and candor stayed with Rexrode, so when the Power Trip organizers offered Lenovo the keynote spot, Rexrode knew exactly who to put forward for the job.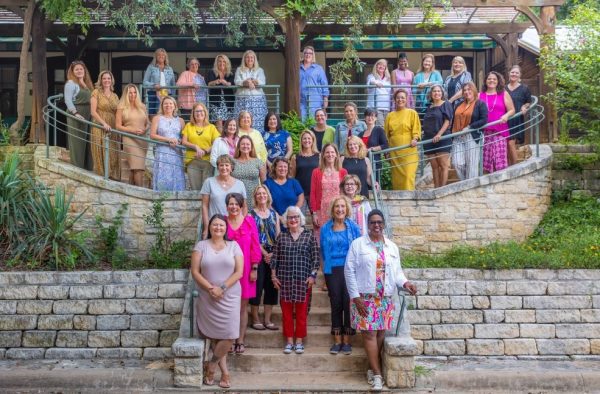 Spencer's keynote "How Are You Really Doing? Processing the Past to Move into the Future" provided leaders with practical strategies for dealing with the pandemic roller coaster, as well as how to prioritize balance and wellness so they can effectively support their teams. To alleviate chronic stress, we must complete the emotional cycle so feelings are fully processed and we can move past them. Strategies include regular exercise, focused breathing, creative self-expression, and laughter. Spencer also discussed ways of quieting the inner critic who sabotages confidence and productivity by practicing self-awareness and self-compassion.
The conversation was well timed–attendees' response to the address was overwhelmingly positive with women stopping Spencer throughout the remainder of the retreat to thank her. Spencer said of the experience: "The number of challenges this group has faced and overcome since the start of the pandemic is beyond overwhelming, and their work is not done. I am so grateful that Lenovo allowed me to give back to this group of amazing women who have dedicated their life's work to our children and communities. I get to live out my passion of positively impacting people both professionally and personally through my executive development role and volunteer work with WILL at Lenovo."
In addition to these formal learning sessions, the Lenovo team had the opportunity to "speed date" with tables of attendees, chat about current and future education challenges over meals and activities, and develop rapport during campfires and river cruises. These conversations will continue during the three-day November virtual event. DeCourcy and Rexrode will play an integral role in the design of those sessions, another invaluable opportunity to hear first-hand about the challenges that education leaders in the U.S. are facing and how Lenovo can help.