Lenovo spoke with Ducati Team Manager and former Superbike champion Davide Tardozzi about living life on the road and the importance of having the right technology along the way.
Every race day begins altogether the same for Davide Tardozzi: with a hot shot of espresso. It's little flourishes such as these — a cup of freshly roasted coffee, a big plate of pasta — that help normalize a life lived largely on the road as the team manager for Ducati Corse, the racing arm of the Italian motorcycle company. The MotoGP season is ten months long, meaning Tardozzi must leave his native Italy and bounce from racetrack to racetrack, hotel to hotel, for a whopping three-quarters of each year.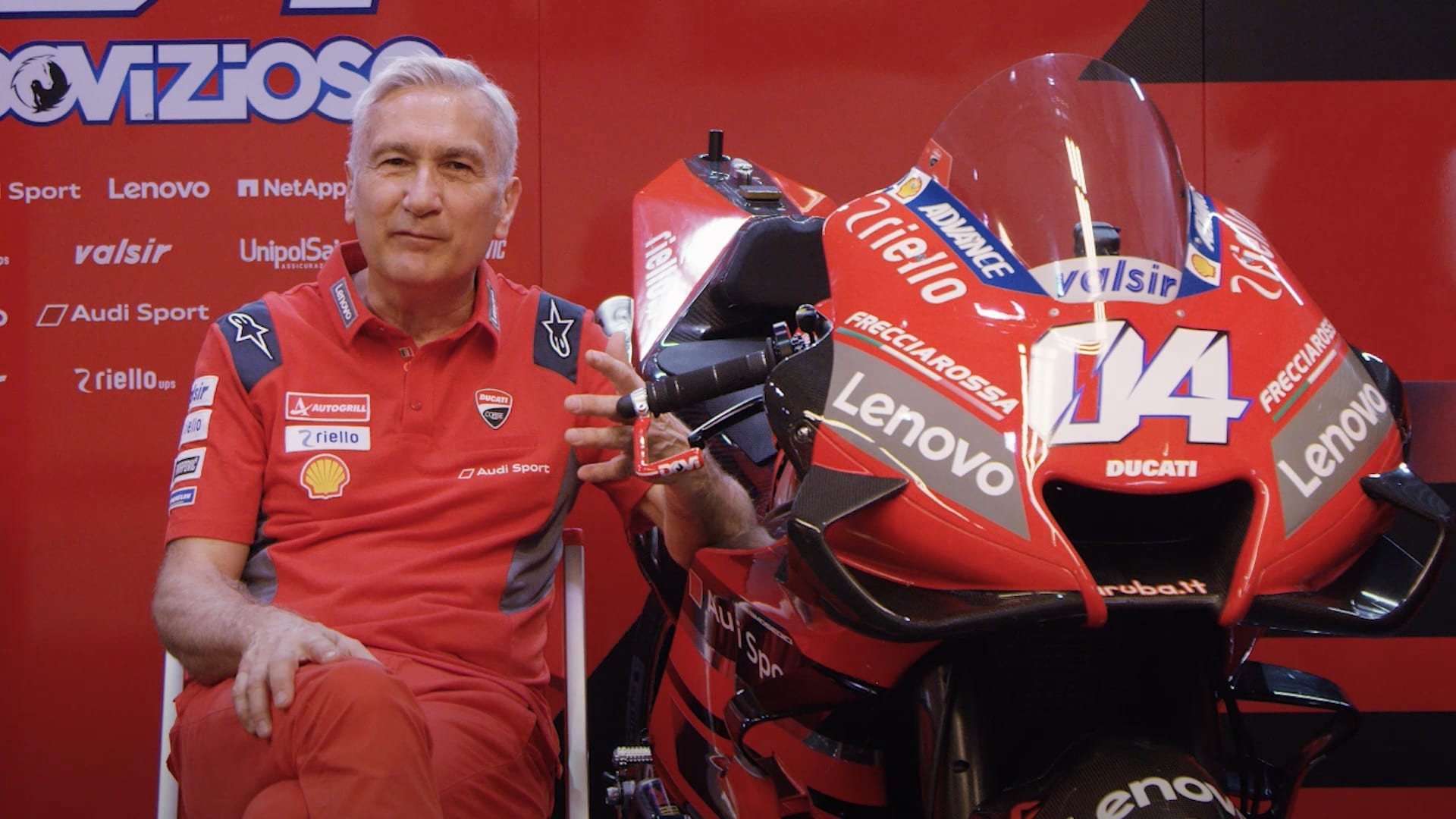 Tardozzi, 61, has been doing this work, in some capacity, since the early 1980s, when he debuted in the 250cc Grand Prix world championship. Since that debut more than forty years ago, Tardozzi has snagged dozens of titles as a Superbike champion. He's been with Ducati at least thirty of those years, starting first as a rider in 1989 before signing on as the Superbike team manager in 1993. As team manager, he's won more than eight Riders' Championships.
The rider comes first on race day for Tardozzi, but that brings with it challenges of its own kind. "I'm constantly sharing myself in different places and dealing with different problems, often all at the same moment," he said. "It can be stressful."
To manage the influx of data and inputs constantly being thrown his way, Tardozzi relies on his Lenovo ThinkPad. "My Lenovo computer is all my life and all my job," he said. "It goes to my office, my home, and of course to the racetrack."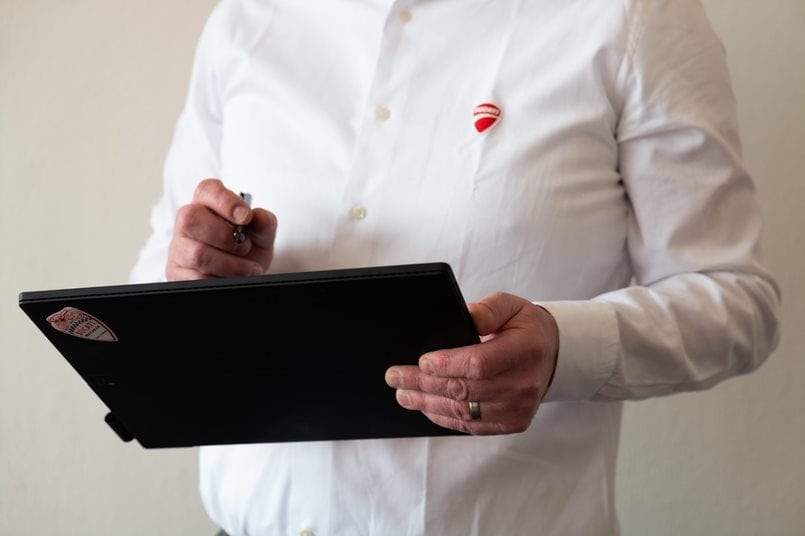 Judging by the energy with which Tardozzi flits from garage to track to paddock, the team manager seems incapable of slowing down. And after all, speed — along with those aforementioned espresso shots and carbs — is his bread and butter.
"My role is to be sure that nothing goes wrong and that everything is in the right place," Tardozzi said with a laugh. In addition, a large aspect of his job is managing the riders and "ensuring they're in a good mood before they go out on the track." A good race, he explains, begins with a good attitude.
Coaching the riders is no easy task. Much of Tardozzi's work involves mentally preparing each rider for the perils and exhilarations that await him on the track.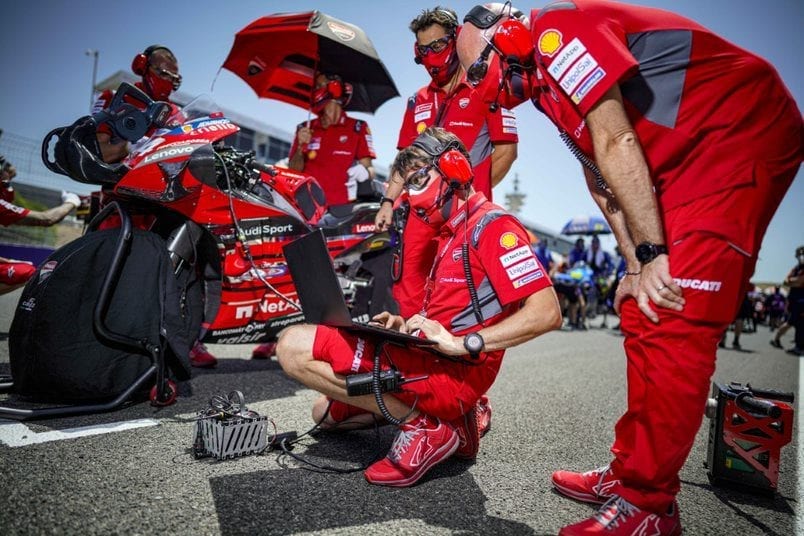 "You must know his weak points and target those, but also you must try not to get into his head too much," Tardozzi explained. "Being a good manager is all about saying a few words — and the right words — in the right moment."
A typical race day for Tardozzi starts at 7 a.m. with. From there, he leaves his hotel for the racetrack and checks on the mechanics in the garage, who tweak the bike ahead of each race. Then, his attention is turned to the rider.
"We start with a short meeting to discuss the day's event and to unpack any problems," he said. "Then, after a practice session, we talk about technical things before doing interviews with journalists. While all this is going on, the mechanics continue to work on the bikes, and I'm in touch with the event organizer (Dorna Sports) to relay any issues we might be having."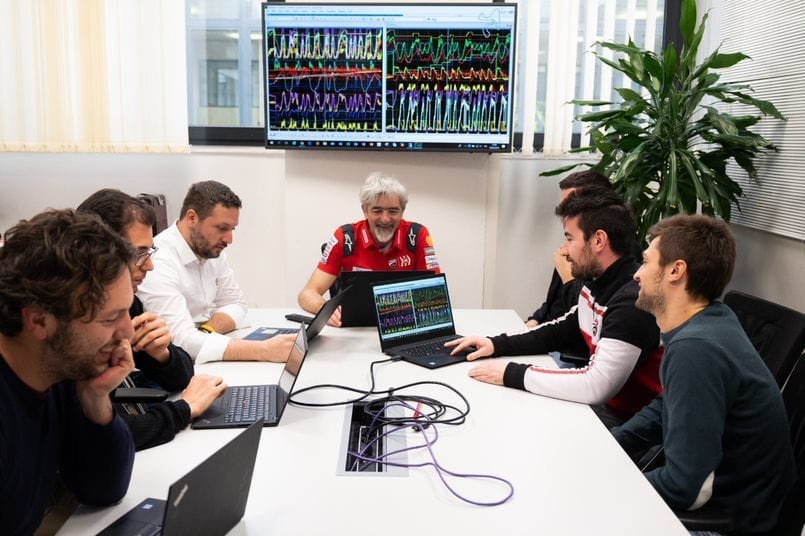 After the race and debriefs with the riders, Tardozzi and the team head to the team's hospitality unit for a shared meal. "Dinner altogether, always," Tardozzi stressed. "And always, always Italian food."
Technology, he stressed, helps make his overall job easier. "Lenovo is really bringing the team up," he said. "We are now known as the leader in electronics and technology — and without tech, the bike wouldn't go."
At the end of the day, making the bike go is the foremost concern of Tardozzi. "I have felt racing inside me ever since my era as a rider. And I still feel the rider inside. The only thing I understood when I stopped racing was what the rider was thinking and what we need to give him. Not what he asks for, but what he needs."