June 7, 2022 – Lenovo™ announced today at Infocomm® 2022 in Las Vegas the all new ThinkSmart™ One Smart Collaboration bar. Designed for small to medium meeting rooms or dedicated home office spaces, ThinkSmart One all-in-one (AIO) bar is the world's first running Windows 10 IoT Enterprise and powered by an embedded 11th Gen Intel® Core™ processor with vPro® technology. Supporting familiar video conferencing applications such as Microsoft Teams Rooms or Zoom Rooms2 , and featuring eight microphone arrays with echo and noise cancellation, 15-Watt stereo speakers and an integrated high-resolution camera with wide field of view, ThinkSmart One offers an exceptional audio-visual experience.

Furthermore, ThinkSmart One can be easily installed, managed and customized centrally through ThinkSmart Manager3 and offers enhanced security levels available with Intel vPro security and Windows 10 IoT Enterprise operating system. The AIO bar also includes the 10.1-inch touch screen ThinkSmart Controller, the same as provided with our Core room kits, for simple and easy control of meetings.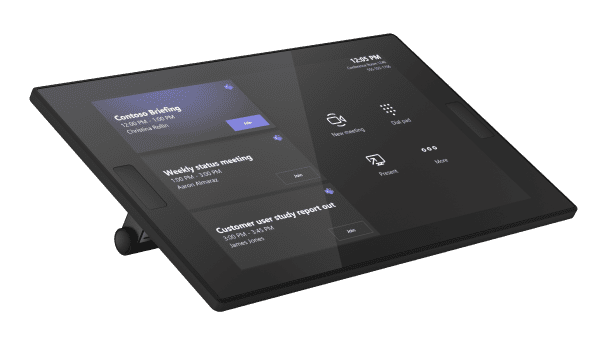 Purpose-built to anticipate a continued growth of hybrid meeting spaces as traditional offices are transformed into more dynamic and collaborative business centers, ThinkSmart One extends Lenovo's video conferencing and collaboration platforms that play a critical role in helping employee productivity and engagement.
ThinkSmart One Summary:
Exceptional and flexible experience from an all-in-one device that includes audio-visuals and compute built into the bar, wall mount option, and an easy-to-use separate touch screen controller
Innovative and scalable through multiple input and output ports including HDMI and USB, as well as 2 x RJ45, one of which features Power over Ethernet (PoE) for more adaptability
Immersive audio-visuals that feature eight microphones with 180-degree coverage, an FHD camera with 100-degree horizontal field-of-view, and stereo speakers with a usable range in excess of eight meters (approximately 26 feet)
Easy to manage through the included controller, or remotely managed through ThinkSmart Manager
Value-added Software and Services
As with all Lenovo ThinkSmart meeting room products, ThinkSmart One comes standard with three years of Lenovo's Premier Support4, providing access to advanced technicians 24-hours a day, 365 days a year. It also includes one year of Lenovo's value-added software and services:
ThinkSmart Professional Services5: First Year Maintenance will help IT departments set up each kit, configure and integrate into existing unified communications platforms; and includes a one-year renewable maintenance contract that also comprises a redeployment option to a new meeting space if required.
ThinkSmart Manager Premium2 is Lenovo's collaboration management software suite. Maintaining effective collaboration means the technology needs to be always on, always connected and easy to use. ThinkSmart Manager Premium helps IT departments to configure, control and manage the entire portfolio of ThinkSmart solutions from a single intuitive interface.
"Addressing hybrid collaboration challenges isn't simply a matter of seeing and hearing more clearly. Technology must bring more natural, in-person experiences to virtual engagements and deliver that experience equally for all participants," said Shannon MacKay, General Manager of Worldwide Smart Collaboration Business, Lenovo. "ThinkSmart One delivers the kind of smart collaboration that fuels innovation through technology that's ubiquitous, equitable and seamless."
Demonstrations of Lenovo's ThinkSmart One and more smart collaboration solutions will be shown at InfoComm 2022 between June 8-10 in the Las Vegas Convention Center, Las Vegas, West Hall, booth W2623.
To learn more about Lenovo ThinkSmart solutions, visit: www.lenovo.com/thinksmart
U.S. Pricing and Availability6
ThinkSmart One will be available starting October 2022, from $2599. 
About Lenovo
Lenovo (HKSE: 992) (ADR: LNVGY) is a US$60 billion revenue Fortune Global 500 company serving customers in 180 markets around the world. Focused on a bold vision to deliver smarter technology for all, we are developing world-changing technologies that power (through devices and infrastructure) and empower (through solutions, services and software) millions of customers every day and together create a more inclusive, trustworthy and sustainable digital society for everyone, everywhere. To find out more visit https://www.lenovo.com ,and read about the latest news via our StoryHub.
ThinkSmart One
Processor
Intel® Core™ i5-1145G7E IoTG vPro® Processor
Operating System
Windows 10 IoT Enterprise
Memory
8GB DDR4
Storage
256GB SSD
Graphics
Integrated Intel Graphics
Controller Display
10.1" (1280×800) 10-point touch display with 16:10 aspect ratio
Audio
Stereo speakers, 15-watt typical power output
8 x Microphones with 180-degree coverage and echo and noise cancellation
Camera
FHD camera with 100-degree horizontal FOV, 68-degree vertical FOV, 125-degree diagonal FOV
Security
Windows 10 IoT Enterprise security
Intel vPro security
Ports
2 x HDMI out
1 x HDMI In
2 x USB Type-A
2 x USB Type-C
1 x RJ45 (POE) with indicator LED
1 x RJ45 (vPro) with indicator LED
Wireless LAN
Wi-Fi 2x2AX
Dimensions
TBD
Weight
TBD
1 Based on Lenovo internal research in May 2022 of All-in-One collaboration bars currently in market, confirmed by Microsoft and Zoom Video Communications
2 Unified communications platforms may incur subscription fees and/or additional costs
3 ThinkSmart Manager Premium is included for one year. Beyond that may incur subscription fees and/or additional costs
4 Lenovo Premier Support is included for three years. Beyond that may incur subscription fees and/or additional costs
5 ThinkSmart Professional Services is included for one year. Beyond that may incur subscription fees and/or additional costs
6 Prices may not include tax and do not include shipping or options and are subject to change without notice; additional terms and conditions apply. Reseller prices may vary. On-shelf dates may vary by geography and products may only be available in selected markets. All offers subject to availability. Lenovo reserves the right to alter product offerings, features and specifications at any time without notice.
LENOVO and THINKSMART are trademarks of Lenovo. Intel, Intel Core, Intel vPro are trademarks of Intel Corporation or its subsidiaries in the U.S. and/or other countries.  ZOOM is a registered trademark of Zoom Video Communications. InfoComm is produced by AVIXA. AVIXA is a trademark or registered trademark of AVIXA, Inc., in the United States and other countries. Wi-Fi is a trademark of Wi-Fi Alliance. All other trademarks are the property of their respective owners.  ©2022, Lenovo Group Limited.