Every year, Lenovo™ rolls out a Yoga™ PC holiday lineup that shows consumers just how premium our laptop experience can be by providing the latest in smarter technology, bold innovation, and refined craftsmanship. Today, Lenovo reveals the thin and light Yoga laptops that will offer up to the new 11th Gen Intel® Core™ mobile processors with Intel Iris® Xe graphics from consumer PCs recently launched, the 14-inch Yoga 9i, and also the 14-inch Yoga Slim 9i, the 14-inch Yoga Slim 7i Pro, the 13-inch Yoga Slim 7i, and the 14-inch and 15-inch Yoga 7i.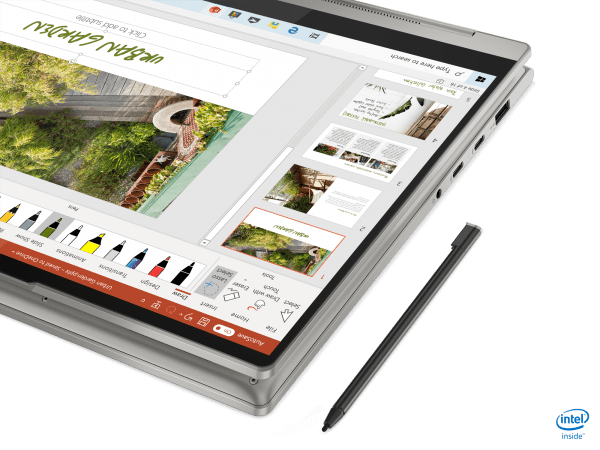 As an extension of the Project Athena innovation program, Lenovo and Intel continue to collaborate on the new Intel Evo™ platform, and together, are targeting verification1 of our new laptop designs to utilize the Intel Evo platform badge. Yoga is at the forefront of combining style, substance, and portability for the most discerning of consumers, and this smarter combination of laptop design, mobile processors, graphics, and artificial intelligence is optimized to work together in harmony.
Intel shares Lenovo's vision of creating a new generation of the most advanced laptops designed to give mobile multitaskers that extra go to power their dreams. To receive Intel Evo verification1, each thin and light laptop must pass rigorous testing, and then meet or surpass Intel's stringent Key Experience Indicators, including: consistent responsiveness on battery, wakes instantly, sleek and stylish laptop designs, Intel Wi-Fi 62 and Thunderbolt 4 connectivity, and at least 9 hours of actual battery life3 and rapid-charging.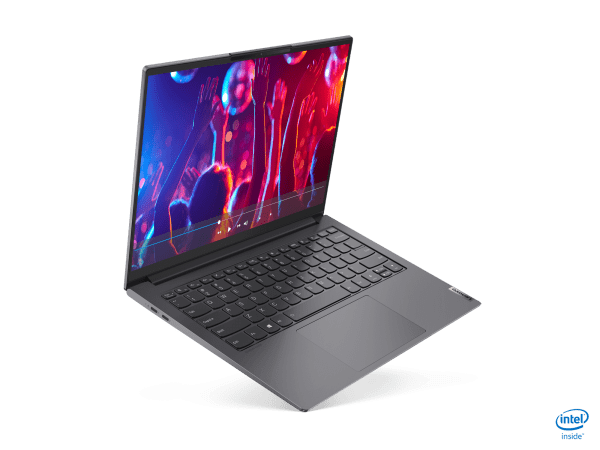 It's the user who benefits most from Lenovo's close collaboration with Intel; any one of the new Yoga laptops designed for work, entertainment, and passion projects will maximize the things real people and families can do with their smart technology, every day. Enjoy the convenience of impressive performance and visual experiences for creating, entertainment, or even light gaming on the go or at home—lasting long after the kids go to bed.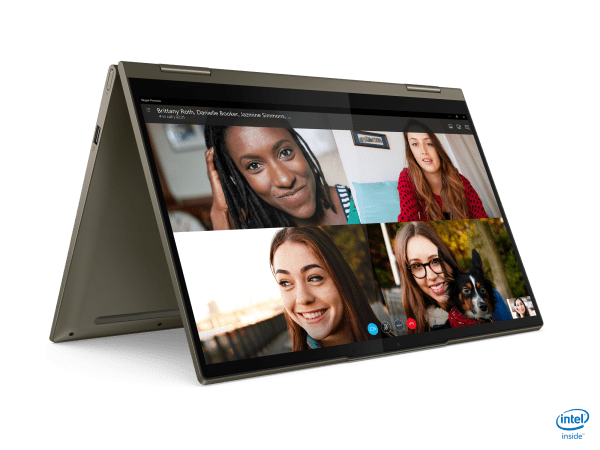 Download the following Lenovo StoryHub newsroom links for photos and full specs.
EMEA Pricing and Availability4
The 14-inch Lenovo Yoga 9i convertible laptop (known as Yoga Pro 14C in China) will start at €1799 for leather covered model (including VAT) and is expected to be available starting October 2020.4
The Lenovo Yoga Slim 9i 14-inch laptop (known as Yoga Pro 14s in China and IdeaPad Slim 9i in North America) will start at €1899 (including VAT) and is expected to be available starting November 2020.4 
The 13-inch Lenovo Yoga Slim 7i ultraslim laptop will start at €999 (including VAT) and is expected to be available starting November 2020; the 14-inch Lenovo Yoga Slim 7i Pro will start at €899 (including VAT) and is expected to be available starting November 2020.4
The 14-inch Lenovo Yoga 7i convertible laptop will start at €999 (including VAT) and is expected to be available starting November 2020; the 15.6-inch model will start at €1099 (including VAT) and is expected to be available starting November 2020.4
1 Verified, measured and tested against a premium specification and Key Experience Indicators as part of Intel's laptop innovation program Project Athena. Testing results as of August 2020, and do not guarantee individual laptop performance. Power and performance vary by use, configuration and other factors. For more complete information about performance and benchmark results, visit Intel.com/Evo.
2 Requires separately purchased Wi-Fi router and plan that may vary by location. Additional terms, conditions and/or charges apply. Wi-Fi 6 speeds are typically up to 9.6 Gbps compared to Wi-Fi 5 with up to 3.5 Gbps. Connection speeds will vary due to location, environment, network conditions and other factors.
3 All battery life claims are approximate and based on test results using the MobileMark 2014 ver 1.5 battery life benchmark test. Actual results will vary and depend on numerous factors including product configuration and usage, software, operating conditions, wireless functionality, power management settings, screen brightness and other factors. The maximum capacity of the battery will naturally decrease with time and usage. See https://bapco.com/products/mobilemark-2014/ for additional details.
4 Prices may not include tax and do not include shipping or options and are subject to change without notice; additional terms and conditions apply. Reseller prices may vary. On-shelf dates and color options may vary by geography and products may only be available in selected markets. All offers subject to availability. Lenovo reserves the right to alter product offerings, features and specifications at any time without notice.
LENOVO and YOGA are trademarks of Lenovo. Intel, Intel Core, Thunderbolt, Intel Evo, and Intel Iris are trademarks of Intel Corporation or its subsidiaries in the U.S. and/or other countries. Wi-Fi is a trademark of Wi-Fi Alliance. Other company, product and service names may be trademarks or service marks of others and are the property of their respective owners. ©2020, Lenovo Group Limited.