Today, Lenovo released the newest expansion to its popular Android tablet family—Lenovo Tab M7 and Lenovo Tab M8—as the second generation of mainstream devices. These new 7-inch and 8-inch tablets represent this year's follow-up to Lenovo's mainstream (or M series) of tablets, which offer families a premium look and feel at an affordable price. The M series is a mid-level complement to the E and P tablet series launched last year, to give families a wider range of options from which to choose from and make smarter decisions about their technology.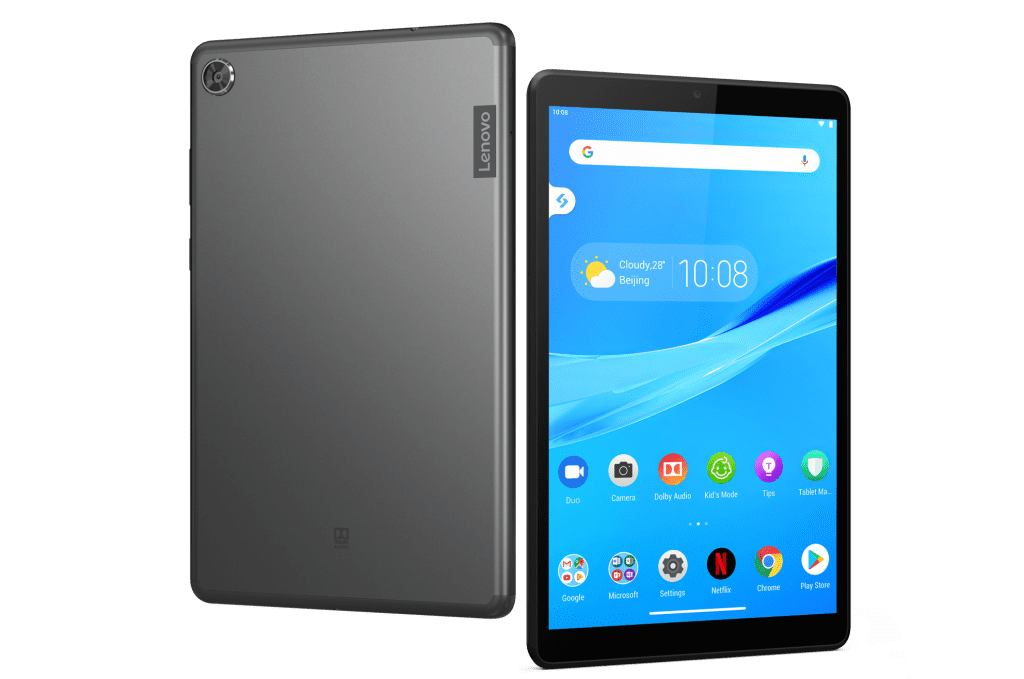 The highlight of this latest line of tablets is its combination of affordability and premium craftsmanship. Purposeful features make it feel like a high-end tablet, save for the impact on your wallet. The sleek, up-to-8.33 inch-thick profile is protected by a round-edged metal back cover that gives the tablet a robust, premium finish. This veneer is accented with one of two rich, metallic colors: onyx black and platinum silver. Its thin bezel area also offers an up-to-83 percent panel-to-body ratio, giving users more screen real estate.
Made for Sharing
Much like other Android tablets in Lenovo's line-up, the enduring features of the M series make them the smartest choice for a household device. They bring the features that modern families need from their tablet—affordability, shareability, and performance over the long run. Built for passing around from person to person, Lenovo Tab M7 and Lenovo Tab M8 all allow for multiple dedicated profiles, wallpapers, applications, and storage. Built-in facial recognition can quickly identify who's holding the tablet and unlocks the corresponding account.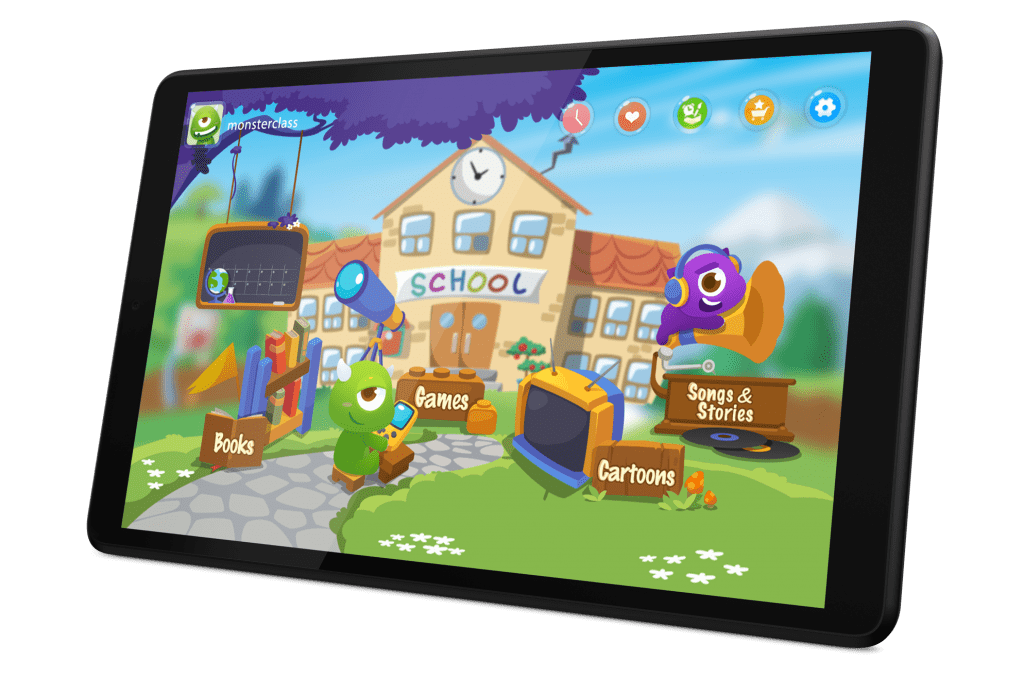 Families with kids also have the option of activating the built-in Kid's Mode 3.0, an independent account that offers rich and customized kids' content for children under 12 years of age. Kids who pick up the tablet will be switched directly to their kids' account, which features a child-friendly interface with access to games, built-in applications, videos, audio and books that offer educational content in 44 languages.
Parental controls are also available to limit children's usage time, while the eye-protection mode is automatically turned on to help protect sensitive young eyes. Nevertheless, the display is made safer for kids and adults, having received rigorous testing and certification from TÜV® Rheinland for eye protection and comfort, with special light and display technologies engineered to effectively filter out blue light that strains the eyes.
Lenovo Tab M7 (2nd Gen): Compact and Comfort

Made for fast web browsing and videos, the Lenovo Tab M7 is designed with both size and comfort in mind. The Lenovo Tab M7's 7-inch screen, 8.25mm-thick frame and light weight (236g) is made for carrying on the road, with enough juice to last for up to 10 hours of video watching on the vivid IPS display on a single charge.1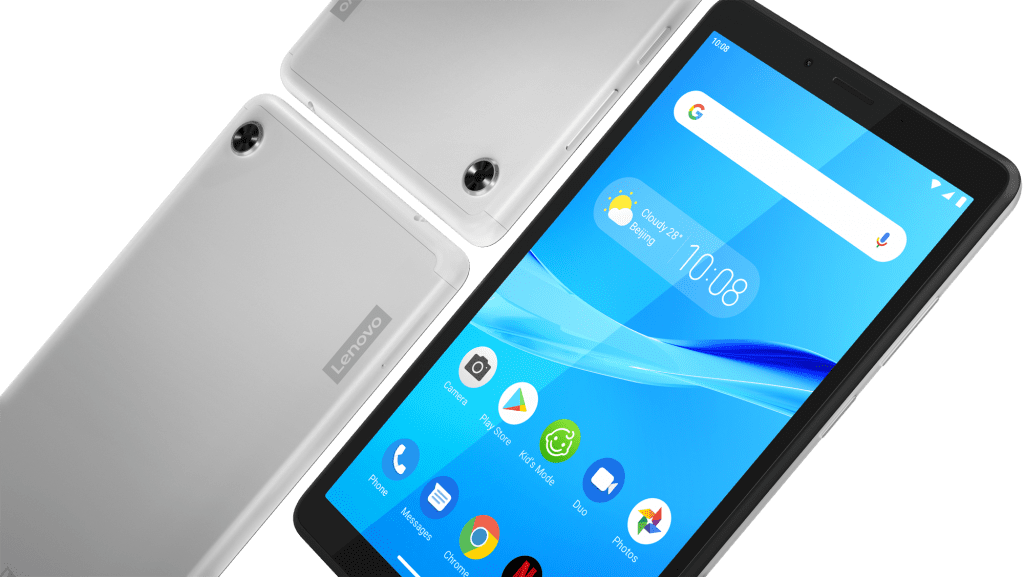 The Lenovo Tab M7 comes with the Android 9 Pie (Go Edition) for the 1GB RAM edition, which means lighter apps, more storage2 out of the box, and much-improved performance. All Lenovo Tab M7 and M8 tablets run the latest Android Pie OS.
Lenovo Tab M8 (2nd Gen): Stunning visuals and sound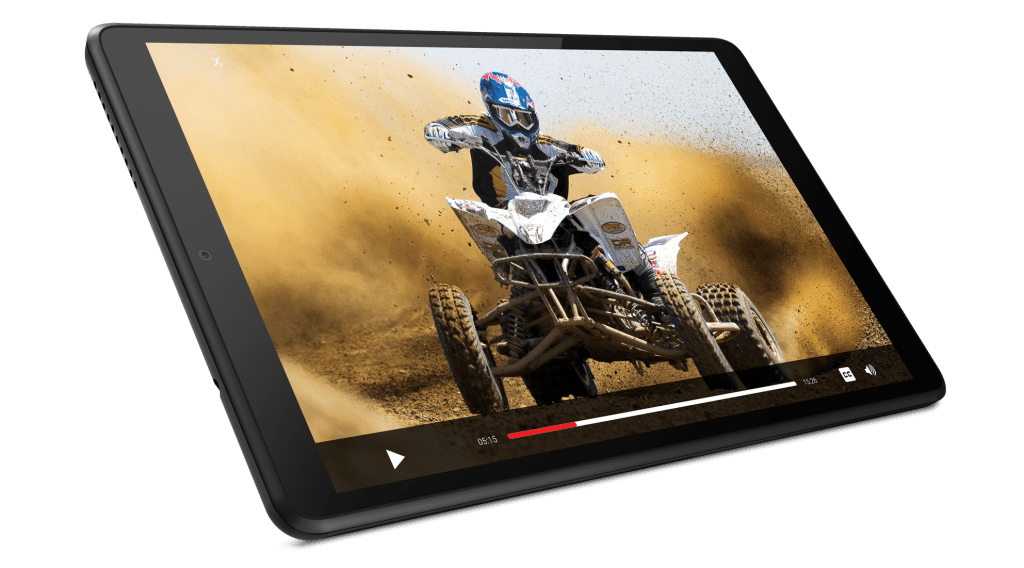 While still portable, the Lenovo Tab M8 delivers stunning visuals and sound, featuring an HD or FHD IPS screen and a front-facing speaker featuring Dolby Audio™, taking the cinema sound experience right into the home. Its speedy and powerful processor chip and up to 3GB of RAM make it a strong performer.
Both are light and versatile tablets for binge-watching shows or keeping the kids entertained, able to last up to 12 hours of video watching.1 The Tab M8 HD comes with a 2MP fixed-focus front camera and 5MP auto-focus rear camera, while the Tab M8 FHD packs a 5MP fixed-focus front camera and a 13MP auto-focus rear camera with flash.
Availability and Pricing3
EMEA:
Lenovo Tab M7 starts at €99 (including VAT) and is expected to be available starting in October 2019 on lenovo.com and select retailers.3
Lenovo Tab M8 (HD) starts at €139 (including VAT) and is expected to be available starting in October 2019 on lenovo.com and select retailers.3
Lenovo Tab M8 (FHD) starts at €159 (including VAT) and is expected to be available starting in October 2019 on lenovo.com and select retailers.3
Discover more at www.lenovo.com.
IFA press kit with images and full specs are available here.
1 Based on Lenovo internal battery life testing. All battery life claims are approximate. Actual battery performance will vary and depend on numerous factors including product configuration and usage, software, operating conditions, wireless functionality, power management settings, screen brightness and other factors. The maximum capacity of the battery will naturally decrease with time and usage.
2 Actual available capacity is less and varies due to many factors, including formatting, partitioning and operating system, etc. which utilize part of this capacity. The available capacity may change with software updates.
3 Prices may not include tax, shipping or options and are subject to change without notice; additional terms and conditions apply. Reseller prices may vary. On-shelf dates may vary by geography and products may only be available in selected markets. All offers subject to availability. Lenovo reserves the right to alter product offerings, features and specifications at any time without notice.
LENOVO is a trademark of Lenovo. Android is a trademark of Google LLC. DOLBY and DOLBY AUDIO are  trademarks of Dolby Laboratories, Inc.. TÜV is a registered trademark of the TÜV Rheinland Group. Other company, product and service names may be trademarks or service marks of others and are the property of their respective owners. ©2019, Lenovo Group Limited.