e-Ink Cover Display Enhances Productivity with Essential Notifications and Quick Notetaking
Today, Lenovo unveiled the latest ThinkBook designed for the next generation workforce. ThinkBook Plus features an innovative e-Ink cover display that helps users be more productive when multitasking by improving focus, collaboration and creativity. Featuring a 13.3-inch FHD main display and a 10.8-inch e-ink display on the cover, on which users can create illustrations and diagrams with the integrated Lenovo Precision Pen and receive essential notifications when the lid is closed allowing them to stay focused during meetings.
Built for the new generation workforce
Nearly 60 percent of today's workforce are millennials and Gen Z, and these digital native generations frequently multitask across multiple devices. However, established research1 suggests that we are often inefficient at multitasking, with the average worker losing 2.1 hours per day due to time taken to re-focus on tasks. We know that in today's work environment multitasking is inevitable, but that doesn't mean that organizations should have to suffer from the ill-effects of multitasking like the loss of productivity and decreased employee experience. We believe smarter technology should be designed to enhance focus and productivity, whatever your role, whatever the task.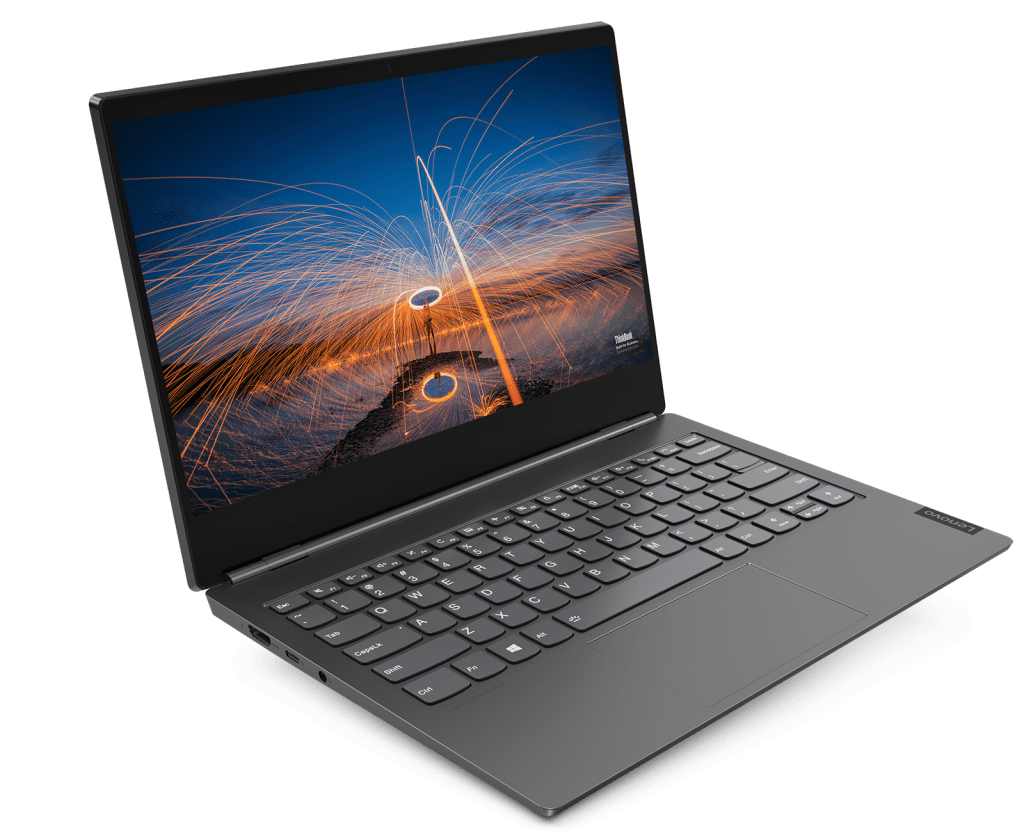 Designing a Laptop for Today's Workloads
Based on our own research, customer insight and on multitasking work practices, we designed ThinkBook Plus. A new kind of laptop that provides innovative features and functions to help users maximize their multitasking efficiency:
Collaborate better by staying focused during meetings by receiving only essential notifications on the cover display such as calendar appointments, instant messages or important emails. Take notes instantly with the integrated Precision Pen, which can be synced with Microsoft OneNote. Control VoIP calls quickly with Skype hotkeys and experience better audio clarity with Harman speakers and Skype-certified microphones. With Amazon® Alexa® for PC integrated, you can quickly execute a number of common tasks, without the need to open your laptop. ​
Create and convert real time ideation into diagrams and notes by sketching on the cover screen with the Precision Pen. You can also personalize your laptop with a unique screensaver on the laptop cover. Enjoy the laptop experience with a narrow bezel FHD IPS display that supports Dolby Vision. Feel secure with a fingerprint reader conveniently integrated into the power button, a camera shutter ensures you are seen only when you want to be seen and dTPM 2.0 for enhanced hardware security.
Review documents quickly without distractions on the cover display that supports annotations. Open the laptop for more complex revisions leveraging the power of 10th Gen Intel® Core™ processors, Windows 10, standard solid-state storage (SSD) and available Intel® Optane™ memory.
Respond quickly thanks to Modern Standby which ensures emails and updates are received, even when the lid is closed. Smart Power On simplifies Windows Hello authentication with the fingerprint integrated into the power button.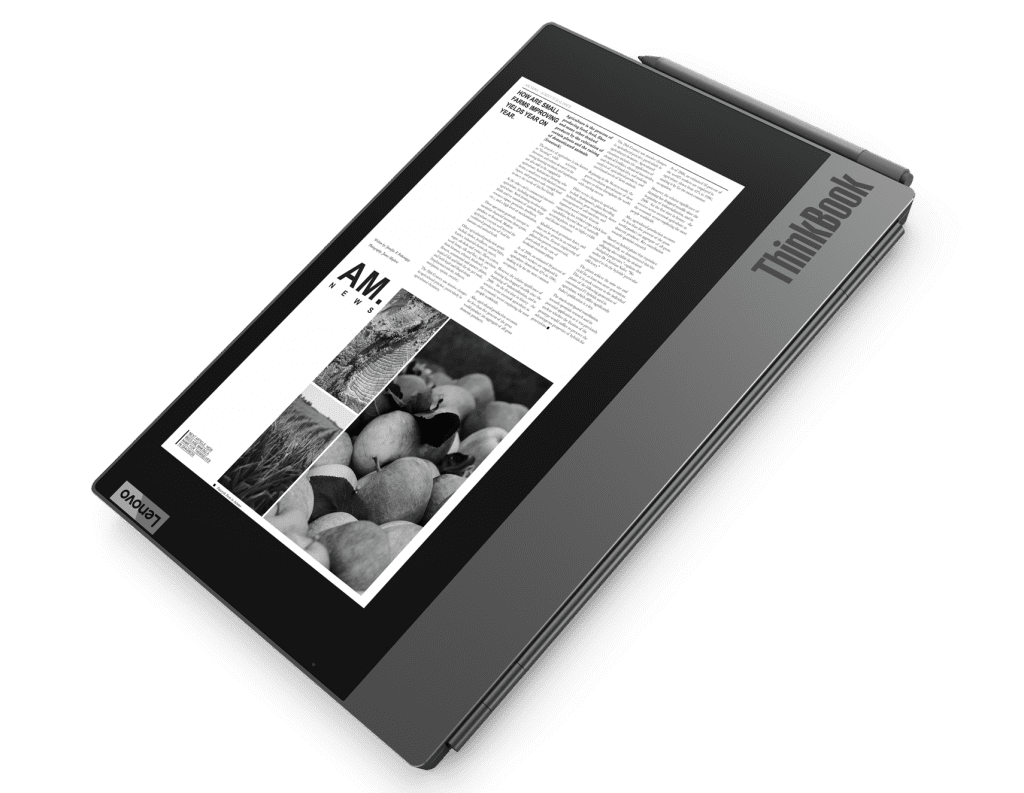 Complete your ThinkBook ecosystem with a selection of accessories that compliment your laptop design. Safeguard your laptop while travelling between meetings with the premium ThinkBook Plus Sleeve. Created specifically with interior foam padding to protect the e-ink cover display, the contemporary design includes an easy-open magnetic overlay closure. You can even get more done with the optional compact and silent ThinkBook Bluetooth Silent Mouse. Offering distraction-free silent buttons, adjustable DPI controls and a blue optical sensor that allows you to work on almost any surface, the mouse simply connects wirelessly without dongles thanks to Bluetooth 5 and supports easy pairing with Microsoft Swift Pair functionality in Windows 10.
"Switching between tasks up to 300 times per day is normal. ThinkBook Plus enhances SMB users' multitasking productivity," said Eric Yu, senior vice president and GM, Lenovo SMB Group. "With the secondary display, integrated pen and smartphone-like features, ThinkBook Plus boosts laptop capabilities to maximize efficiency."
---
Pricing and Availability2
ThinkBook Plus is expected to be available from March 2020, starting at $1199.
ThinkBook Bluetooth Silent Mouse is expected to be available from April 2020, starting at $39.99.
ThinkBook Plus Sleeve is expected to be available from April 2020, starting at $44.99.
Visit https://www.lenovo.com/ww/en/solutions/smb/thinkbook-plus for more information and the Lenovo CES 2020 press kit for photos and full specs.
Research sources include: Bergman, P. (2010, May 20). How (and why) to stop multitasking. Harvard Business Review, Joshua Rubinstein, Jeffrey Evans and David Meyer, 2001. https://hcii.cmu.edu/news/event/2004/10/work-fragmentation-common-practice-paradox-it-support; Systems Thinking by Gerald Weinberg, Computer scientist and psychologist, Univ. of California, San Diego
Prices do not include tax, shipping or options and are subject to change without notice; additional terms and conditions apply. Reseller prices may vary. On-shelf dates may vary by geography and products may only be available in select markets. All offers subject to availability. Lenovo reserves the right to alter product offerings, features and specifications at any time without notice.
LENOVO and THINKBOOK are trademarks of Lenovo. Intel, Intel Core and Optane are trademarks of Intel Corporation or its subsidiaries in the U.S. and/or other countries. AMAZON and ALEXA are registered trademarks of Amazon Technologies, Inc. All other trademarks are the property of their respective owners.  ©2020, Lenovo Group Limited.