RESEARCH TRIANGLE PARK, NC – August 23, 2011:
Lenovo
 (HKSE: 992) (ADR: LNVGY) today announced that the ThinkPad Tablet, the company's first 
business-class Android-based tablet
, is now available for sale through Lenovo's network of U.S. business partners and 
online
 with models starting at $499. Additionally, Seton Hall University will be the first educational institution to deploy the ThinkPad Tablet when 350 students begin using it this fall.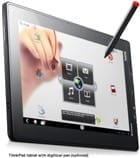 Unlike other tablets on the market, the 10.1-inch, Android 3.1 ThinkPad Tablet lets business users do more right out of the box, from working productively and securely to enjoying first-class entertainment features during downtime.
"The ThinkPad Tablet gives mobile professionals the most intuitive user experience available on a tablet today, thanks to its unique pen-based handwriting recognition technology," said Dilip Bhatia, vice president and general manager, ThinkPad Business Unit, Lenovo. "We wanted to replicate the way people work naturally with pen and paper by allowing them to digitally write, draw and create content while also optimizing the ThinkPad Tablet for business with a layered security solution and full IT management."
Android Dressed for Business & Academics
As the first true business-friendly tablet, users can expect the same reliable and productive experience for which the ThinkPad brand is known. The ThinkPad Tablet caters to the extremely busy, mobile user with convenient features unlike competitor tablets for on the run computing, including an:
optional digitizer pen
full-size USB port
full-size SD card slot
mini-HDMI for connecting to external displays
keyboard folio case with optical TrackPoint
This fall, 350 students and faculty at Seton Hall University (South Orange, N.J.) will put the ThinkPad Tablet to the test by using it inside and outside the classroom, taking advantage of the "true" pen experience, ActiveSync(r), IPS display and Gorilla Glass construction.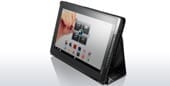 "As a long time partner with Lenovo as a ThinkPad University campus, we're delighted to bring the ThinkPad Tablet to our students and faculty in the Sciences, Honors and the School of Business Leadership Program," said Stephen G. Landry, chief information officer, Seton Hall University. "This new technology represents the next evolution in Seton Hall University's Mobile Computing Program to use technology effectively to support teaching, learning and institutional effectiveness while keeping pace with technology that appeals to our students."
More than Apps, Supported by Business Tablet Ecosystem
The ThinkPad Tablet goes beyond delivering differentiated hardware features. It extends the business-class experience with productivity, security and manageability technologies and apps from more than a dozen partners. The ThinkPad Tablet provides access to more than 250,000 apps in the Android Market as well as the curated Lenovo App Shop, a fast track to the leading apps that are certified to work on Lenovo products and are malware free.
Productivity: With Documents to Go by DataViz, users can easily view and edit Microsoft Office documents while synchronizing with their desktops via USB or Bluetooth. The tablet's pen and virtual desktop support via Citrix Receiver allows users to leverage their corporate tools without being in the office. Lenovo's SocialTouch app keeps track of email, calendar notices and more, and OoVoo makes video conferences easy by using the Tablet's front-facing camera.
Security: Users and their data rest easy with the tablet's layered security solutions, which include full encryption (including SD card), remote wipe and disable via Computrace to combat theft, and full VPN support.
Manageability: Good for Enterprise delivers secure corporate email, and IT managers can easily configure security and device settings with custom corporate preloads from Lenovo's Imaging Technology Center. The open API set allows for zero-touch deployment and management though LANDesk.
 ""CSC sees a rapidly growing market opportunity for an enterprise tablet device that will enrich our clients' experience with the cloud and provide the quality and highly secure standards that are required by today's dynamic businesses," said Nick Wilkinson, president, Market & Product Strategy, Managed Services Sector, CSC. "Lenovo has a proven track record of launching enterprise quality devices and we are excited to be working with the ThinkPad Tablet and expect to drive towards integration with our vertical specific services in the near future."
Pricing and Availability1
The ThinkPad Tablet is available starting immediately from business partners and on 
online
. Pricing for the 16 GB model is $499 without the digitizer pen or $529 including the pen. Pricing for the 32 GB model with the digitizer pen is $599, and pricing for the 64 GB version with the pen is $699. Pricing for the optional keyboard portfolio case is $100.
About Lenovo
Lenovo (HKSE: 992) (ADR: LNVGY) is a $US21 billion personal technology company serving customers in more than 160 countries, and the world's fourth-largest PC vendor. Dedicated to building exceptionally engineered PCs and mobile internet devices, Lenovo's business is built on product innovation, a highly-efficient global supply chain and strong strategic execution. Formed by Lenovo Group's acquisition of the former IBM Personal Computing Division, the company develops, manufactures and markets reliable, high-quality, secure and easy-to-use technology products and services. Its product lines include legendary Think-branded commercial PCs and Idea-branded consumer PCs, as well as servers, workstations, and a family of mobile internet devices, including tablets and smart phones. Lenovo has major research centers in Yamato, Japan; Beijing, Shanghai and Shenzhen, China; and Raleigh, North Carolina. For more information see 
www.lenovo.com
.
1Prices do not include tax or shipping and are subject to change without notice and is tied to specific terms and conditions. Reseller prices may vary. Price does not include all advertised features. All offers subject to availability. Lenovo reserves the right to alter product offerings and specifications at any time without notice.