New Lenovo™ 10w Tablet with Windows 11 is powered by the Snapdragon® 7c compute platform and is designed to improve student engagement and versatility to withstand the rigors of modern learning
New Lenovo 13w Yoga™ with up to Windows 11 Pro and powered by AMD Ryzen™ 5000 U-Series processors for mobile delivers power and performance for students and educators
New AI-driven Lenovo NetFilter software offering combines internet filtering and threat protection in one solution to keep students safer in mixed network and device environments
New VR Classroom curriculum aligned content offering in partnership with VictoryXR
Morrisville, NC – January 18, 2022 – Today Lenovo announced new additions to its broad education portfolio designed to enhance learning efficiencies in a new age for education. The new devices are purpose-built to meet the needs of modern in-person and distance-learning. The all-new Lenovo 10w Tablet running Windows 11 is powered by the Snapdragon 7c compute platform to enable an Always On, Always Connected computing experience, balancing the power and performance students expect and the mobile computing experiences they need to help them succeed in modernized learning. The new Lenovo 13w Yoga offers the flexibility of a convertible device with AMD Ryzen™ 5000 U-Series processors for mobile up to an AMD Ryzen 7 processor, and can include options to boost teacher and student engagement, device protection and improved connectivity.
Critical Juncture for Future of Education
According to UNESCO, more than 1.5 billion students1 have been impacted by the pandemic and many countries have been affected by extended school closures1. Although classes are thankfully reopening, many continue to endure disrupted agendas and at the time of writing more than 35 million learners are still unable to benefit from classroom instruction1.
The longer-term focus needs to be on learning recovery and returning the trajectory beyond pre-Covid levels. A recent UNESCO report points out that we collectively have an opportunity to reinvent education to be more resilient, equitable and efficient in delivering learning for all. Institutions need to invest in structured learning programs that provide access to technology that can amplify classroom-based experiences. The tools need to be dynamic to support distance learning solutions and computer-assisted learning to help maximize education continuity. As a technology provider, Lenovo is committed to partnering with customers to develop and deliver innovative solutions to enhance learning today and into the future.
 Comprehensive Portfolio Enhances Education Experience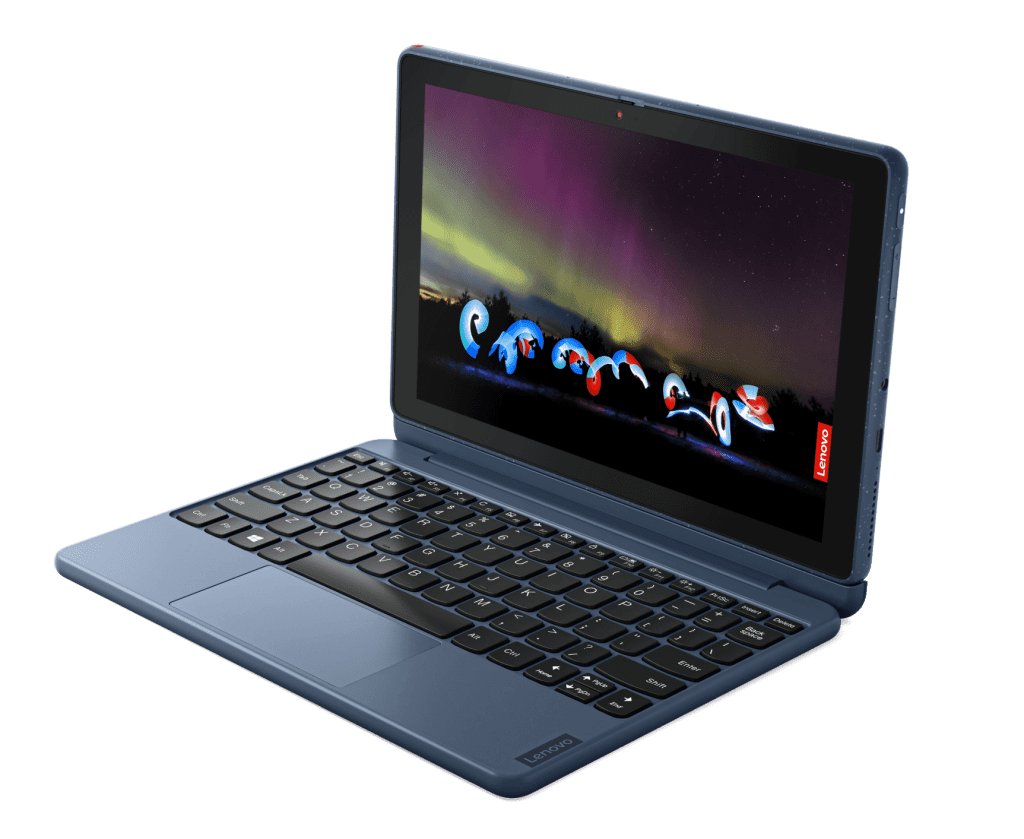 Lenovo 10w Tablet is ideal for younger students with its ruggedized rubber bumper and Corning® Gorilla Glass offering better protection for daily wear and tear. The detachable keyboard converts the tablet into a 10.1-inch laptop allowing students to type documents, take online exams or participate in collaborative engagements with fellow students.
An optional garaged pen further enhances interaction as learners can directly annotate on screen, or highlight relevant subject matter through computer-assisted training tools. The 16:10 aspect ratio FHD display offers a better form factor for reading, and front and world-facing cameras facilitate remote learning and photo-taking on field trips.
Powered by the Snapdragon 7c compute platform and running Windows 11, students using the Lenovo 10w Tablet will benefit from responsive performance, extended battery life2, reliable Wi-Fi connectivity3 and is backed by enterprise-grade security4.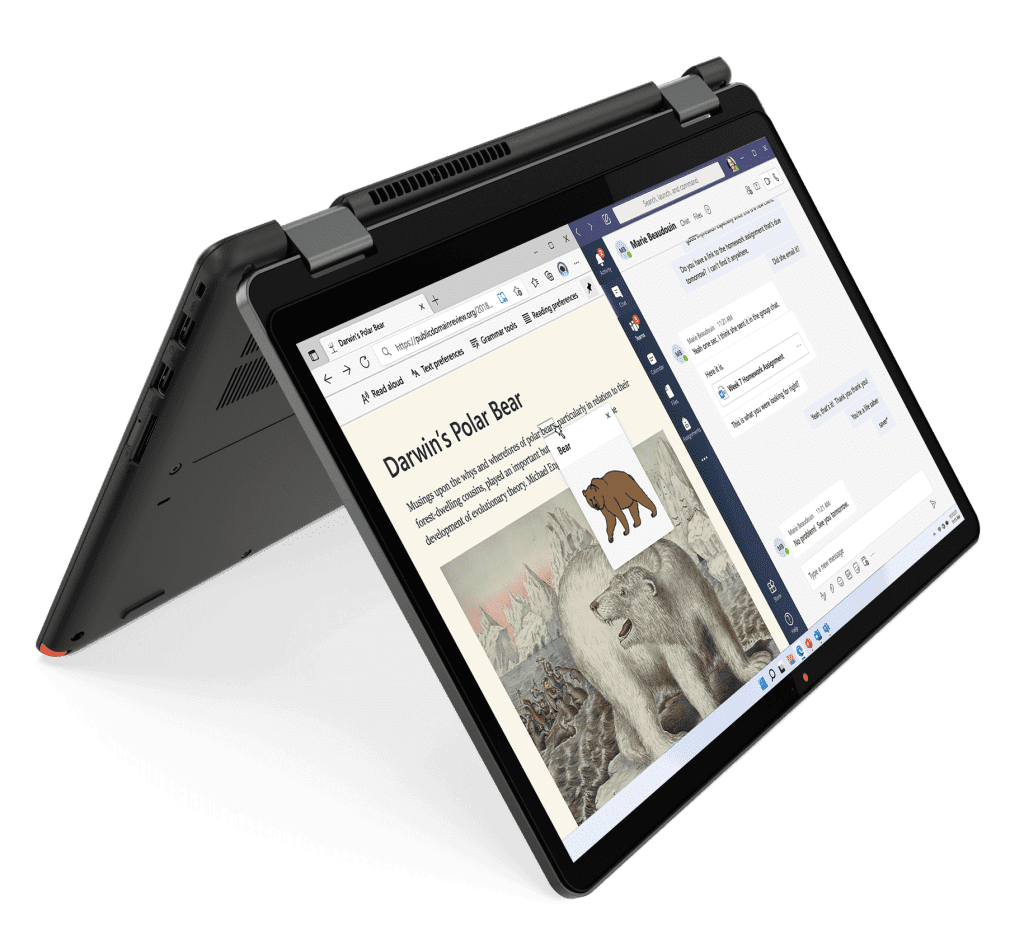 Lenovo 13w Yoga provides an advanced convertible laptop for students and educators with the power of AMD Ryzen 5000 U-Series up to an AMD Ryzen 7 processor. With its spill resistant keyboard5 and Gorilla Glass protecting the 13.3-ich FHD display, 13w Yoga is ready for the rigors of classroom education.  Standard FHD camera, optional 5MP (megapixel) world-facing camera and 4G LTE connectivity6, 13w Yoga is also designed for remote learning and trips out of the classroom.
13w Yoga also include an innovative and ergonomic lift hinge for more comfortable typing sessions and a mylar touchpad offers a smoother working surface. An optional garaged stylus pen adds more interaction and standard Dolby® Audio delivers immersive experiences to those digital lessons. The device can be further secured with an optional fingerprint reader conveniently located on the power button, and a degree of future-proofing the investment is provided by offering user upgradeable memory and storage, up to 16GB and 512GB respectively.
Lenovo 10w Tablet and 13w Yoga join a comprehensive education-focused portfolio featuring devices from 10.1-inch to 14-inch in various form factors running Google Chrome7 or Windows operating systems, including the latest Windows 11 SE optimized for education. Lenovo 14w, 100w, 300w and 500w laptops are now available with Windows 11 SE that offers simple and distraction-free experiences, including Microsoft 365 applications8 and web-based learning apps that support both online and offline learning.
Smarter Digital Safety for All
To support schools in better securing their students, Lenovo is also announcing its new content filtering and online safety solution, Lenovo NetFilter. With the increased reliance on technology to facilitate learning, there are more devices in students' hands than ever before. As a result, many educators are increasingly concerned about digital dangers including harmful content, malware attacks, cyberbullying, and others. Lenovo NetFilter joins LanSchool, Lenovo's award-winning classroom management software, to create a suite of solutions that support safer and more engaging digital learning.
A 2-in-1 digital safety program, Lenovo NetFilter provides cloud-based, AI-driven web filtering and threat protection solutions at an affordable price for schools. The AI dynamically categorizes unknown domains, allowing schools to go beyond block lists to help detect and eliminate threats in real-time. By categorizing content in over forty languages, Lenovo NetFilter is also able to effectively support diverse student populations. Educators can customize access levels to various file types, applications, and websites for all students or specific groups. The solution is compatible with Mac, Windows, and Chromebooks, and can be available on the school network or remotely.
Lenovo NetFilter also provides threat protection to help detect and stop both known and zero-day malware threats. With Lenovo NetFilter in place, school networks are better protected from viruses, cyber-attacks, spyware, phishing, and other digital dangers. For added safety benefits, schools can upgrade to Lenovo NetFilter+ to receive keystroke monitoring that helps detect concerning keywords and alerts educators for intervention. This extended protection helps recognize issues such as depression, cyberbullying, self-harm, and sexual content on school accounts.
Comprehensive Education-focused Solutions
Lenovo has the tools and expertise to help education institutions and students around the world embrace the digitally transformed future of learning. Focusing our portfolio of hardware, software and services to include innovative solutions for education can help ease the transition towards the broader needs of remote learning including new immersive virtual reality education in partnership with VictoryXR. Lenovo and VictoryXR have partnered to launch a global initiative to offer classroom learning experiences aligned to curriculum in virtual reality. Utilizing Lenovo's VR Classroom and VictoryXR's award-winning content, students will have access to more than 60 VR titles focused on science, history and career and technical education (CTE).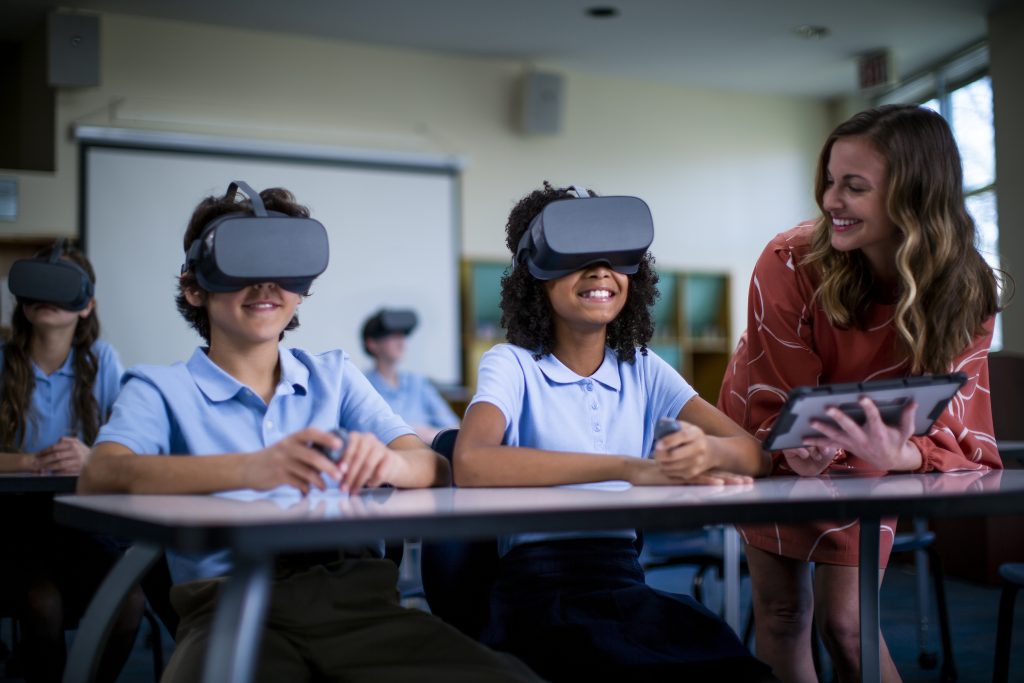 "Lenovo has a powerful global platform and we believe our award-winning content will bring learning to life for students on every continent," said Steve Grubbs, VictoryXR CEO.
In addition to immersive spatial learning curriculum, students will have access to global field trips that allow them to stand on The Great Wall of China, admire the California Redwoods, and survive volcanoes in Iceland.
Wendy Martin, national finalist teacher-of-the-year in the United States, leads the learning in science, while Steve Grubbs takes students to amazing historical locations in the U.S., Europe, Africa and Asia.
Other innovative solutions include:
Lenovo Hybrid Classroom solutions bring smarter collaboration platforms to the classroom, helping teachers create more immersive and flexible learning environments that can support students in multiple locations.
Lenovo LanSchool is a leading classroom management software program that helps teachers connect with students to create more meaningful online experiences, both in the classroom and remotely. With popular features like screen monitoring, messaging, share screen and push website, LanSchool empowers educators as they guide learning in connected classrooms.
Zero touch deployment enables system provisioning seamlessly and securely while offerings like etching and configure to order allow the right levels of customization, plus post-delivery Accidental Damage Protection covers accidents beyond system warranty.
Safeguarding data and maximizing protection for students and teachers is paramount. Lenovo ThinkShield security solutions4 such as Absolute® can track, assess and manage devices; SentinelOne® offers AI-powered endpoint security through real-time prevention, detection and response against known and new malware strains.
Quotes
"As a leader in the global education market, we are committed to developing tailored solutions to support resilient learning programs around the world," said Jerry Paradise, vice president of Global Commercial Portfolio and Product Management in Intelligent Devices Group, Lenovo. "Partnerships such as those with Qualcomm, AMD and VictoryXR are elemental in driving innovative education solutions that can amplify distance and in-person learning experiences, and help re-establish education continuity."
"As students, educators, and district administrators continue to navigate hybrid education, they are turning to connected PCs and Chromebooks as secure and reliable resources for flexible learning," said Miguel Nunes, Vice President, Qualcomm Technologies, Inc. "We are proud to power the Lenovo 10w Tablet, which is built to empower students and teachers to learn and work from virtually anywhere. Always Connected laptops powered Snapdragon compute platforms enable the performance, battery life, and security that today's students deserve – in thin and light, durable form factors."
Visit the Lenovo StoryHub newsroom for images and full specs and Lenovo Education for more information on learning solutions
Photography:
10w Tablet Photos
13w Yoga Photos

Datasheets:
Lenovo 10w-13w Yoga Datasheets

U.S. Pricing and Availability9:
| | | |
| --- | --- | --- |
| | Available starting | Price from |
| Lenovo 10w Tablet | April 2022 | $329 w/ keyboard |
| Lenovo 13w Yoga | April 2022 | $749 |
| Lenovo NetFilter | Q1 2022 | Varies10 |
Key Specs:
Lenovo 10w Tablet
Lenovo 13w Yoga
Processor
Snapdragon 7c compute platform
AMD Ryzen 5000 U-Series processors
Operating System
Windows 11 on Snapdragon
Up to Windows 11 Pro
Memory
Up to 8GB LPDDR4x
Up to 16GB 3200Mhz DDR4 (User Upgradable)
Storage
Up to 128GB eMMC
Up to 512GB PCIe® SSD
Graphics
Integrated graphics
On-chip AMD graphics
Display
10.1-inch 16:10 FHD IPS 400nit Touch with Gorilla Glass
13.3-inch 16:10 FHD IPS 300nit touch with Gorilla Glass
Audio
Integrated
Dolby Audio
Camera
2MP front camera

8MP rear world-facing camera

FHD 1080p RGB camera with privacy shutter

5MP rear world-facing camera

Battery
30Whr
51Whr
Security
Optional fingerprint reader on power button
Ports
1 x Type-C, 1 x headphone jack
2 x USB-C 3.2 Gen 1, 1 x HDMI 2.0, 2 x USB-A 3.2 Gen 1, 1 x Full SD Card Reader, 1 x Audio jack
Keyboard
Detachable
360ml spill resistant, optional backlit
Wireless LAN
Qualcomm® WCN 3991
Wi-Fi 6 2x2ax
Wireless WAN
Optional 4G LTE CAT 16 (eSIM & Band 48 support)
Colors/Materials
Abyss Blue
Thunder Black body with premium aluminum top cover
Dimensions
253 x 165 x 10mm (Tablet)
305 x 216.8 x 17.6mm
Weight
573g – 1.26 lbs (Tablet), 1.1Kg with keyboard
1.45kg – 3.19 lbs
1 Source: UNESCO – https://en.unesco.org/covid19/educationresponse/globalcoalition
2 Battery life estimates based on MM18 testing up to 16.5hrs
3 Requires separately purchased Wi-Fi router and plan that may vary by location. Additional terms, conditions and/or charges apply.  Connection speeds will vary due to location, environment, network conditions and other factors
4 Security features may require additional purchase or subscription fees. Additional terms, conditions and/or charges may apply
5 Spill resistance up to 360ml. Water-resistant design helps protect against moderate exposure to water, such as accidental spills, splashes, or light rain. It is not designed to be submersed in water or exposed to pressurized water or other liquids.  Water-resistance may diminish over time. Not waterproof.
6 Requires 4G network service and separately purchased cellular data plan that may vary by location. Additional terms, conditions and/or charges apply. Connection speeds will vary due to location, environment, network conditions and other factors.
7 The products running the latest version of Chrome OS have been certified to meet Google's compatibility standards. Google is not responsible for the operation of this product or its compliance with safety requirements.
8 Microsoft 365 and web-based learning apps may be subject to subscription fees.
9 Prices may not include tax, shipping or options and are subject to change without notice; additional terms and conditions apply. Reseller prices may vary. On-shelf dates may vary by geography and products may only be available in select markets. All offers subject to availability. Lenovo reserves the right to alter product offerings, features and specifications at any time without notice.
10Lenovo NetFilter pricing is subscription-based and varies by volume and region. Availability dates may vary by geography. Will initially be available in North America and select English-speaking markets globally with a phased expansion planned through 2022.
LENOVO and LANSCHOOL are trademarks of Lenovo. Qualcomm and Snapdragon are trademarks or registered trademarks of Qualcomm Incorporated. Qualcomm WCN3991 and Snapdragon are products of Qualcomm Technologies, Inc and/or its subsidiaries. AMD and Ryzen are trademarks of Advanced Micro Devices. Chrome is a trademark of Google LLC. GORILLA is a trademark of Corning Inc. ABSOLUTE is a trademark of Absolute Software Corporation. SENTINELONE is a trademark of Sentinel Labs, Inc. in the United States and other countries. Wi-Fi is a trademark of Wi-Fi Alliance. PCIe is a registered trademark of PCI-SIG. All other trademarks are the property of their respective owners. ©2022, Lenovo Group Limited. 
About Lenovo
Lenovo (HKSE: 992) (ADR: LNVGY) is a US$60 billion revenue Fortune Global 500 company serving customers in 180 markets around the world. Focused on a bold vision to deliver smarter technology for all, we are developing world-changing technologies that power (through devices and infrastructure) and empower (through solutions, services and software) millions of customers every day and together create a more inclusive, trustworthy and sustainable digital society for everyone, everywhere. To find out more visit https://www.lenovo.com ,and read about the latest news via our StoryHub.