Appliance leverages storage virtualization to drive higher agility and simplicity with existing SAN arrays
Offering improves performance, reduces CAPEX and OPEX vs traditional SAN deployments
Research Triangle Park, N.C. Mar. 14 — Lenovo (HKSE: 992) today announced a turnkey software-defined storage (SDS) appliance that leverages its robust server platform combined with advanced storage virtualization software and multi-core optimizing parallel I/O – SANsymphony™ from DataCore Software. This new offering is the latest milestone in Lenovo's effort to drive adoption of software-defined data center technology, which offers compelling customer benefits such as higher agility and simplicity, as well as better cost economics.
Lenovo plans to offer the DX8200D as a pre-integrated appliance, which promises to greatly simplify deployment and reduce management expenses while providing a single point of support.  The latest offering in Lenovo's SDS portfolio, it enables data centers to rapidly deploy a turnkey solution that harnesses the capabilities of existing SAN arrays.  It can optimize heterogeneous storage infrastructures, enabling them to scale as needs grow and easily replace older storage arrays. Through the centralized interface, the DX8200D provides data protection, replication, de-duplication, compression, and other enterprise storage capabilities at a much lower price point than traditional SAN arrays.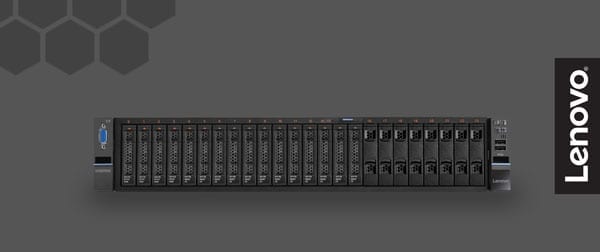 Built on Lenovo's System x3650 M5 server, which offers leadership reliability and performance, the DX8200D is designed to deliver the highest levels of response times, availability and utilization. Lenovo will pre-test the appliances working with DataCore to reduce deployment risks and increase time-to-value.  With Predictive Failure Analysis and a next-generation diagnostic panel to facilitate easy serviceability, the x3650 M5 server helps reduce downtime and costs. Lenovo Trusted Platform Assurance, a built-in set of security features and practices, protects the hardware and firmware.
The Lenovo DX8200D takes isolated storage devices, sometimes spread between different locations, and places them under one common set of enterprise-wide services. It pools their collective resources, managing them centrally and uniformly despite the differences and incompatibilities among manufacturers, models and generations of equipment.
With these appliances, data centers can realize lower total cost of ownership,[1] with an up to 90-percent decrease in time spend on storage management and support tasks, up to a 75-percent reduction in storage costs and up to 100-percent reduction in storage-related downtime. With a 10-fold increase in performance, data centers also can realize higher availability of mission-critical data.
Finally, the Lenovo DX8200D can centrally automate discovery, inventory tracking, real-time monitoring, configuration, fault detection, and alert handling over its lifecycle with Lenovo's own XClarity software, a best-in-class enterprise management tool.
Technical assistance is available 24/7 with the DX8200D appliance, and features a single point of contact for both hardware and software questions from Lenovo's support organization — which is consistently rated #1 for overall x86 server customer satisfaction.
About Lenovo
Lenovo (HKSE: 992) (ADR: LNVGY) is a $45 billion global Fortune 500 company and a leader in providing innovative consumer, commercial, and enterprise technology. Our portfolio of high-quality, secure products and services covers PCs (including the legendary Think and multimode Yoga brands), workstations, servers, storage, smart TVs and a family of mobile products like smartphones (including the Moto brand), tablets and apps. Join us on LinkedIn, follow us on Facebook or Twitter (@Lenovo) or visit us at www.lenovo.com.
Quotes
Lenovo: Radhika Krishnan, Executive Director & General Manager of Software-Defined Data Center & Networking, Data Center Group
"As an aggressive new player in this space, our cutting-edge SDS solution enables organizations to deploy their systems more quickly so they can reduce the time and resources required to manage their basic infrastructure. This in turn empowers our customers to focus on the business challenges of today, with a view to the future," said Radhika Krishnan, executive director and general manager, Software-Defined Data Center & Networking, Data Center Group, Lenovo. "This is in stark contrast to traditional storage offerings, from legacy vendors, which often-times require compromises in performance, availability, reliability and functionality— limiting the ability to scale and increasing CAPEX, power, cooling and footprint costs."
DataCore: George Teixeira, President & CEO, DataCore
"Lenovo's powerful and reliable servers combined with DataCore's parallel I/O processing software reset the standard for performance, cost-efficiency and seamless management across the diversity of storage and enterprise-class infrastructures," said George Teixeira, president and CEO of DataCore Software. "The Lenovo DX8200D, powered by DataCore, makes it simple to not only get started with software-defined storage, but also to grow and future-proof one's investments. This turnkey appliance deploys quickly and non-disruptively into any environment, delivering immediate savings and performance benefits."
---