Lenovo and Intel's "Diversity and Inclusion in the Global Workplace" study explores attitudes around diversity and inclusion in the workplace and underscores the critical need for access to technology.
Key Research Findings
More than half of global respondents say that a company's diversity and inclusion policies are "extremely" or "very" important when deciding where to apply and whether to accept an offer.
In the U.S., parents were more likely to view flexible work hours as a prominent impact of technology in the workplace than non-parents by a 12-point margin.
Globally, respondents from higher income brackets were more likely to agree that tech plays an extremely large role in improving diversity and inclusion in the workplace.
More than 80 percent of respondents in Brazil and China agree that Artificial Intelligence can be used to make the workplace more diverse and inclusive, compared to half of respondents in the U.S., U.K., and Germany.
Research Triangle, NC, 30 July 2020 – The first chapter of a new global research report by Lenovo (HKSE: 992) (ADR: LNVGY) and Intel (Nasdaq: INTC) finds that technology will play an integral role in achieving diversity and inclusion (D&I) in the workplace of the future.  With the power to bridge accessibility gaps, connect people who are otherwise divided, and expand the impact of upskilling and progressive training programs, tech already facilitates the ability to work in more dynamic, flexible ways than ever before.
The joint global study explores how people around the world view D&I in their personal and professional lives, and their perspective on the role technology plays to address systematic inequities, create more access, and enable growth.
"We know that when organizations prioritize diversity and inclusion, financial performance, innovation, and talent acquisition and retention flourish," says Lenovo's Yolanda Lee Conyers, Chief Diversity Officer and President of the Lenovo Foundation. "As the makers of devices that enable connectivity across cultural and geographic boundaries, tech companies like Lenovo have an obligation to ensure that products are created with diverse consumers in mind, and that can only be achieved with a diverse and inclusive workforce."
"Intel has a long-standing commitment to diversity and inclusion. We believe that transparency is key, and our goal is to see our representation mirror the markets and customers we serve. Just as we apply our engineering mindset to create the world's leading technological innovations, we do the same with our D&I strategies, using data to inform our decisions and sharing it transparently to drive clear accountability and deliver results across the industry," says Barbara Whye, Chief Diversity & Inclusion Officer and VP of Social Impact and Human Resources at Intel. "We know that to truly progress D&I, it takes companies working together and being a global company, this work can't be limited to the US only. That's why with both companies sharing a rich history of collaboration, we decided to extend our partnership and conduct a global survey."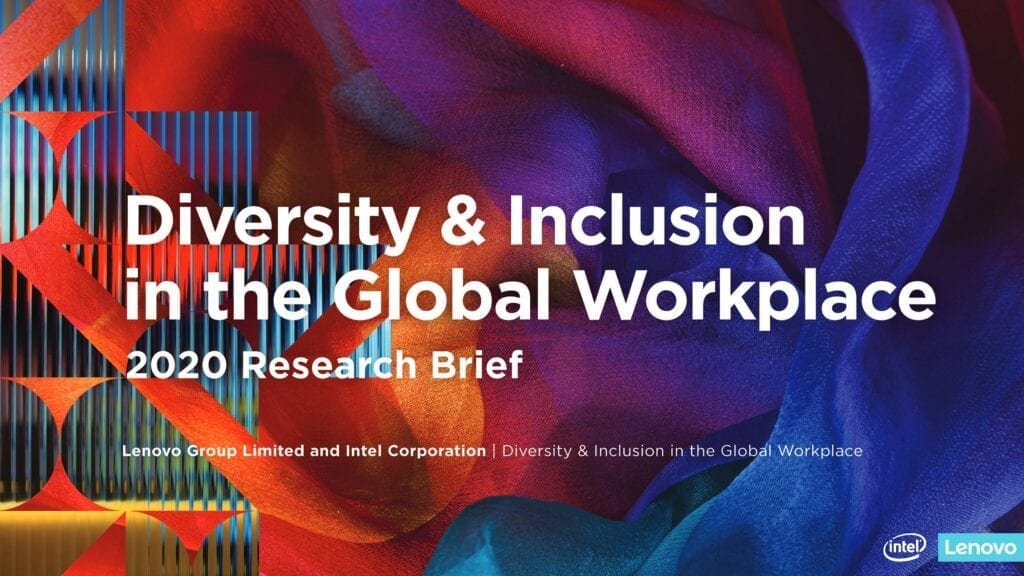 The findings within the technology chapter suggest that, if a more diverse and inclusive workplace is the goal, technology has the potential to get us there, as it facilitates human connection, understanding, and ultimately, empathy.
The study shows the potential of technology does not come without apprehension, though. Many respondents indicated they worry about whether technology, including AI, could potentially silence or leave behind those historically marginalized or underrepresented. Although participants expressed concerns over the harmful potential of AI, those in emerging markets are most optimistic, with more than 8-in-10 participants across Brazil and China agreeing that AI can be used to make the workplace more diverse and inclusive.
Lenovo and Intel's Diversity and Inclusion in the Global Workplace study explores the attitudes of approximately 5,096 respondents across five key geographic markets of China, the United States, Germany, the United Kingdom and Brazil between December 19, 2019 and January 7, 2020. This chapter focusing on the theme of technology is the first of four total installments. Additional chapters regarding "What Workers Want", "Modern Mentorship", and "D&I as a Workplace Trailblazer" are to be announced throughout the remainder of the year.
Read the full topline findings of the report here.
About Lenovo
Lenovo (HKSE: 992) (ADR: LNVGY) is a US$50 billion Fortune Global 500 company, with 63,000 employees and operating in 180 markets around the world.  Focused on a bold vision to deliver smarter technology for all, we are developing world-changing technologies that create a more inclusive, trustworthy and sustainable digital society. By designing, engineering and building the world's most complete portfolio of smart devices and infrastructure, we are also leading an Intelligent Transformation – to create better experiences and opportunities for millions of customers around the world. To find out more visit https://www.lenovo.com, follow us on LinkedIn, Facebook, Twitter, YouTube, Instagram, Weibo and read about the latest news via our StoryHub.
About Intel
Intel (Nasdaq: INTC) is an industry leader, creating world-changing technology that enables global progress and enriches lives. Inspired by Moore's Law, we continuously work to advance the design and manufacturing of semiconductors to help address our customers' greatest challenges. By embedding intelligence in the cloud, network, edge and every kind of computing device, we unleash the potential of data to transform business and society for the better. To learn more about Intel's innovations, go to newsroom.intel.com and intel.com.