In less than a year since its creation, Lenovo's Legion community has grown to more than 63,000 members, who have spent a combined total of 78 million minutes online
The Lenovo Legion Community in the EMEA region has won the Best New Community at the 2022 Community Industry Awards by CMX, from over 182 communities that were nominated globally. These awards highlight the people and communities that are creating waves in the industry, making a difference, and building incredible spaces for their members.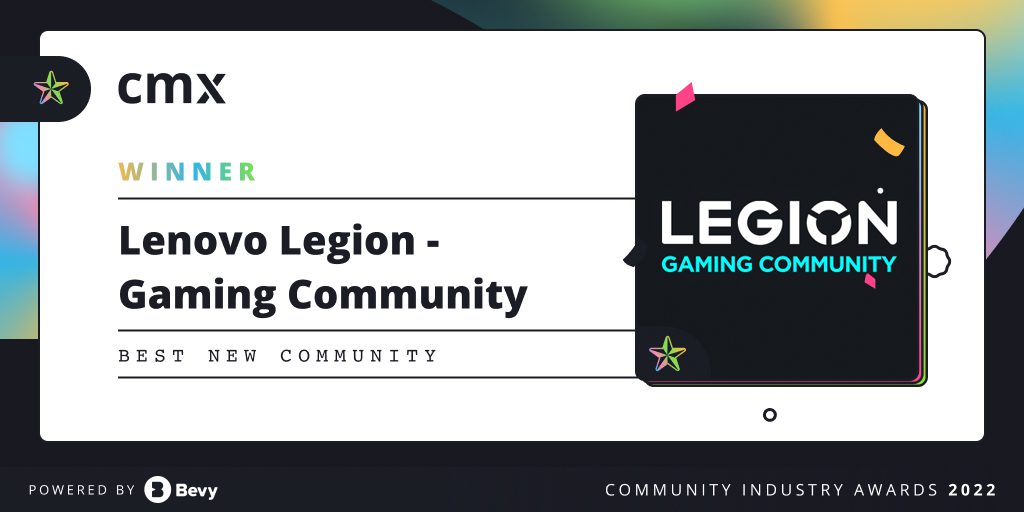 Legion Community provides a space for fans of gaming to meet and connect with other players, discuss games, organize matches, and find out about the latest gaming industry news. Together everyone can participate in regular Game Nights; online gaming sessions where community members and staff can play together, often with guests from recognized esport teams and well-known gamers, as well as ask advice from other players, share ideas and much more.
The EMEA Legion Community has grown significantly since its launch in March 2021, now serving communities across the Middle East, Nordics, Italy, Spain, France, Poland and Russia. The Legion Community is the first gaming brand community in the world to operate in the Arabic language.
Alberto Spinelli, EMEA Chief Marketing Officer, Lenovo, comments: "This award is a fantastic achievement for the EMEA Legion Community, a key pillar of our support for the Legion brand and it's dedicated supporters. It's allowed us to make a real connection with our customers and enhance the Legion experience, offering compelling content and a common space to enjoy gaming. Transcending borders, we're expecting a bright future for this vibrant community." For more information about the EMEA Legion Community visit https://gaming.lenovo.com/emea/