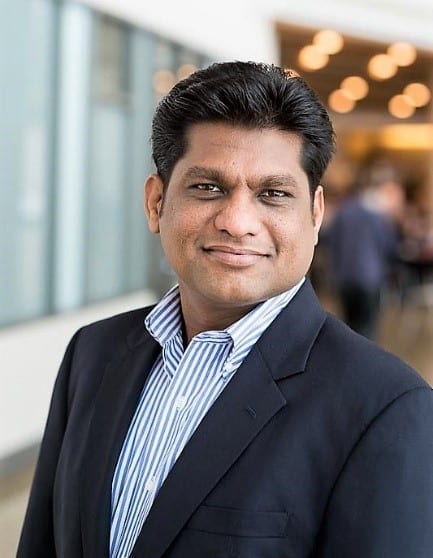 Leadership Spotlight: Dr. Bhushan Desam
AI Global Business Leader
Lenovo Data Center Group
Since joining the Lenovo Data Center Group (DCG) in early 2016, Bhushan has combined his engineering mindset with over a decade of expertise exploring high-performance computing and its various applications to shape and execute Lenovo's artificial intelligence (AI) strategy and help solve humanity's biggest challenges.
We sat down with Bhushan to discuss his current role, goals for the future and perspective on artificial intelligence in the next installment of our DCG executive spotlight series.
As a Global Business Leader, Bhushan is focused on developing AI and machine learning business at DCG. As head of a burgeoning, start-up-sized team, he's responsible for a broad spectrum of activities. On any given day, Bhushan helps manage Lenovo's overall AI strategy, assists in making product portfolio decisions with engineers and product teams, interfaces with R&T teams, supports global sales teams with customer engagement and deepens relationships with HPC customers and partners. Bhushan credits this flexibility and constant change, which allows him the freedom to try new, exciting things, as a key differentiator amongst other leading technology companies as he considered where to begin a new chapter of his career.
Although currently in a business-focused role, Bhushan began his career with a degree in mechanical engineering. He completed his PhD in engineering at the University of Utah, which introduced Bhushan to high performance computing (HPC) and laid the technical groundwork for his role and responsibilities today. After several years working in the field as a researcher and an engineer, Bhushan re-entered academia in 2011 to pursue a joint program in technology management at MIT Sloan School of Management and School of Engineering. At MIT, Bhushan cultivated an understanding of the commercial side of technology and his passion for bringing new technologies to market – a fascinating intersection of product engineering and business management – underpins his current approach to bringing Lenovo's solutions to market.
In the year ahead, Bhushan is focused on increasing visibility around Lenovo's AI strategy and portfolio, spanning hardware, software and services platforms optimized for customers' next-generation workloads. Specifically, Bhushan is eager to collaborate with customers and communicate how his team and its services (like the global AI innovation centers and end-to-end product portfolio) can help them capitalize on the benefits of AI, machine learning, deep learning and HPC to solve their most challenging business and research problems.
When he's not in the office overseeing product strategy or visiting customers around the world to forge mutually beneficial partnerships, Bhushan voraciously consumes industry news, articles and research papers that outline key challenges and needs that are top of mind for IT decision makers and new innovations to monitor.
Bhushan currently resides in Raleigh, NC, with his family. He loves to explore new places and experience various cultures globally.
Lenovo is a trademark of Lenovo in the United States, other countries, or both.