Expanded Solutions Portfolio includes New ThinkSmart View and ThinkSmart Manager
Today, Lenovo announced new additions to its ThinkSmart portfolio, designed to transform business communications via improved meeting experiences at the individual and group levels. The all new ThinkSmart View is a dedicated personal business communications device for conducting Microsoft Teams audio and video calls. Lenovo also introduced that select solutions can now be fully managed by ThinkSmart Manager, a proprietary software application for IT departments to easily manage their fleet of ThinkSmart devices.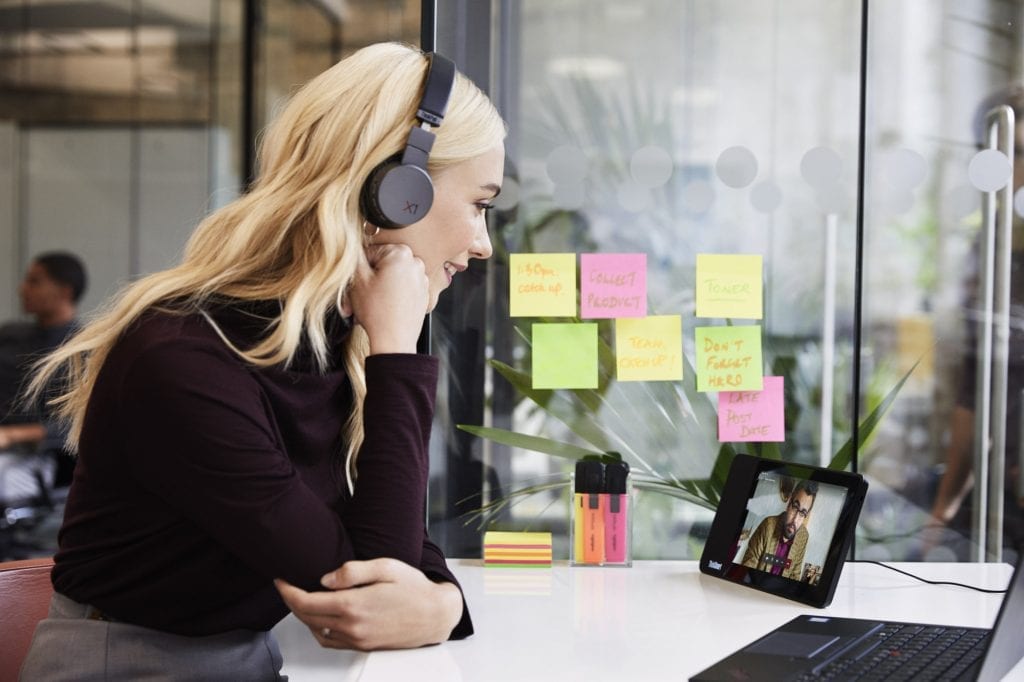 Evolving Smart Office Landscape
With working practices continuing to evolve, leading companies are exploring ways to carve out new types of workspaces within their office environments, to enable different types of work. As a result, the collaboration market faces increasing challenges around privacy, productivity and teamwork. Employees are more in control of their agendas, and having a dynamic workplace where people are more engaged across both local and remote colleagues is adding pressure to outdated business communications technology. Lenovo's smart office strategy is simple: Focus on the importance of employee engagement. We do this by looking at how employees most effectively collaborate and aim to proactively address the challenges we've all been faced with when conducting or participating in meetings.
Designing specific solutions to address different collaboration needs will drive real-world benefits. Organizations can cultivate a positive employee experience and enable flexible working. This helps attract and retain talent and unleash workforce creativity. The solutions themselves can include hardware, software and services, including Lenovo's own Smart Office Professional Services, through which we help customers embrace new interconnected technologies that accommodate these new ways of working. ThinkSmart also has you protected from every angle with our ThinkShield portfolio of security solutions that offer a fully customizable suite of processes and capabilities that protect the full lifecycle of your assets.
The Individual Space
Open spaces enhance social collaboration and foster strong teamwork principles; however, they do open up new challenges for business communications. Privacy and confidentiality are the most obvious, along with office "noise pollution" and legacy meeting technology. The new ThinkSmart View, powered by Qualcomm® APQ8053 system-on-chip (SoC), can help users unlock their full potential by providing a dedicated device screen for Teams audio and video conferencing. One-touch meeting start through the built-in display also means you join meetings in seconds rather than minutes, and by pairing a Bluetooth headset, users can virtually eliminate background noise and improve confidentiality. A physical camera shutter and device lock by PIN provides welcome security.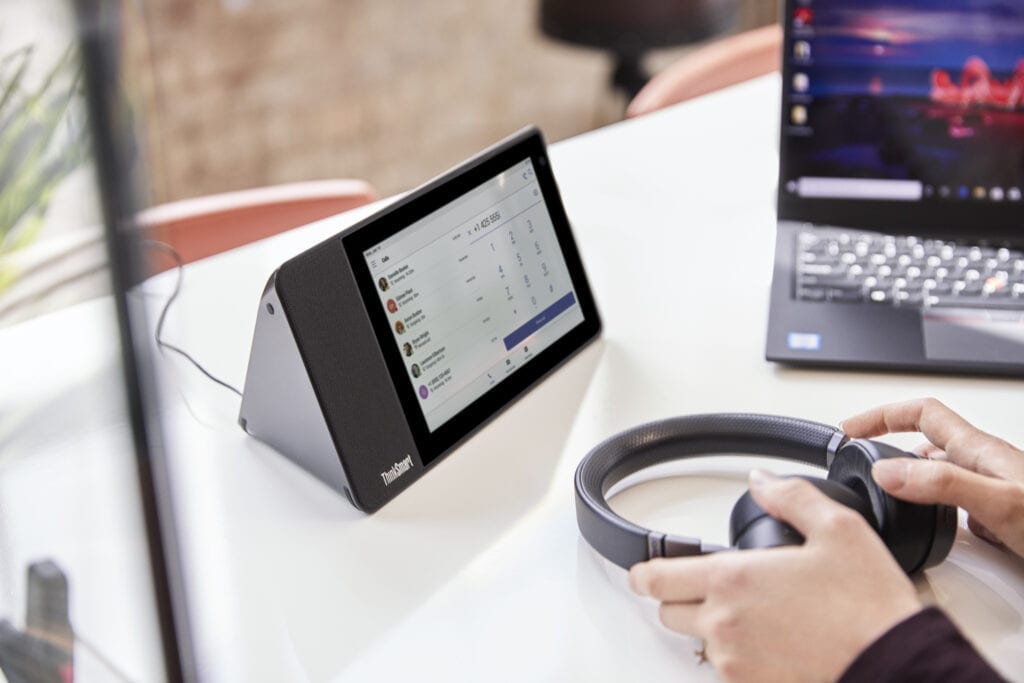 ThinkSmart View is also designed to work beyond the office. The user-friendly design means it can function in hot-desking environments just as well as it can live happily in a home office. Its flexibility could even introduce a new wave of smart phone rooms for public spaces.
The Huddle Space
Our existing purpose-built ThinkSmart Hub 500 solutions with either Microsoft Teams Rooms or Zoom Rooms empower smaller groups to be highly productive through efficient meetings in dedicated small to medium conference spaces.
The Group Space
Zoom Rooms bundle kits for small, medium and large meeting spaces featuring our ThinkSmart Edition Tiny for Zoom (based on ThinkCentre M920q) are now available. Including the Lenovo Tab M10 controller and Heckler stand and featuring Logitech  audio and video peripherals, the kits can be purchased through Maverick AV Solutions in the US, Canada and select countries in Europe and Asia.
We will further expand ThinkSmart Edition Tiny kits with our partner Logitech to include Microsoft Teams Rooms. We look forward to sharing more information soon on this solution.
Deploy and Manage
As previously mentioned, offices are being carved out into different spaces, ranging in size from phone booths and huddle rooms, to large, casual open areas and formal meeting rooms. As companies assess collaboration needs for these spaces, they struggle to find complementary solutions that enable their ideal use cases.
Lenovo Smart Office Professional Services can help take that pain away. By offering end-to-end services from consulting through deployment and management, the team can build a tailored smart office solution.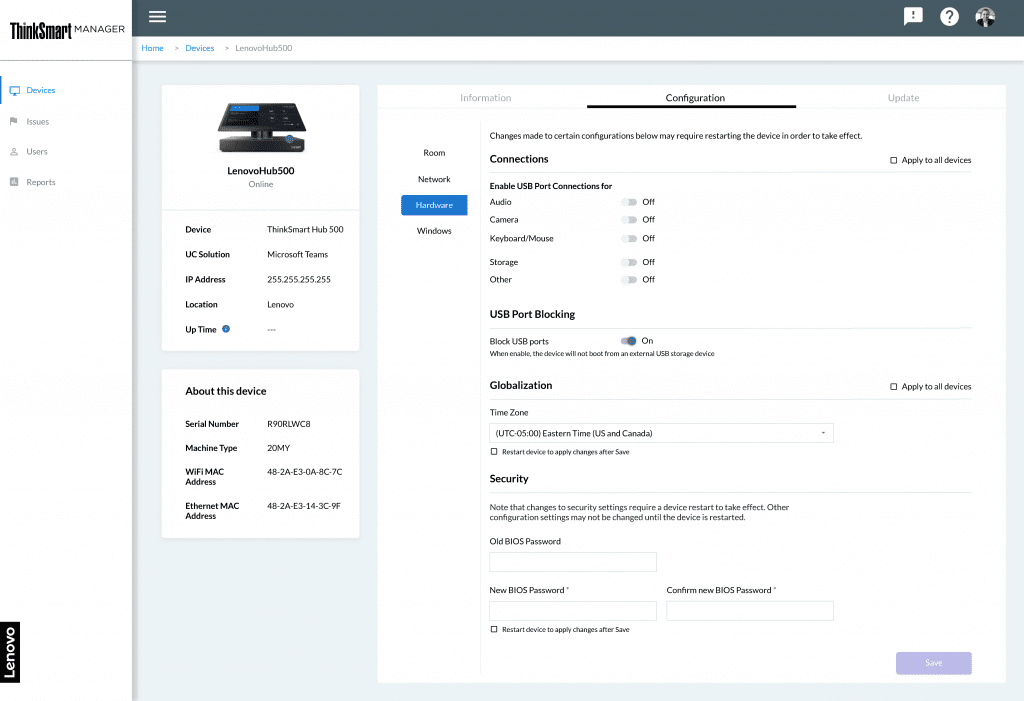 What's more, with the new ThinkSmart Manager software, manageability of select ThinkSmart devices has never been easier. IT departments can remotely deploy, manage, configure, update and resolve issues across those ThinkSmart devices within their cloud-sphere of influence. A single console provides real-time status by individual device and can generate reports on issues and usage trends to help maximize smart office solution efficiency. Protected by Lenovo Secure Authentication, ThinkSmart Manager can also remotely change BIOS and supervisor passwords on ThinkSmart devices and prevent unwanted USB port use for enhanced protection.
A Broad Ecosystem for an Ambitious 2020
Lenovo has never made it a secret that we aim to be a leader in the smart office space. We now have the platform with which to accelerate our growth; a 360-degree portfolio with complete solutions rather than a collection of parts. We are flexible across unified communications platforms, partnering with Microsoft Teams Rooms and Zoom Rooms to meet customers' needs. And we are flexible across room sizes with scalable options from individual workspaces to large conference rooms.
Plus, our broad ecosystem of partners, such as smart interactive displays from Avocor, AI cameras from Huddly and audio-visual accessories from Logitech will further enhance participant experiences that can finally make meetings enjoyable through the power of these interconnected technologies.
"A meeting of interconnected technology and working cultural changes is enabling transformations towards smarter workspaces," said Joseph Mingori, general manager, Lenovo Smart Office business. "By leveraging the next wave of smart office technology, such as ThinkSmart View, companies can design and equip a workplace for greater agility, creativity and engagement. Working with an eco-system of partners is crucial in empowering end-users and enabling closer collaboration around the world."
Pricing and Availability3
ThinkSmart View is expected to be available starting January 2020, starting at $349 or $449 with a ThinkPad X1 ANC Bluetooth Headset
ThinkSmart Tiny kits are available now from Maverick AV Solutions.
ThinkSmart Manager is available now with the first year's subscription included. Contact Lenovo representative for further details.
Partner devices are available through Lenovo's Vendor Logo Hardware Programme.
Visit www.lenovo.com/ThinkSmart for more information and the Lenovo CES 2020 press kit for photos and full specs.
LENOVO, THINKSMART, and THINKSHIELD are trademarks of Lenovo. DOLBY AUDIO PREMIUM is a registered trademark of Dolby Laboratories, Inc. TEAMS is a trademark of Microsoft Corporation. ZOOM is a registered trademark of Zoom Video Communications, Inc. Qualcomm is a trademark of Qualcomm Incorporated, registered in the United States and other countries. Qualcomm Vision Intelligence Platform and Qualcomm APQ8053 are products of Qualcomm Technologies, Inc. and/or its subsidiaries.All other trademarks are the property of their respective owners.  ©2020, Lenovo Group Limited.