New NOOK® 10" HD Tablet Offers Endless Entertainment with Over 3.6 Million NOOK eBooks and Google Play™
It's the first major collaboration of Barnes & Noble and Lenovo™ to create the new NOOK 10" tablet
Customers can get their hands on the new cobranded tablet in early April
March 19, 2021 – Barnes & Noble, Inc., with bookstores in every state across the United States, and global technology leader Lenovo today announced a new NOOK® 10" HD Tablet designed with Lenovo – a stylish yet durable tablet with full metal body and 85 percent screen-to-body ratio. The tablet offers customers endless entertainment in one package with NOOK eBooks1, digital newspapers and magazines, Google Play, Google Assistant, Kids Space from Google2 (a new kids mode featuring apps, books and videos)  and FM radio. It also comes fully equipped with front and rear cameras, Bluetooth® capability, and dual audio speakers powered by Dolby Atmos® making it ideal for enjoying your favorite streaming content. Built to be gentle on your eyes while reading, the new NOOK tablet's display comes with TÜV Rheinland®-certified eye protection3 to help lower harmful blue light.
"We are thrilled to partner with Lenovo for the new NOOK 10" HD Tablet," said Susan McCulloch, Senior Director, Barnes & Noble Press and NOOK Operations.  "This new NOOK is great for reading, playing games, or watching video. It will hit stores just in time for spring and it makes a wonderful gift for Mother's Day, Father's Day or graduations."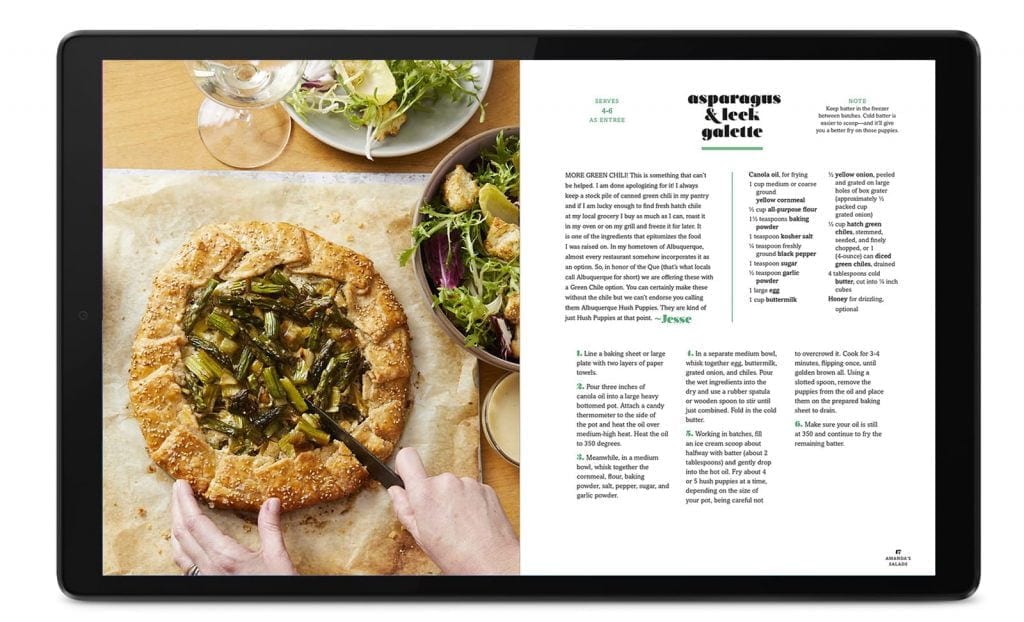 Lightweight at just 420 g (0.9 lbs),the NOOK 10" HD Tablet has a smooth, sleek design and sits comfortably in your hands for a relaxed read. And for extra comfort in multiple reading positions, a new folio case is also on the way.
"Lenovo and Barnes & Noble—this partnership is a unique pairing of two brands dedicated to creating memorable experiences for those on their quest for the latest content and entertainment," said Tony Chen, vice president of Android™ Business, Consumer Segment of Intelligent Devices Group, Lenovo. "As part of our mission to enable smarter technology for all, Lenovo has been innovating a broad range of Android tablets over the past decade based on different user needs and budgets. We're excited to turn the page with Barnes & Noble on the thin and light design of the new connected NOOK tablet that offers e-book lovers the best of both worlds—a full featured Lenovo Android tablet beloved by fans with everything you know and want from NOOK at its heart."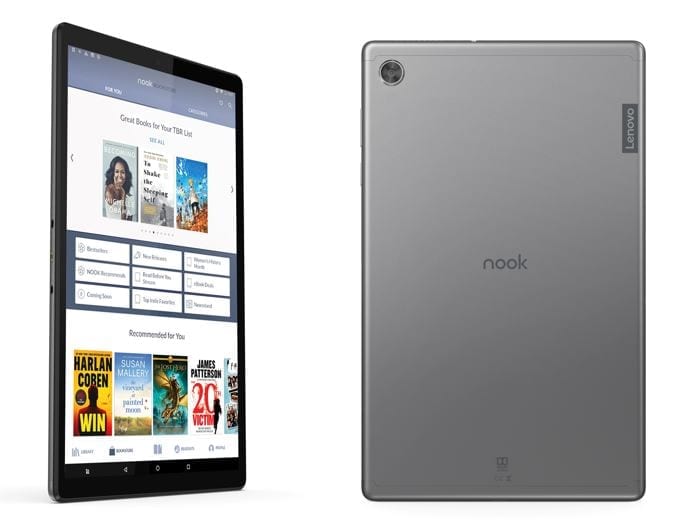 Lenovo tablets lead the way for family-first entertainment with fast connectivity and powerful performance with octa-core processor featuring an up-to-2.3 GHz main frequency. The NOOK 10" Tablet with Android OS is a multimedia hub with a vibrant 10.1" HD IPS display for responsive touch and browsing. The new device has 32GB of storage with the option to expand with a microSD card (sold separately), allowing readers to build an extensive digital library. A long-lasting battery for up to 10 hours of web browsing on a single charge4 will keep you up-and-running as you shop for all your favorite reads on the Barnes & Noble app. NOOK users have a vast library of eBooks at their fingertips, including more than one million books under $4.99, plus the added benefit of free in-store support in accordance with local safety protocols.
NOOK 10" HD Tablet joins Barnes & Noble's lineup of eReaders and tablets, all of which are complemented by the top-rated NOOK mobile app for Android and iPhone®, and supported with free NOOK Cloud storage. The NOOK App offers a range of benefits for readers including access to the NOOK Shop to purchase content on the go, multiple user profiles for each reader in your household, recommendations through B&N Readouts, and Serial Reads, a monthly free book delivered in daily installments.
U.S. Pricing and Availability5
The NOOK 10" HD Tablet Designed by Lenovo will start at $129.99 and will be available for purchase in stores and online at www.barnesandnoble.com in early April 2021.5
Contacts:
Barnes & Noble                                               Lenovo
Amelia Mulinder                                                David Hamilton
Head of Public Relations                                 Public Relations Manager, North America
amulinder@bn.com                                           dhamilton1@lenovo.com
About Barnes & Noble, Inc.
 
Barnes & Noble, Inc. is the largest retail bookseller in the United States, and a leading retailer of content, digital media and educational products. The Company has over 600 Barnes & Noble bookstores in 50 states, as well as the NOOK Digital business and one of the Web's premier e-commerce sites, BN.com. General information on Barnes & Noble, Inc. can be found on the Company's website at www.bn.com.
About Lenovo
Lenovo (HKSE: 992) (ADR: LNVGY) is a US$50 billion Fortune Global 500 company, with 63,000 employees and operating in 180 markets around the world. Focused on a bold vision to deliver smarter technology for all, we are developing world-changing technologies that create a more inclusive, trustworthy, and sustainable digital society. By designing, engineering, and building the world's most complete portfolio of smart devices and infrastructure, we are also leading an Intelligent Transformation – to create better experiences and opportunities for millions of customers around the world. To find out more visit https://www.lenovo.com, follow us on LinkedIn, Facebook, Twitter, YouTube, Instagram, Weibo and read about the latest news via our StoryHub.
1 Compatible eBooks purchased separately.
2 Kids Space requires a Google Account for your child. Parental controls require the Family Link app on a supported Android, Chromebook, or iOS device. Books and video content not available in all regions. Video content subject to the availability of YouTube Kids app. Books content requires the Play Books app. Availability of apps, books and video content may change without notice. Google Assistant is not available in Google Kids Space.
3 A TÜV Rheinland certification mark signifies that a product has been examined according to strict safety requirements by an accredited third-party and is supported by regular factory inspections.
4 Battery life tested using Lenovo internal testing under optimal network conditions. All battery life claims are approximate. Actual battery performance will vary and depend on numerous factors including product configuration and usage, software, operating conditions, wireless functionality, power management settings, screen brightness and other factors. The maximum capacity of the battery will naturally decrease with time and usage.
5 Prices may not include tax and do not include shipping or options and are subject to change without notice; additional terms and conditions apply. Reseller prices may vary. On-shelf dates and color options may vary by geography and products may only be available in selected markets. All offers subject to availability. Lenovo reserves the right to alter product offerings, features and specifications at any time without notice.
LENOVO is a trademark of Lenovo, Inc. Barnes & Noble, Barnes & Noble Booksellers and Barnes & Noble.com are trademarks of Barnes & Noble, Inc. or its affiliates. NOOK and the NOOK logos are trademarks of Nook Digital, LLC or its affiliates. GOOGLE, GOOGLE PLAY, ANDROID, YOUTUBE and GOOGLE ASSISTANT are trademarks of Google LLC. BLUETOOTH is a trademark of the Bluetooth Special Interest Group (SIG). TÜV is a registered trademark of the TÜV Rheinland Group. Dolby Atmos is among the registered and unregistered trademarks of Dolby Laboratories, Inc. in the United States and/or other countries. iPhone is a trademark of Apple Inc. Other company, product and service names may be trademarks or service marks of others and are the property of their respective owners. ©2021, Lenovo Group Limited.
###