Unveiled earlier this year, the unique ThinkBook™ Plus Gen 3 is available for purchase. Featuring an industry first1 17.3-inch ultra-wide primary display with a 21:10 aspect ratio, it also includes an innovative 8-inch secondary touch-enabled screen that enhances productive and creative multitasking.
Work from anywhere has amplified the need for highly efficient productivity technology but often requires multiple devices and larger workspaces. ThinkBook Plus Gen 3's flexible displays create a larger mobile work area thanks to more screen real estate and extra multitasking scenarios:
Supported application sub tools2 can be shown on second display
Full width video conferencing adding a chat window3 or notepad4 on the second display
The integrated digital pen5 with ColorKing+ plug-in by Ufro enables faster, more accurate color matching. Capture color from virtually any surface with the pen and instantly find the closest PANTONE® Color based on substrate
A "waterfall" capability is very useful during document editing as source pages can extend from the main to the second display
A "Magic Launcher"6 can place frequently used application icons on the second display for quick access
The calculator function makes navigating spreadsheets or financial applications a breeze
Smartphone mirroring7 onto the second display improves multitasking and synergy across devices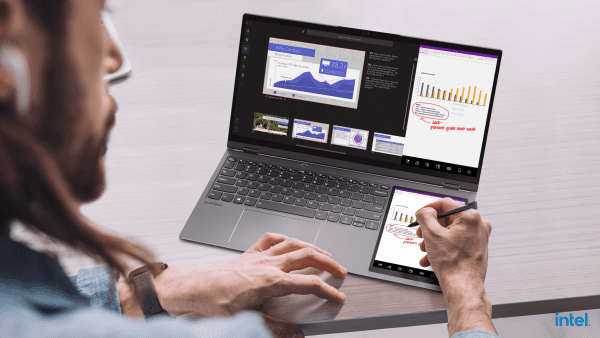 Learn more about why it's well-suited for SMBs and the future of work in an executive Q&A in our StoryHub.
ThinkBook Plus Gen 3, powered by 12th Gen Intel® Core™ Processors is available now in select markets with Windows 11, check local country for latest prices8.
1 Based on Lenovo internal research conducted in November 2021
2 Applications with detachable toolbars should be supported on secondary display
3 The following communications applications have been tested: Microsoft Teams, Skype, Zoom. Other chat applications may have limited or no functionality
4 Microsoft OneNote has been tested. Other notetaking applications that support pen input may work with limited functionality
5 Integrated digital pen may be optional on select configurations
6 Magic Launcher supports any application icon shortcut. Application shortcuts can also be grouped
7 Smartphone Mirroring is supported on all Motorola "Ready-For" compatible mobile devices
8 Prices may not include tax, shipping or options and are subject to change without notice; additional terms and conditions apply. Reseller prices may vary. On-shelf dates may vary by geography and products may only be available in select markets. All offers subject to availability. Lenovo reserves the right to alter product offerings, features and specifications at any time without notice
LENOVO and THINKBOOK are trademarks of Lenovo. Intel, Intel Core, the Intel logo, and other Intel marks are trademarks of Intel Corporation or its subsidiaries. PANTONE is a registered trademark of Pantone LLC. ColorKing+ is a product of Ufro Inc. All other trademarks are the property of their respective owners. ©2022, Lenovo Group Limited