By Mike Leach
As interest in and adoption of artificial intelligence (AI) continues to grow across industries, so does the need for guidance and solutions for navigating AI strategies. It's one thing to implement machine and deep learning workflows, but it's another to ensure you're getting the most out of them – with quick and easy deployment and, ultimately, faster time to market. At Lenovo, we understand getting up and running requires both an understanding of AI and the solutions that allow you to harness this complex technology.
Today we are announcing our new Lenovo AI Workstation – an out-of-the-box, client workstation platform designed to decipher the complicated process of getting started with AI solutions and enhance the efficiency of many machine and deep learning workflows.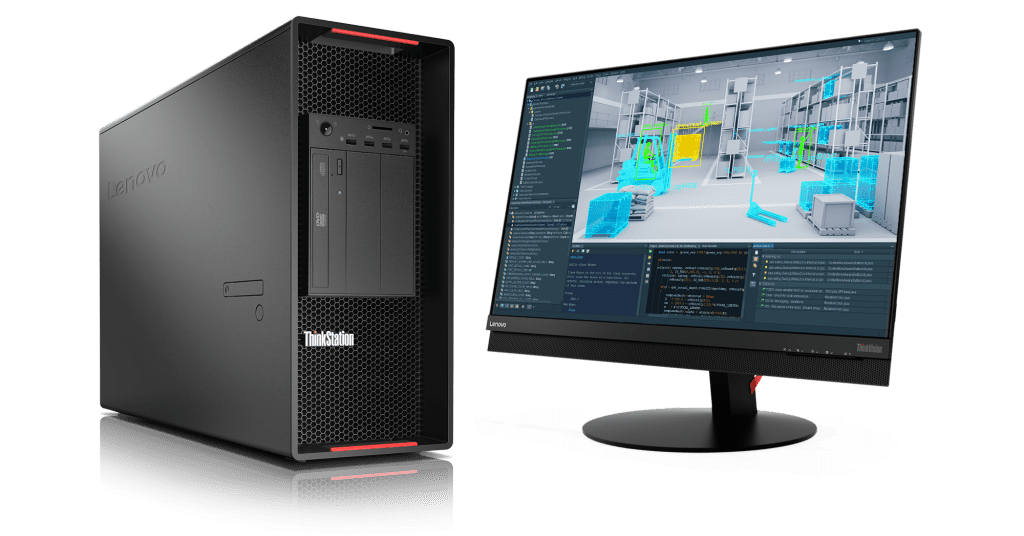 We believe AI is a tool you can adapt to enable your business. Working locally on a powerful client AI workstation can deliver a number of key advantages when deploying AI solutions – including increased security and control, along with improved speed and efficiency at your deskside. Whether it takes the form of machine and deep learning, or edge computing, client AI is quickly transforming how we develop, model and deploy projects around the world.
Regardless of your workflow, each AI project begins with large quantities of unstructured data with a goal of transforming it into intelligently-trained AI models…quickly. As a result, Lenovo has seen an increased demand for high-performance workstation solutions to help navigate the immense amount of data. Our AI Workstation is here to help simplify your path, removing the challenge of selecting the right hardware configuration, and ultimately making the investment simpler and easier.
Available in both single and dual processor configurations, our new solution offers the perfect combination of enterprise-grade hardware and software. The AI Workstation is built around our most powerful configurations of the ThinkStation P520 and ThinkStation P920 workstations, with Intel Xeon processors with ECC memory, which removes the risk of a memory error – critical when dealing with large datasets. Additionally, we've incorporated the latest NVIDIA Quadro RTX professional GPUs with AI-optimized Tensor Cores to drive the most demanding AI projects. This solution also features the Ubuntu Linux operating system- an OS made for data scientists looking for the ideal software layer; delivering a NVIDIA RAPIDS-ready platform to support a number of GPU-accelerated AI frameworks such as TensorFlow, Caffe, and PyTorch.
| | |
| --- | --- |
| ThinkStation P520 | ThinkStation P920 |
| Intel Xeon W2155 processor | Dual Intel Xeon Gold 6136 processors |
| NVIDIA Quadro RTX 6000 | Dual NVIDIA Quadro RTX 6000 with NVLink |
| 128GB (8 x 16GB) DDR4 @ 2666Mhz ECC memory | 384GB (12 x 32GB) DDR4 @2666Mhz ECC memory |
| 512GB M.2 NVMe SSD (Boot) + 2 x 1TB 2.5" SATA SSD (Data) storage | 1TB M.2 NVMe SSD (Boot) + 2 x 2TB 2.5" SATA SSD (Data) storage |
| Ubuntu Linux | Ubuntu Linux |
Suggested AI Workstation model configurations; additional options available and based on customer requirements.
Lenovo's AI Workstation can also be clustered together at the desktop and then scaled into the data center thanks to Lenovo Intelligent Computing Orchestration or LiCO. This unique software solution, developed internally at Lenovo by our datacenter group, allows professionals to simplify the management and use of distributed workstations for more seamless AI model development – enabling users to get the most out of their hardware and help pave the way for ultimate AI success.
This AI Workstation solution offers users who face challenging machine and deep learning models the ability to dramatically transform the efficiency of their workflow. Data scientists who spend hours of their day striving to decipher the data can now train and evaluate these AI models, rapidly speeding up results to deliver the best ROI for their business.
More and more, AI is evolving from nice-to-have into a standard business requirement. Our goal is to empower professionals who were once guarded in deploying AI to begin without the frustration and complication of determining where to start. The new Lenovo AI Workstation is here to take the heavy lifting off your plate. While AI once was just an unattainable idea, Lenovo is addressing the pain points and highlighting the path with ease of deployment and optimized hardware configurations, reducing the runway into your AI journey.
From medical imaging to construction-site robotics to global food supply algorithms, businesses are already experiencing the benefits of AI toolsets built directly into the software packages they use every day. With the AI Workstation, Lenovo is dedicated to delivering maximum levels of performance, ultimate platform scalability and unmatched levels of reliability. Lenovo ThinkStation Workstations are engineered from the ground up to not just meet, but exceed the rigorous computing requirements of today's most demanding machine learning and AI workflows.
Today, we are excited to offer the whole package with our new AI Workstation, enabling you to power the businesses of the future. Lenovo's AI Workstation will be available by the end of March. System configurations are highly customizable, scalable and pricing is determined by customer need. To learn more, visit www.lenovoclientai.com.