While 2020 wasn't without its challenges, we also saw innovation at its best as companies across industries incorporated emerging technologies and developed new workflows to ensure business continued to move forward amid all the chaos caused by the pandemic.
One such company is Predator Cycling, a manufacturer and designer of high-end custom carbon fiber bicycles, built for cycling enthusiasts and Olympic-level cyclists alike. Using the pandemic as a catalyst for change, Predator Cycling's CEO and co-founder, Aram Goganian knew the latest technology gains could transform his Nashville-based business. Not only does Predator Cycling design all of their frames and conduct all of their simulation, rendering and manufacturing process in house, but the company also manufactures, builds and simulates all of the machinery and equipment used to build its custom bikes. Any chance to optimize these processes throughout the design and production lifecycle is essential.
Predator Cycling's new RF20 frame recently launched and is now available. After being in research and development stages for years, Goganian wasn't sure the new road bike would ever see the light of day due to increasing costs of materials and the complexity of the design, which then impacted the manufacturing and assembly of the bike. However, due to tremendous performance and efficiency gains – including the ability to process more complex models, render and run simulations in real time, and streamline manufacturing processes – Predator Cycling was finally able to introduce the new bike at a competitive price.
As one of the first users of the ThinkStation P620, equipped with the NVIDIA RTX A6000 GPU built on the new Ampere architecture, Predator Cycling is now able to grow and scale their business. Beyond introducing a new product offering, Goganian and his team are also evolving their company in other ways. Because Predator Cycling does so much custom work and each of their bikes are purpose built for each individual rider, customers need an easy way to see what their bike is going to look like and start to build an emotional connection with their bike. To do this, Predator uses Luxion's real-time ray tracing application Keyshot running on Lenovo and NVIDIA's hardware to quickly and effortlessly load all of their existing CAD models and drag and drop all of their finishes, textures and surfaces right onto the part to give the customer a realistic representation of what their bike will look like.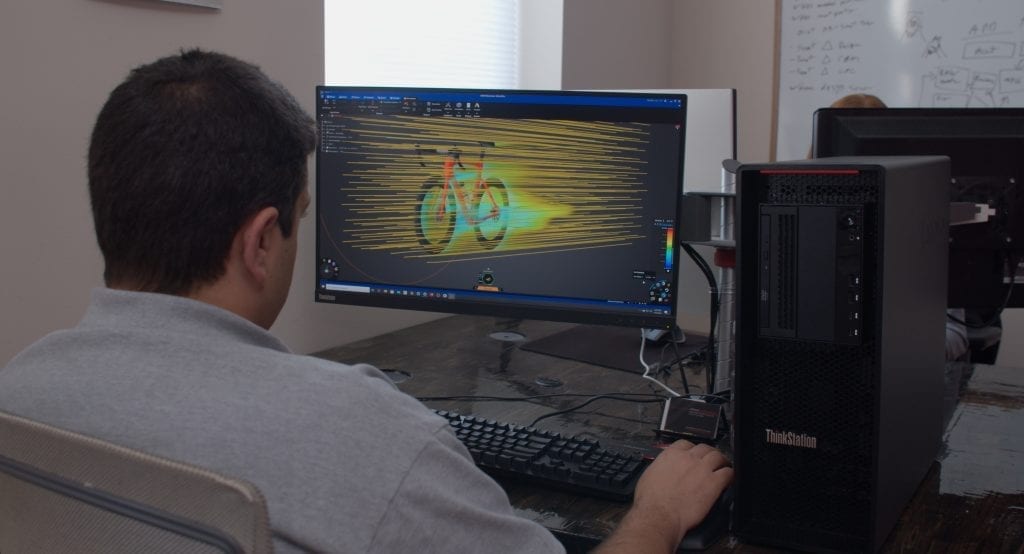 Seeing rendered prototypes not only provides their customers with seamless options for component and finish requests that they can alter in real time, but it also saves Predator time and money. Prior to this, the Predator team would build physical prototypes for marketing purposes, which would take months to complete from start to finish.
Now they've eliminated this process entirely. They are now able to show customers renders of bikes long before they get to production or even physical prototyping. Thanks to the instant feedback they receive from customers, they can go from prototyping straight to testing. Goganian estimates that this new workflow has saved Predator somewhere between 12-16 weeks in their go-to-market timelines.
"As I find myself deep into the design and simulation process of a component, I can be approached with an editing or simulation update task from the production line without my workflow being disrupted," said Goganian. "I can now run concurrent simulations – from topology optimizers to thermal dynamics – all while hosting a video call with a client. As a result, I've saved more than 1-2 weeks in design-to-manufacturing turnaround using this workflow."
Predator has also been able to drastically improve internal workflows on simulations they're running for a lot of the design work they do. They've seen performance gains of 2 to 6x across a number of the key applications they use including Luxion Keyshot, Ansys Discovery, Ansys Mechanical, Ansys CFD, and Autodesk Fusion 360. Additionally, the company is now able to validate and test their designs more efficiently. For instance, Predator implements mechanical simulations to help them optimize their carbon fiber orientations as well draping patterns to enhance the structural integrity and riding characteristics of their frames. They also utilize fluid simulation to identify any drag in order to design a frame system that will "cut through the wind."
Moving forward, Goganian and team are exploring other ways they can take advantage of the power and flexibility of the 64-core enabled ThinkStation P620 workstation. From integrating digital twins into their design workflow and transforming their manufacturing process by using generative design and 3D printed parts to capturing and editing their own 6K video footage for marketing, Lenovo is helping Predator pave a smarter way forward. To learn more, hear Goganian further discuss how Predator is using the latest technology from Lenovo and NVIDIA in this on-demand webinar.