Six decades ago, an ambitious young woman who graduated at the top of her class at Columbia got rejected by 41 law firms. Her name? Ruth Bader Ginsburg (RBG). Just this past year, this judicial phenomenon marked her 25th anniversary of sitting on the US Supreme Court. According to 2018 data1, law schools in the US enroll 52.39 percent women and the number increased for the third year in a row, but women only comprise about 35 percent of lawyers at law firms. RBG built her career on the fight for women's workplace rights, helping change the future of law school demographics.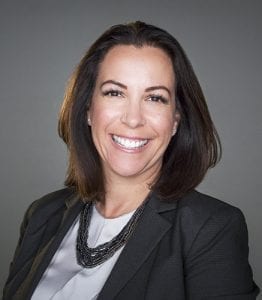 Lenovo's Jennifer Salinas, Executive Director of Litigation, is working to change demographics in the legal profession, too – for Hispanics. That's why as President of the Hispanic National Bar Association (HNBA), she's expanding the Intellectual Property Law Program by bringing Latinx law students into the intellectual property and technology legal fields to educate them about the career paths in these fields and increase their representation. She's committed to making a difference to the Hispanic community by helping law school students and lawyers at the early stage of their career. While a legal career can provide entrée into influential sectors of society, often the strict academic requirements and high tuition costs are obstacles for many Latinos from pursuing this career. According to statistics from the Hispanic National Bar Association (HNBA), Hispanics, who are 18 percent of the population, comprise just about 5 percent of the US lawyers and only 2 percent of Latino lawyers practice in Intellectual Property or technology.
We talked with Salinas to learn more about the program and future she envisions for the next generation of legal professionals.
This year Lenovo sponsored the IPLI program. What is the aim of this program?
With the support from our Chief Legal Officer, Laura Quatela, Lenovo joined Microsoft to support the HNBA's effort to increase the representation of Hispanic attorneys practicing intellectual property through the HNBA's Intellectual Property Law Institute (IPLI). The IPLI is a partnership between the HNBA, corporate and law firm sponsors in combination with public sector entities, key members of the Federal Judiciary, members of administrative agencies, and academia. Launched in 2013 in partnership with Microsoft, more than 150 IPLI scholars have graduated from the program. Many of them are now IP and technology attorneys.
Applications for the 2019 IPLI are available now from February 1, 2019 to April 19, 2019, at https://hnba.com/2019-intellectual-property-symposium/ipli-application/. The program will take place June 1–7, 2019. Please contact Carla Martin, HNBA Director of Programs, at cmartin@hnba.com for any questions regarding IPLI.
What do you do as HNBA National President?
As the president of the Hispanic National Bar Association (HNBA), I am committed to the success of all Hispanic lawyers. This year I'm focusing on our community and our pipeline. My theme is: "Their Future, Is Our Future." I want to help students at every stage get the skillset they need to go to the college of their dreams, to know what it takes to succeed in a legal career, and to provide guidance on navigating the legal profession.
How do you promote the Hispanic Community within the Lenovo?
I'm proud to be a part of the Hispanics of Lenovo Association (HOLA). This employee resource group focuses on empowering, developing, and advancing the next generation of Lenovo leaders of Hispanic/Latino descent. It facilitates roundtable discussions by executive sponsors, provides networking, and delivers professional development. HOLA also hosts an annual diaspora multicultural event celebrating Hispanic Heritage Month in September. We also have many Leadership Development Programs supporting career development of underrepresented groups. The global Women's Leadership Development Program (WLDP), which I am a part of this year, and the U.S. Mosaic Leadership Development Program (MLDP) also help develop high potential talent for the executive ranks among our diverse workforce.
Programs like these are working. We've seen an increase of 2.9 percent in the past year in the representation of African American and Hispanic executives2. By 2020, we're focused on taking the efforts needed to achieve 28 percent US, Asian, Black, Hispanic, Native American, Two or More Race, and/or Hawaiian and Pacific Islander representation, up from current representation at 26.5 percent.
1 Enjuris, Law School Rankings by Female Enrollment (2018)
2 Lenovo D&I Report (2017)