The 2020 Summer Intern cohort faced many unprecedented challenges after ending their Spring semester online. Not only did they have to adapt to the collective challenges of coronavirus, but they had to effectively introduce and integrate themselves into working teams without meeting their managers or teammates in person. Instead of being immersed in a Lenovo office culture, interactions have been limited to video conferences and webinars from students' homes. Lenovo's summer interns demonstrated great agility through the virtual internship, and some students ventured to take virtual engagement one step further through virtual volunteerism: giving back to communities through safe, virtual activities.  
At a time when employee engagement professionals struggle to keep employees excited about volunteering, Lenovo Philanthropy and Global Communications intern Ariana Wilson dove into the challenge. 
"It was a little difficult to identify virtual activities that could be engaging and meaningful for the interns, knowing that they couldn't really interact with each other or the beneficiaries," said Ariana. "It was great to continue Lenovo's commitment of giving back to communities, even under these difficult circumstances."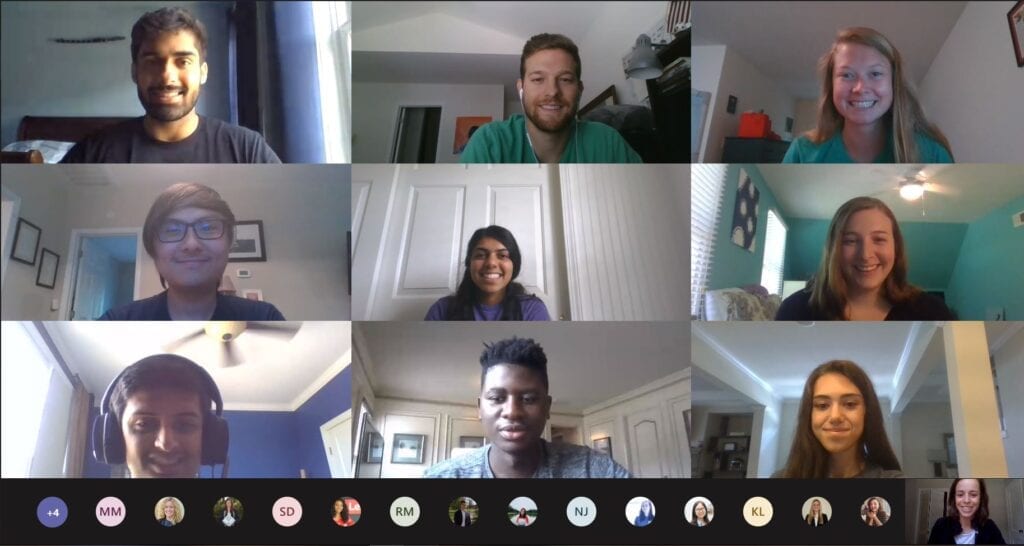 She chose to focus her effort on causes that students could easily empathize with, and could continue to engage with, even after classes resume this Fall: 
Project Sunshine

 partners with hospitals across the 

U.S. and Canada

 to deliver engaging programming and activities to pediatric patients. Project Sunshine's offerings have become 

especially 

crucial to children receiving treatment as COVID-19 has restricted families from visiting and put a strain on hospital personnel. After receiving a presentation about Project Sunshine and their work, Lenovo interns designed engaging activities of their own to be distributed to children in hospitals across the U.S. Submissions ranged from coloring pages to word puzzles, made all the more special to children through the knowledge that it was created just for them by a volunteer. 

 

Working through Lenovo's 

philanthropic partner

 

NAF

, Lenovo interns created and shared video interviews with NAF high school students, sharing tips and lessons learned from their internship at Lenovo, as well as ways to stay engaged with education through the challenges of remote/online learning. The videos will 

become

 a repository of knowledge from college students who may be more relatable to high school students, ensuring that through NAF's efforts, students are "future ready

.

"

 
"I'm always involved in community service – on or off campus. This was a wonderful opportunity for me to give back like I love to do, even though I can't leave my apartment," said Madison Milliken, Trade Marketing Intern for Lenovo's North America business. "For so little of your time, you can do so much and make a big impact on someone else's life; that feels really good."  
Lenovo interns found virtual volunteerism to be comparably rewarding to in-person activities. In the world of connection through video conference, there was a misconception that without in-person volunteerism, the same impact could not be made. However, nearly half of the volunteers reported that their volunteerism made a moderate to high impact.   
"For both the NAF and Project Sunshine activities, volunteers submitted an activity or video to help someone," Wilson said after the project's completion. "Because of COVID-19, they may never be able to directly interact with the people they're benefitting, like they would have been able to under normal circumstances. I'm pleased to see the volunteers actively engage and share their talent and time. Even though they may never see the full impact of their effort."   
On top of engaging interns in Lenovo philanthropy's efforts, these activities served as litmus tests for Lenovo's global month of service in October 2020, allowing Lenovo's 52,000 employees around the world to give back virtually. The new format will surely be out of the norm, but it will also allow employees to volunteer straight from their laptops at any time and benefit communities around the world rather than focusing on those that are physically near.  
Watch for more information about Lenovo's global month of service and how you can give back in similar opportunities closer to October.