By Yuanqing Yang
The Consumer Electronics Show (CES) in Las Vegas always provides both an energetic start to Lenovo's year and, more importantly, a chance to show off our latest technology.
Lenovo certainly will have plenty to talk about at CES, and plenty of great products to demonstrate for our customers. Yet CES for Lenovo is about more than our latest devices. It's also where we will talk about our view of the future of technology and how Lenovo will provide the tools that empower our customers to transform our world by making it more inclusive and solving some of society's most vexing problems.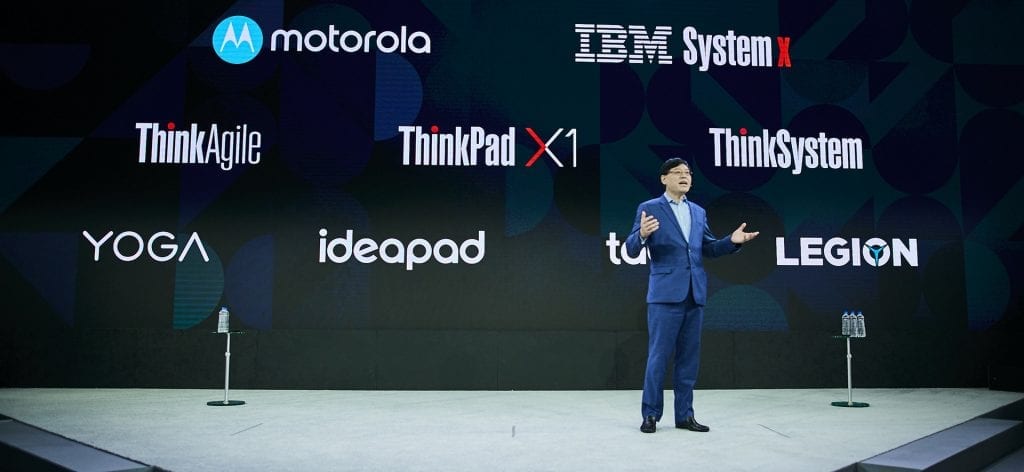 The pace of change in today's society is dramatic, so dramatic that it is really the fourth industrial revolution. While this creates stresses and new challenges, the opportunities are even greater. As we evolve and adapt, we can see technology help making our lives become more immersive and integrated than ever.
As a global technology company serving more than a billion customers worldwide and transformed itself many times, Lenovo has unique insight into this journey. Central to our focus is understanding the needs of our customers and unlocking human potential by equipping people with the products and services they need now to address issues and concerns we all face.
Our technology opens entirely new worlds and places the power of opportunity into the hands of our customers. From smartphones (Motorola), tablets, PCs (ThinkPad, Yoga, Lenovo Legion) and workstations as well as AR/VR devices, smart home/office solutions and commercial applications, Lenovo is the only company delivering truly comprehensive end-to-end solutions.
Lenovo is harnessing the power of smart technology via the Internet of Things (IoT), Augmented Reality (AR) and Artificial Intelligence (AI), giving customers the ability to experience the world in a more intuitive, immersive way. By providing end-to-end solutions across the entire customer journey, Lenovo is transforming how we live our lives. We call this Intelligent Transformation.
The first devices from this transformation are already becoming common, such as our Smart Display with Google Assistant that lets you order a pizza or play music or adjust the thermostat with just a simple voice command. This is just the beginning. This year will bring a new wave of developments with the introduction of 5G technology, where Lenovo was the first to the 5G smartphone market with the Moto Z3 and Moto 5G mod. And we can look into the not-too-distant future and see even bigger breakthroughs, such as self-driving cars or analyzing and improving traffic in major cities.
These are all exciting new technologies that consumers may already have and have certainly considered. Yet Lenovo sees Intelligent Transformation as being much more far reaching, providing breakthroughs that will change the way every industry works.
Lenovo is at the forefront of the next wave of technology innovation. At its center is the confluence of big data, 5G, mobile, smart devices, and AI – the transformational technologies that are re-imagining our world. Lenovo is working to shape how smart technology transforms business models, entire industries and their value chains.
For example, you may have seen AR/VR headsets being used for entertainment, such as our Mirage Solo Jedi Challenge. We've taken that a step farther with the "Starlight Xperience," a custom program using the Mirage Solo that is designed to entertain, educate and inspire hospitalized children. Even more, AR/VR headsets also can be used in manufacturing to make workers more efficient, better trained and even safer. And such headsets can be customized for each industry to address the specific complexities of each manufacturing environment. For example, they can be used to help doctors make faster, and more accurate diagnoses remotely, a particular benefit for patients in underserved areas.
At the heart of our intelligent transformation are three key building blocks: data, computing power and algorithms. With a ubiquitous internet, that data is exploding, coming not only from PCs and mobile phones, but also all the smart devices that we use every day. By 2020, there will be over 20 billion smart devices worldwide, more than double the number in just 2017. That's a lot of data.
To turn that data – that fuel, if you will – into useful information power, takes computing power combined with advanced algorithms. Combine all three and you can change the world.
Today, Lenovo is again the world's #1 PC company as well as a leading provider of mobile phones, tablets and a full range of IoT devices. Lenovo is also the world's largest supercomputer provider, with 140 of the 500 most powerful computers and 89 world records in key workloads. And we are creating advanced algorithms and Big Data tools to provide intelligent vertical solutions for a wide range of industries. The developments allow significant improvements in demand forecasting accuracy, improve the speed and accuracy of medical devices such as CT scans, and improve efficiency in everything from jet engine repairs to retail inventories.
The opportunities of Intelligent Transformation are too profound, the scale is too vast, for any one company to do it alone. This is why we are eager to collaborate with partners that can help bring our vision to life. And we believe our combination of an unequaled device portfolio, industry leading computing power and leading capabilities to develop key algorithms makes Lenovo uniquely positioned to lead in this next era of technological transformation. We are excited about the journey ahead of us.
---
For further CES 2019 coverage, check the StoryHub homepage and collection of content in the press kit.