We have all been told that when you shop local, you are enriching towns, neighborhoods, and cities — and the people who live in those communities. But to me, supporting local small businesses is more than that.
It's about fostering a sense of identity and belonging, giving recognition to the authenticity and resilience of local entrepreneurs who are the backbone of our communities. It's bringing prosperity to the people who, even in the most challenging times, have been there to give you a meal, a haircut, a class, or exceptional service.
The North Carolina Triangle region is home to one of Lenovo's worldwide headquarters — but it will also be my new (again) home. Our state is vibrant, diverse and experiencing tremendous growth as a global technology leader. At the same time North Carolina offers small-town charm where small businesses, a lot of them minority-owned, sustain that "at-home" feeling.
That's why it was so meaningful to support our community through Lenovo's Evolve Small   campaign, an initiative focused on providing relief to small businesses across North America that are still recovering from the impact of COVID-19. Through Evolve Small, we've committed $1 million in aid, mentorship opportunities, and community engagement. And what better way to fire up support in the Carolinas than to team up with the Carolina Panthers?
Lenovo and the Panthers partnered through the team's Empowering the Carolinas program to engage a loyal fan base that not only rallies in support of the team, but also champions community  We knew that together we could make a real difference for small businesses.
Panthers fans had a chance to nominate their favorite small businesses for the chance to win a $100,000 advertising package with the Panthers during the NFL season and the response was awesome! More than 300 nominations were submitted via the Panthers portal, and 10 finalists across the Carolinas were surprised (and delighted!) with:
A visit from Panthers legends Mike Tolbert, Kevin Donnelly, Brad Hoover and Captain Munnerlyn
$5,000 each worth of technology upgrades and consultation services
A ThinkBook 14s Yoga
Two tickets to join all finalists and a Panthers Legend in a VIP suite at the Panthers vs. the Pittsburgh Steelers preseason game on Aug. 27
Additional VIP Panthers gameday experience with four lower level tickets, pre-game hospitality, and parking
And…a chance to win the Grand Prize of $100,000 worth of advertising during the Panthers' NFL season!
And because without the Panthers fans this campaign would not be possible, those who successfully nominated a finalist will receive a Game Day VIP package this season including game tickets, parking and a merchandise credit at the team store.
Evolve Small Top 10 Finalists
The 10 finalists all have unique stories. They have been built from the ground up, often without much budget for resources, technology and advertising. Yet even during these most challenging times, their doors have remained open to help those who need it most.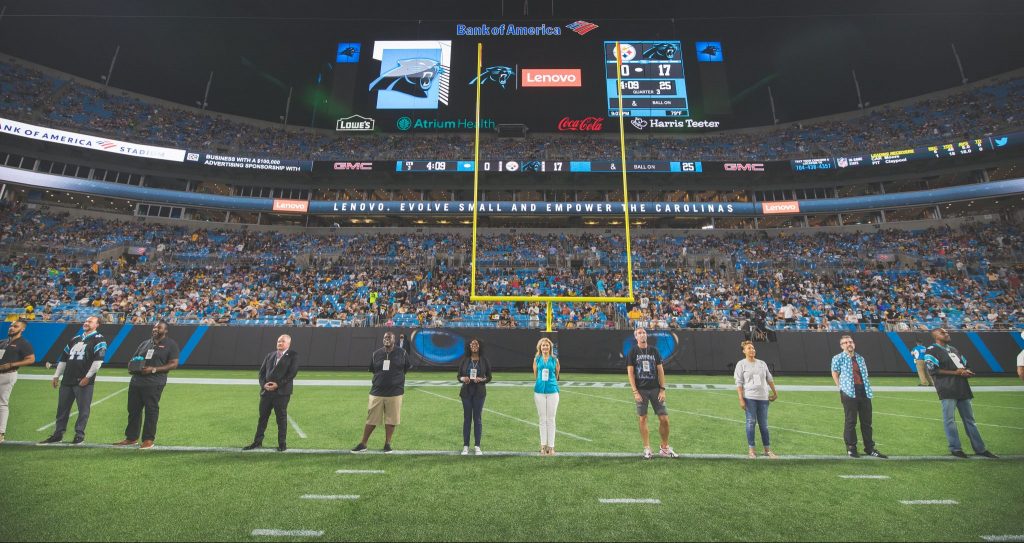 These businesses were nominated for their active role in the community, in addition to outstanding service:
The Big Day
At the Panthers' preseason home game Aug. 27 against the Pittsburgh Steelers, Lenovo teammates Kelly Darden, Maurice McGregor and I were able to join the 10 Empowering the Carolinas finalists where we all enjoyed the Panthers' big win together.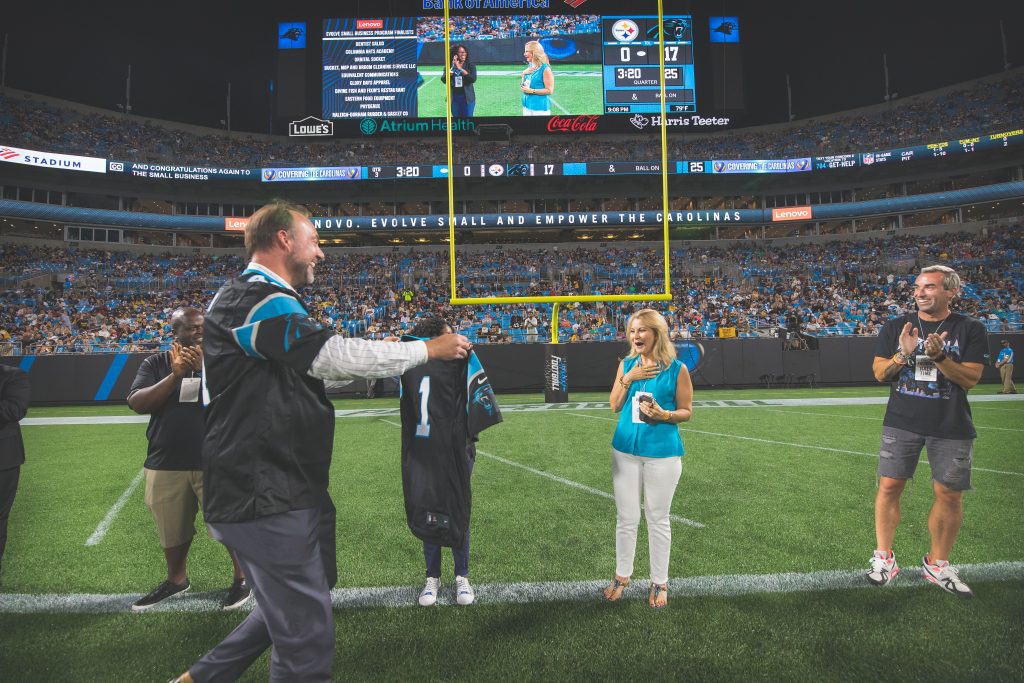 At halftime, all of the finalists were recognized on the field. I had the pleasure to announce Dentist Salud's Dr. Clara Lucia Nuñez as the winner of the $100,000 advertising package with the Panthers for the upcoming season (see video below). Dr. Nuñez' strong commitment to providing quality and affordable medical care to the Hispanic community was expressed with enormous gratitude. Notably, Panthers fans expressed a strong desire for Dentist Salud to expand its bilingual services across the Carolinas.
All of these small business owners demonstrate that you can succeed doing what you love while helping others along the way. I'm proud of our Evolve Small campaign, the partnership with the Carolina Panthers and to help celebrate the inspiring and resilient stories of small businesses here in our backyard.
Keep an eye out for more from Lenovo Evolve Small and other initiatives to support small businesses!