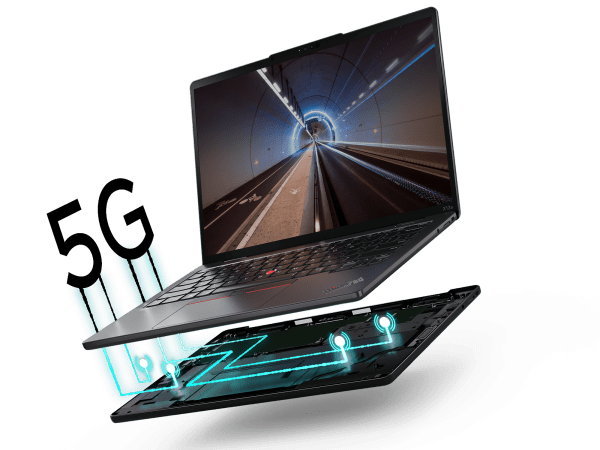 As more and more companies adopt hybrid business models, we are seeing market trends of increased investment in digital transformation and wireless network infrastructures. As Verizon announces the availability of ThinkPad X13s with 5G Ultra Wideband connectivity, we took the opportunity to speak with Vijay Paulrajan, Executive Director, Business Devices, Verizon Business Group and Andrea Menasche, Lenovo VP of Global Accounts WW System Integrators/Telco/Consultants, to get their insights on the future of 5G.
Thank you both for speaking to us and giving us your insights.
Q: Could you first help us understand the technology differences between mid-band 5G and high-band 5G?
Vijay: Both networks offer reliable high speed internet connectivity with lower latency but also have greater bandwidth allowing more simultaneous connections without impacting speeds. The differences mainly lie in coverage distances. 5G using mid-band spectrum offers flexibility in terms of range and performance, while high-band 5G (using high-frequency, mmWave spectrum) offers exceptional speeds at the expense of range.
Q: How has hybrid work impacted connectivity solutions?
Vijay: The demands on bandwidth and network infrastructure have increased exponentially, partly as a result of the pandemic, but also with the significant increase of IOT and Edge computing. Businesses had to rapidly adapt and provide stable connection solutions to remote workers. The advantage of wireless WAN (WWAN) connections is that in many cases the infrastructure is already there, but also is intrinsically more secure than many home-based or public connections. The increased demand is having a knock-on effect to end user requirements with many requiring integrated WWAN capability, such as the ThinkPad X13s.
Andrea: Absolutely right. We are seeing a trend from customers requesting laptops with integrated WWAN, either 4G LTE or for better future proofing, 5G. ThinkPad X13s is our first business laptop with connectivity to mid-band 5G. Digital transformation is pivoting to include and enable hybrid business models, and flexible and scalable network infrastructures need the right devices to maximize collaboration and productivity for all employees.
Q: Thank you. So, what makes the ThinkPad X13s attractive to Verizon customers?
Vijay: A very good question. Verizon brings the power of 5G to businesses around the US. Reliable and fast connection is paramount in empowering businesses and employees to collaborate effectively. ThinkPad X13s is the perfect business-class device with the technology built-in that can take full advantage of Verizon's advanced 5G network solutions.
Andrea: ThinkPad X13s is powered by Qualcomm's latest 8cx Gen 3 processor with built-in 5G that delivers always-on connectivity with exceptional multi-day battery life. Connected to Verizon's 5G Ultra Wideband network, users can enjoy productivity without power or connection anxiety. Intelligent security at the hardware and software level with integrated Trusted Platform Module and Windows 11 Secured Core featuring Microsoft Pluton security processor means that users can rest assured that their data and identity in the cloud is protected.
Q: With those connectivity options, extensive battery life and enterprise-class security, what are the business use cases for ThinkPad X13s?
Vijay: The benefits of 5G technology mean that businesses can very quickly be connected to high-speed networks allowing the full breadth of cloud-based productivity and collaboration applications.
Andrea: There are indeed many use cases beyond a traditional remote or highly mobile worker. ThinkPad X13s is ideal for vertical use cases such as healthcare, finance and government. The extended battery life means these professionals can roam between locations without having to carry around an AC adapter, and built-in WWAN means that they can seamlessly and more securely collaborate with customers and colleagues in real-time all while increasing protection against data breaches and cyber-threats that can happen on untrusted public networks. As Verizon also mentions, ThinkPad X13s is also ideal for getting users up and running quickly in new campuses or buildings that have access to 5G internet.
Q: Thank you very much for taking your time to offer your insights, one final question: When and where can businesses or individuals get the ThinkPad X13s?
Vijay: It's been a pleasure. ThinkPad X13s is now available on Verizon.com.
Andrea: Thanks for the conversation, we're excited about the connected PC opportunities. Information on ThinkPad X13s can be found on Lenovo.com.