After the world went online, the homeless community became more marginalized than ever before. This is how Jangala stepped in to help.
Two key tools are often required to participate in today's society: a device and the connectivity to make it work.
Most of us take this for granted. Particularly since the pandemic hit, we have been confined to our homes and armed with our laptops, phones, WiFi and high-speed data. They gave us access to entertainment and kept us in touch with friends and family. Some of us have been able to carry on working remotely, seamlessly sharing documents and connecting with colleagues. The internet kept life going when the world outside our doorstep appeared to come to a halt.
The homeless community, however, had a very different experience. Prior to COVID-19, a lack of connectivity was already a critical issue. Now, it's catastrophic.
While there are many charity organisations who are working hard to get devices equipped with data packages into the hands of the homeless community, access to connectivity is still an issue in the UK.
Those without internet access have been disconnected from the latest news, updates, and potentially life-saving advice. Many were even unaware of the severity of the situation – an unthinkable scenario for most of us. With workspaces closed, access to income and services was almost entirely online. Even during the rare occasions when the world began to open up again, public spaces required a check-in via the UK government's contact tracing app.
In these unfamiliar circumstances, those lacking digital connectivity found themselves more marginalised than before. And this is where Jangala steps in.
Connectivity for all
With support from Lenovo, Jangala, a UK-based not-for-profit organisation, created an extraordinary, innovative solution to digital poverty: Get Box. A device the size of a paperback with a pair of antennae on either side, Get Box provides enough Wi-Fi coverage for a household. All you need is a utility power supply.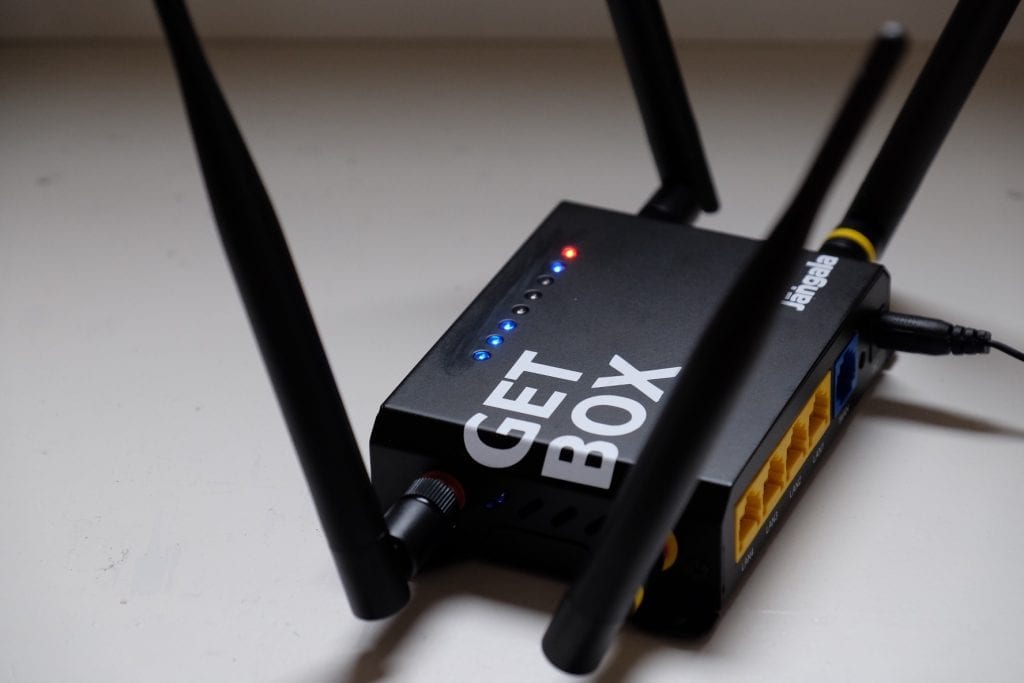 This low cost, secure, and rapidly deployable Wi-Fi solution is now bringing connectivity to the homeless community in Brighton.
Jangala began developing this technology to help the refugees living in Sangatte – the "jungle" camp in Calais – to make contact with loved ones, letting them know they were safe.
This subsequently expanded to other refugee camps, schools, healthcare institutions and charities. Then, in March last year, it became clear there were also issues much closer to home.
"It was only when the pandemic hit that we truly realised there was a huge connectivity issue in the UK too, on our home turf," says Nils O'Hara, Jangala's co-founder. "We have continued our overseas work and are constantly striving to bring internet access to more refugee camps. But we've also diversified our projects in the UK to see where we can help solve the problems here too."
Jangala started out with a bigger, briefcase-sized device – the appropriately named Big Box – which offered low cost, secure and easily-deployed Wi-Fi to hundreds of users. Big Box has seen numerous deployments since its inception, from acute humanitarian emergencies, such as following the Lombok earthquake, to providing STEM education for women and girls.
Get Boxes, developed over the past year, use the same technology but are more easily deployable on a smaller scale. While Big Box relied on people congregating around the device, this became impossible in line with social distancing measures, and Get Boxes were the solution.
With the Smarter Technology for All ethos at its core, Lenovo supported Jangala in both a financial and advisory manner, offering guidance on improving robustness of the hardware and counsel on keeping the products protected.
"As a technology company, we understand that smarter technology can't meet users' needs without sound connectivity to accompany it," says Monica Hauser Wolff, Lenovo Foundation Director. "Jangala's focus on innovating to meet the unique needs of disconnected communities has been inspiring as we've worked on deployments in Kenya, Tanzania, and Afghanistan, amongst others. Get Box signals their thoughtfulness and ability to innovate for the complex needs of remote areas as well as disconnected communities closer to home."
Jangala's work in Brighton began through connections with JustLife, a charity supporting those in emergency and temporary accommodation, where people experiencing homelessness are placed while waiting to be rehoused by local authorities, and Citizens Online, a digital inclusion charity focussed on tackling the digital divide to ensure the switch to online does not exclude people.
Rallying together, they worked to bring internet access to Bay Tree, an emergency accommodation run by Quays Housing, as the pandemic worsened.
2020: New world, new problems, new solutions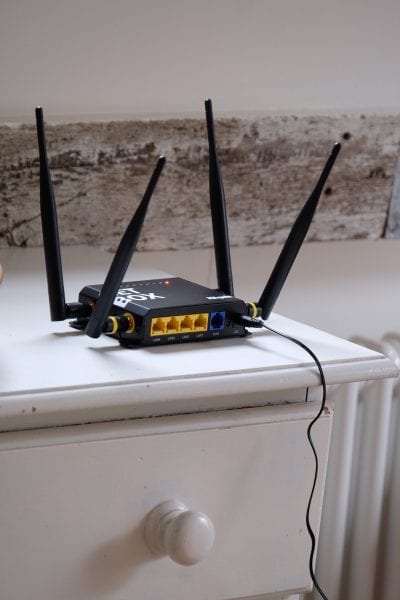 While issues undoubtedly existed prior to the pandemic, the fear provoked by COVID-19 isolated the homeless community even more. Many charitable organisations stopped doing face-to-face work altogether and volunteers were limited by restrictions.
"Before COVID-19, only those who were too unwell or vulnerable to sleep rough were put in emergency accommodation," comments Louis Kirby, Health Engagement Worker at JustLife. "Since the pandemic, the council made it their mission to ensure that every single homeless person had a roof. A long-standing issue was almost resolved within a week. So many people who had previously fallen through the cracks or had been unsupported for so long had somewhere to stay."
As emergency and temporary accommodations were filled, empty hotels were used to house people. GPs and nursing teams began to visit — many individuals hadn't seen a doctor for a matter of years. Boundaries that had previously existed between the homeless community and support networks were broken, and people suddenly had a chance to get back on the map.
But when the world went online almost overnight, the most vulnerable risked being left behind.
Tackling the digital divide
For the residents of Bay Tree, Jangala's resources solved that crisis, giving them access to support and counselling for health needs or substance abuse.
"Helped by an internet connection, amongst other factors, one resident who had previously been addicted to heroin ended up getting clean," says Kirby. "With the ability to drop into meetings online, he could access the support he needed without having to leave the accommodation."
Yet there is more to solving the problem than providing connectivity. Without digital education, many struggle to understand how to access support.
"The route to overcoming the digital divide has many obstacles," says Bryan Rossi-Anderson, Partnerships & Project Manager at Citizens Online. "Our work with Jangala aims to challenge social exclusion by utilising digital inclusion. We're ensuring that those with a need have access to connectivity, but also that they're able to use it effectively, whether they need to attach a document to an email, go through an online application process, or something else."
And then there is entertainment – something many take for granted but can prove equally life changing.
"We previously worked with a man who suffered from short term memory loss, unable to even remember his address or postcode," adds Louis. "But when he began watching Top Gun on his tablet, he remembered every word. The joy he had simply from seeing a film he could remember really reinforced the importance of connectivity for all."
Connecting with the future world
For all the progress of the past year, there is still work to be done, such as deprived children who are denied the same education opportunities as their wealthier peers. Even prior to the pandemic, Jangala had been working with various schools around the country, identifying where Get Boxes could be used to solve the problem.
Now they have plans to expand on a larger scale and eventually go nationwide.
"There are always more people to be helped," adds O'Hara. "And if everyone was helped by now, we wouldn't have a job to do anymore."
You can find more information about the missions of Jangala, JustLife and Citizens Online on their websites. Stay tuned for next month's article, looking into more of Jangala's work!
***
Lenovo believes in building a smarter future by providing Smarter Technology for All. Our philanthropic arm, the Lenovo Foundation, realises Lenovo's vision by empowering under-represented communities with access to technology and STEM education. Lenovo's philanthropic efforts seek to create a strong impact in communities around the world. This impact would not be possible without our strategic partners. Lenovo is proud to partner with Jangala, a UK not-for-profit that provides internet access for people who need it most. By supporting Jangala's work to make low-cost, easy-to-use Internet access systems for emergency and development situations globally, Lenovo and Jangala's partnership has enabled access for thousands of individuals around the world to date.