In the third year of Lenovo and Ducati's partnership, Lenovo's transformative technology is helping Ducati redefine what's possible on the bike and stay connected off the course. AI and data analytics team up with a mass of sensors to deliver a 360-degree view of each rider's performance and help them connect with what it takes to win.
Ducati's Jack Miller cruised to a first-place finish at the Spanish Grand Prix in Jerez earlier this month by a comfortable margin. That margin? About 1.9 seconds (teammate Francesco Bagnaia was right behind him).
Things move fast in motorsports. And Ducati makes the fastest bikes in MotoGP. But in a sport where winning often comes down to a fraction of a second — and can be a matter of milliseconds – speed alone isn't enough. It takes data and next-level technology to really fly.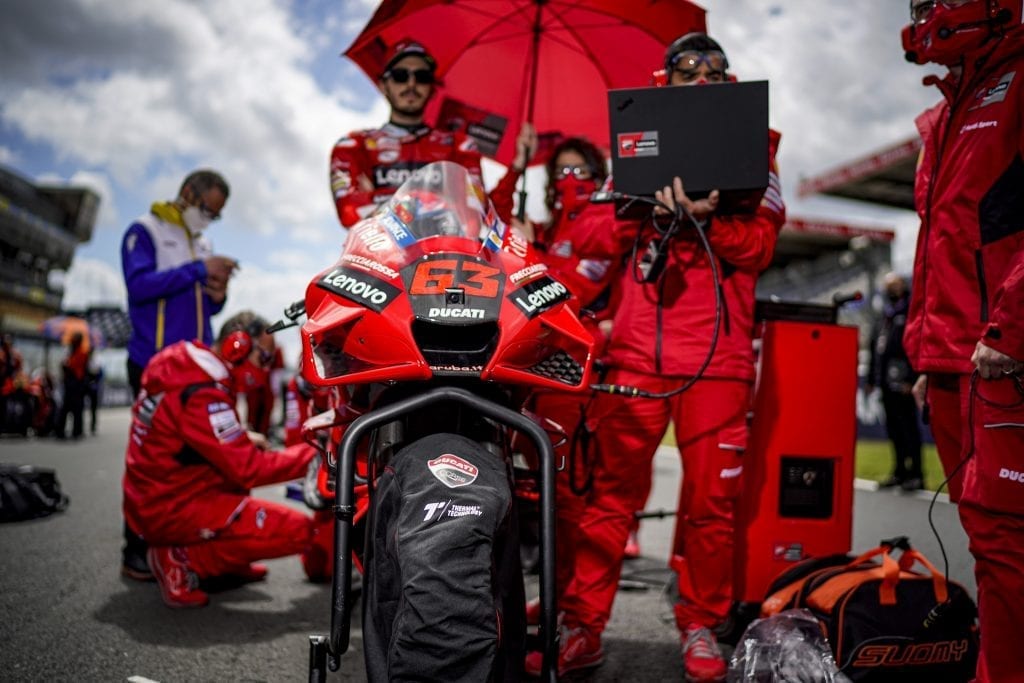 Lenovo's  device-to-data center solutions, help Ducati tap the full power of their riders and the extraordinary machines that they operate. It's been three years of gunning it into the future together. With technology solutions from Lenovo, explains Ducati Corse IT manager Stefano Rendina, the bikes are doing things that seemed impossible just ten years ago.
That kind of progress takes lots of information – plus potent processing tools and analytics to make good use of it.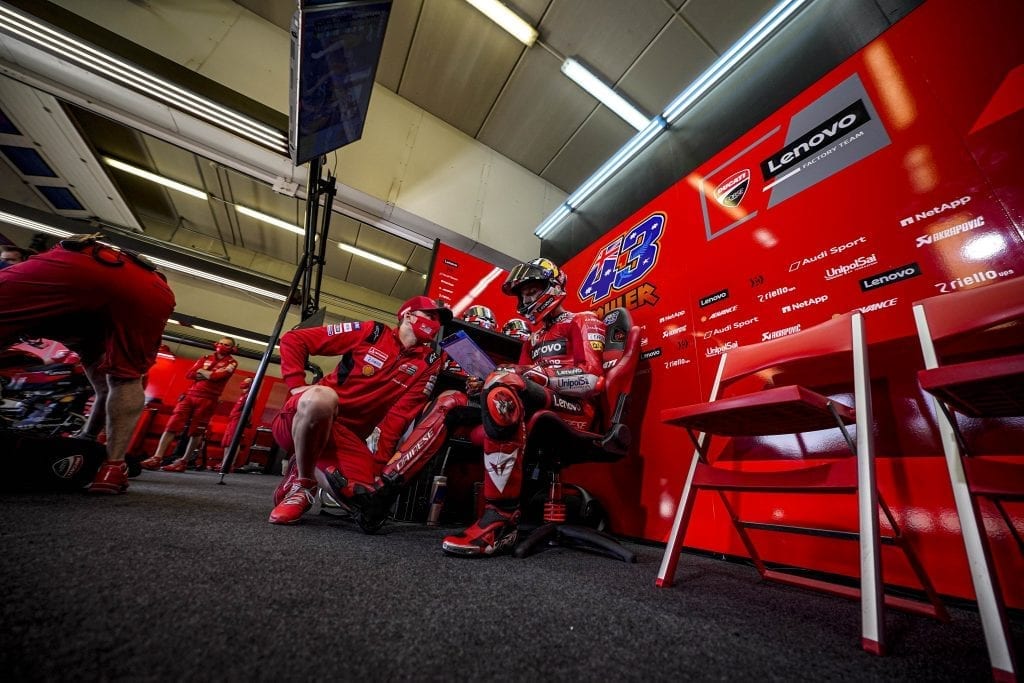 The bikes are outfitted with more than 50 sensors that transmit a rich feed of performance info that gets analyzed trackside using Lenovo ThinkPad P1 and ThinkSystem SE350 Edge Servers. Back in Bologna, the powerful Lenovo ThinkSystem 530 later pulls in these data for even more complex modeling. Modeling software tracks the staggering list of variables that can change the behavior of the bike and the grip of the tires. Ambient and track temperatures, humidity, and other variables construct the recipe for what it takes to win on race day.
When MotoGP fans think of races, they most likely imagine the long straights and banked curves of Assen in the Netherlands or the breath-taking vistas along the Phillip Island Circuit in Australia. But there's another race that remains unseen happening in the background — the race for winning technology.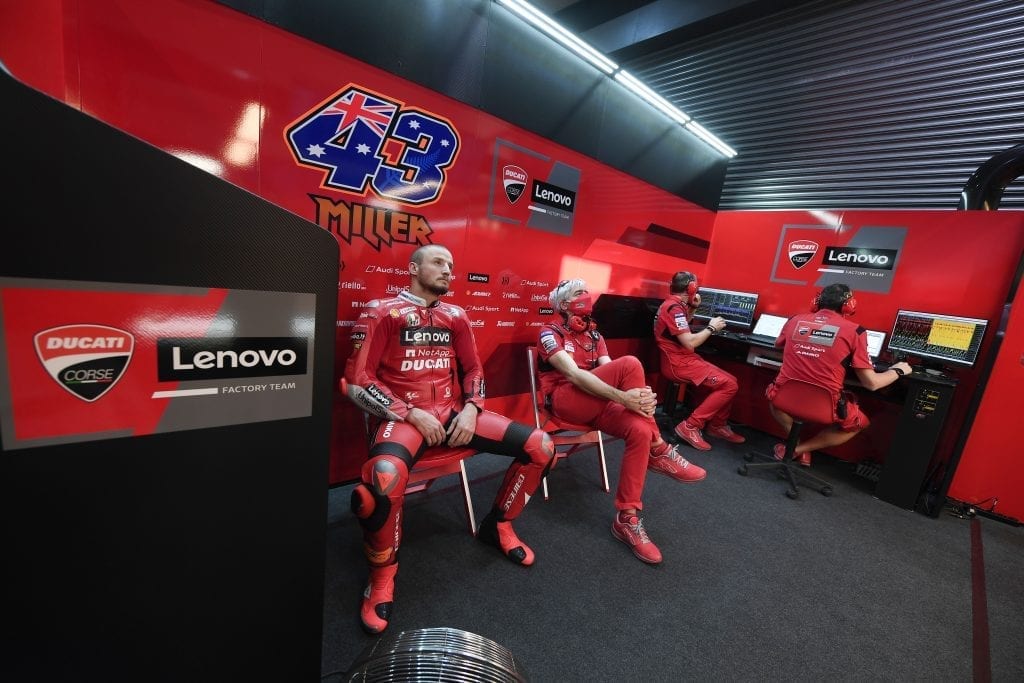 This is a race waged on and off the track. Lenovo technology solutions help Ducati stay connected: analyzing performance, communicating from around the world, and getting designs tested and turned into reality at breakneck speed — even during a year of unprecedented human and logistical challenges.
There's a kind of alchemy in the fit between rider and bike. Data can give riders more tools in creating that almost supernatural bond with their bikes. Analytics give them insight that enables them to achieve the flexibility they need to win on terrain that's constantly changing.
That might mean pinpointing the optimal lean angle and speed when rounding a corner, ideating a strategy based on wind speed and direction, or finding the secret that will allow your tires to last until the finish. It's data that empowers riders to make the best decisions possible when everything is on the line.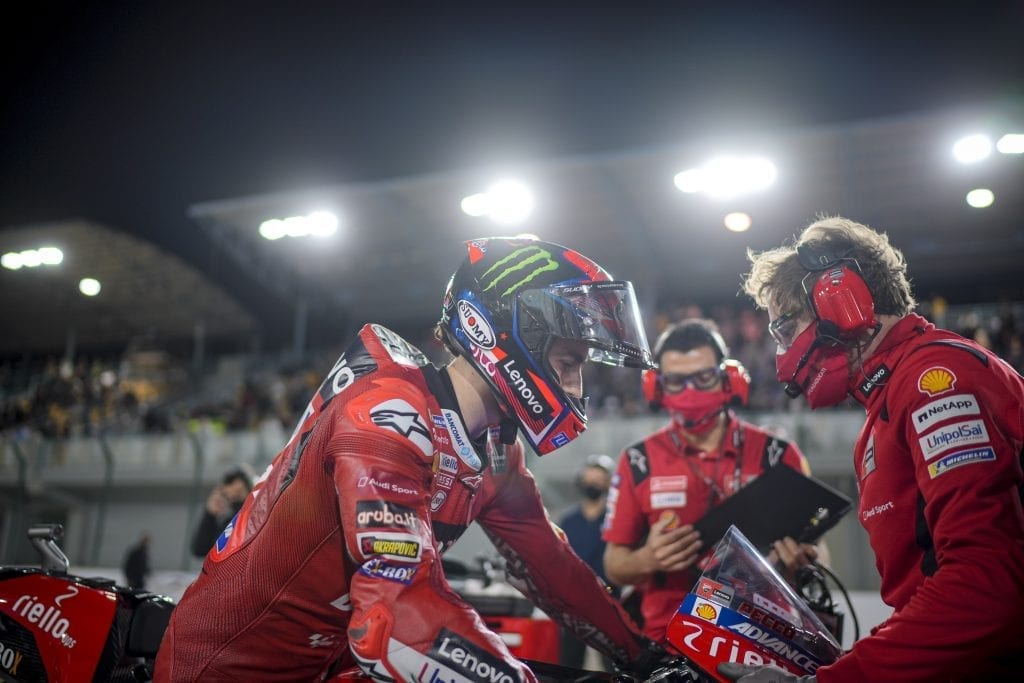 "What makes the difference is my confidence with the bike. I can get on the track and push straight away," said Bagnaia after the Spanish Grand Prix.  "I feel every change we make  is a result of the work done over the past few years and over the winter. It is beautiful and gives immense satisfaction to see yourself at the front every time you hit the track."