This profile is part of a weekly series highlighting participants from Lenovo's Global Future Leaders Program (GFLP). Founded in 2017, the program immerses high-achieving college graduates into a five-year job rotation program in a fast-track to corporate leadership. Global future leaders hail from top universities across Asia-Pacific, China, Europe, Middle East & Africa, Latin America and North America. 
Omoefe ("Efe") Onojeghuo defines 'global'. Growing up in Benin City, Nigeria, he's studied in top universities around the world, immersing himself in various cultures and learning the native languages of new friends along the way. A Project Manager in Motorola's Smart Camera and Imaging team, Efe is one of the 46 employees currently at Lenovo who entered the company through the Global Future Leaders rotational program.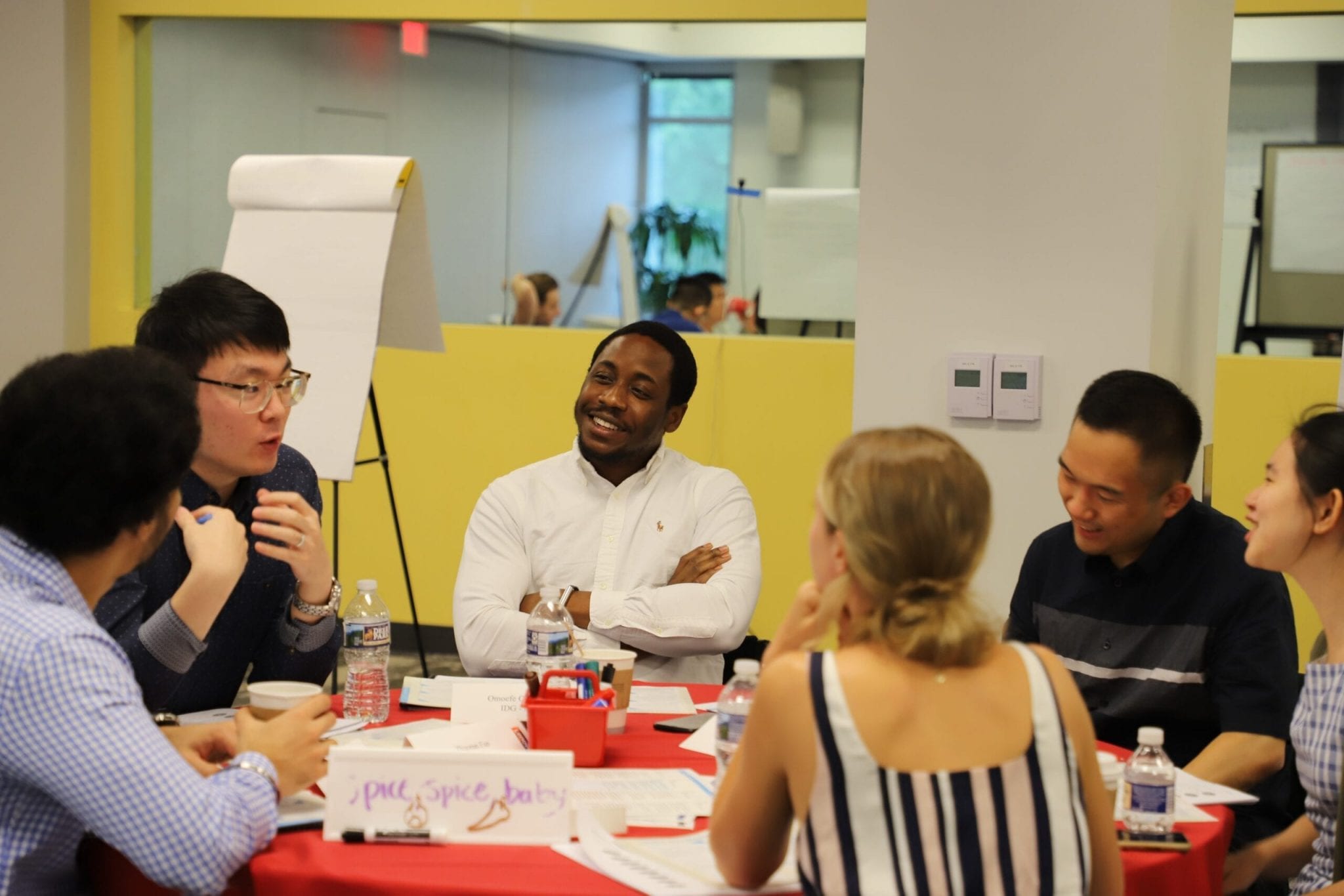 Here's more from Efe about his journey to Lenovo, navigating language barriers in a global company, and what it means to be a leader.
How did you hear about the Global Future Leaders Program (GFLP)?
"I got my undergraduate degree in Benin City, Nigeria, where I grew up. I studied computer science, and used my degree for four years while working at Ericsson in Lagos, the economic capital Nigeria before enrolling at Carnegie Mellon University to pursue my master's in information systems. Lenovo visited Carnegie Mellon a lot for recruiting. The offer letter came the last day of school, December 2017, right after I completed my final, so the timing to join the program and Lenovo couldn't have been better."
Tell us about your experience moving to a new country?
"I experienced a great deal of culture shock. Carnegie Mellon is one of the top schools in the world, so I needed to adjust to an extremely competitive pace when I arrived and also adapt to all the different cultures in the U.S.  I learned how to communicate and understand the unique ways that someone may communicate based on where they're from- whether it's India, China, or Colombia – everyone expresses themselves differently, and I learned how to work effectively with people very different than me in the competitive environment."
How did that experience shape you?
"Being in that environment definitely prepared me for working in a global company. The cultures fascinated me and I enjoyed learning all about them. In fact, the advertisement of working with people from around the world at Lenovo is what attracted me to the program in the first place. I made friends with a lot of people from China while at Carnegie Mellon, and began learning Mandarin because I appreciate how language can break down barriers in relationships. People appreciate even a few simple words in their native language, and this has definitely helped to build relationships. I've been able to apply this when I respond to customer complaints. Many times, our customers are reaching out to us in Portuguese or Spanish. I never respond to them in English – I always work to respond to them in their native language. I write my response, and then I put it through a translation machine, and then I check it with a native speaker to correct any translation errors."
The Global Future Leaders Program consists of different rotations – how many have you completed so far?
"I kicked off my first rotation with the camera team, as part of software product management. Then I moved to the sales team for seven months to get some outside perspective. My current rotation is going back to the domain of software product management. My current team is focused on 5G modem requirements for 2020 flagship products."
How have those cross-functional experiences contributed to your team contributions?
"I regularly tapped my experience from the camera team to the sales team. They really needed the technical knowledge to help sell the product. I'm lucky to be a new member of these teams though, working with people who have worked here for a long time. Everyone I worked with is extremely knowledgeable and the product development process at Motorola ensures that there is continuous alignment between technical and non-technical teams until the product is brought to life."
What does global leadership mean to you?
"I would say that your ability to work across different domains and different cultures within those domains would be global leadership. For example, I'm on a team with people in India, China, and Brazil, and understanding the team dynamic and how they can overcome time differences and cultural differences to create a great product—that's the result of global leadership. I want a role in the future that allows me to use everything I'm learning right now to effectively manage a product and team that is global."
What's the biggest lesson you've learned from this experience?
"I've had the opportunity to work with so many influential people, so it's hard to pick out one, but if I could single one out it would be building relationships and managing them. I've learned how important it is as a product manager, getting to work with so many different people. None of them report to me, so I have no authority over them, and being able to manage those relationships so that I can get work done is crucial to my role. I had the ability to practice and learn this lesson through my rotation with the sales team."

Where do you see yourself 20 years from now?
"I left Nigeria because I looked around at all the leaders I wanted to be like in my organizational structure, and I recognized that many of the leaders had global experience. I looked for what I would need to be to become a CEO, and I recognized that additional education (my masters at CMU) and global experience would be required for me to rise into top management in a global corporation. I hope to help a company break into new barriers in technology, and I want to rise as high as possible in a company that shares my vision."
What advice would you give to recent college graduates interested in GFLP?
"I would say that it's a great opportunity to grow within your area of expertise, while also learning about other areas and domains. Not a lot of places exist where you can have that opportunity, so it's something you should take advantage of if given the chance."
Want to be our next Global Future Leader? Learn more about program openings and opportunities near you by visiting our talent page at lenovocareers.com and search for "University" under the Departments tab.