This profile is part of a weekly series highlighting participants from Lenovo's Global Future Leaders Program (GFLP). Founded in 2016, the program immerses high-achieving college graduates into a five-year job rotation program in a fast-track to corporate leadership. Global future leaders hail from top universities across Asia-Pacific, China, Europe, Middle East & Africa, Latin America and North America.
Renan Tymoschenko is not your typical college graduate. The eldest member of the third cohort of Lenovo's Global Future Leaders, he moved to the United States about 10 years ago to finish his undergraduate degree at Brigham Young (BYU). Several years after establishing his career in consulting, he went back to BYU to get his MBA when he came across Lenovo's Global Future Leaders Program.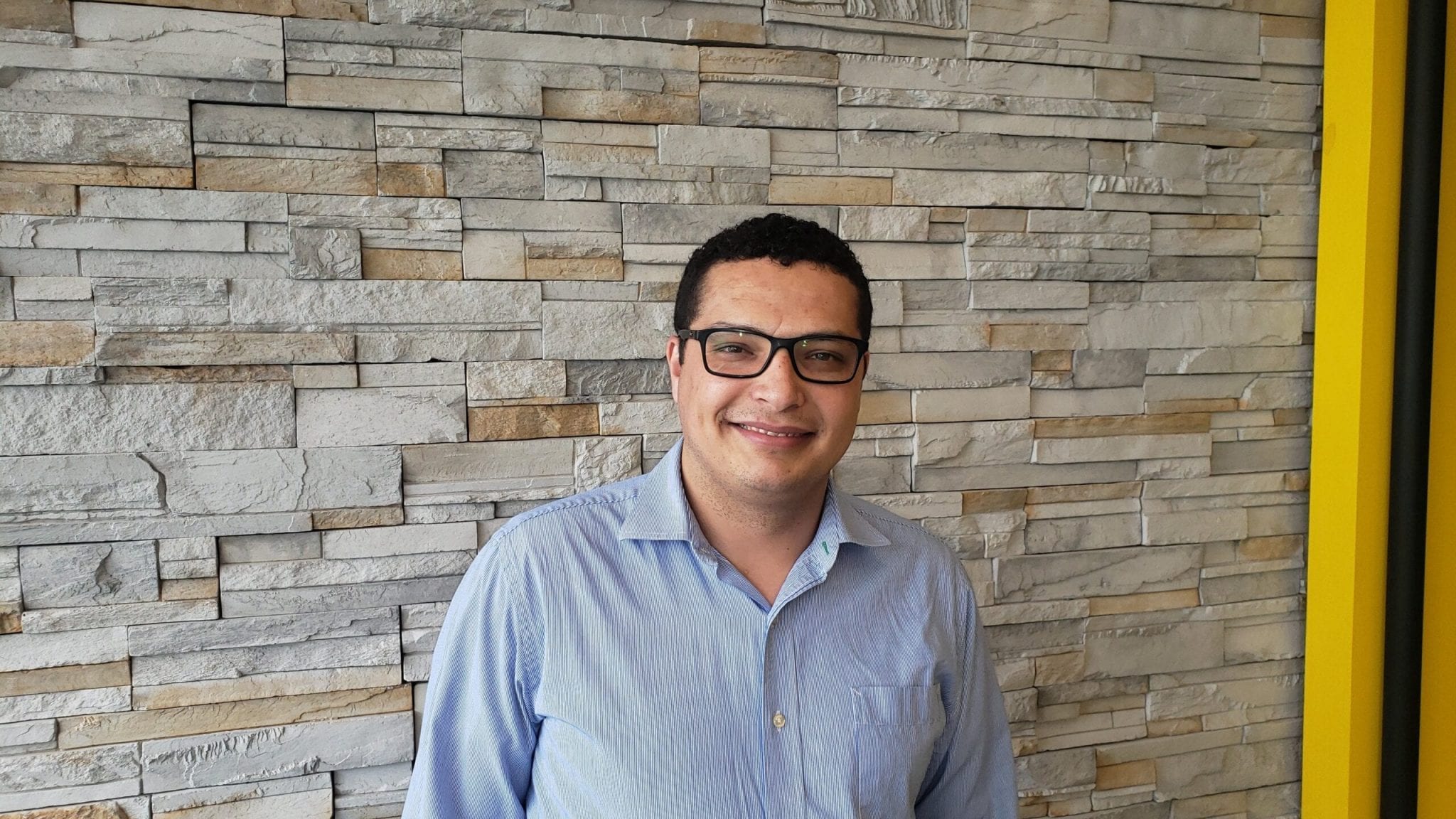 Here's more from Renan about his career journey, his passion to make an impact, and bringing your whole self to Lenovo.
Can you tell us about your career journey before joining Lenovo?
"I studied at Brigham Young University, recently completing my MBA. I also did my Bachelors at BYU in Information Systems, and I've been doing consulting in either IT or Strategy for the last seven or eight years. I joined Lenovo through the Global Future Leaders Program this past May."
How did you hear about the Global Future Leaders Program (GFLP)?
"I saw a posting about GFLP on the recruiting portal on BYU's website. Once I saw the post, I started learning a little bit more – I looked online at Glassdoor and everything that I could find – and Lenovo really got my attention. Being able to rotate at a global company and have your career on a facilitated path is really attractive, especially with prior experience."
What were you expecting before going into the program?
"I expected that I would experience facilitated learning, but on a siloed basis. For my first rotation, I worked as an IoT Product Marketing Manager, but since then I have done alliance management, product management, assisted on a systems migration project, and right now I'm in operations. It's been a blast to not be siloed to just one side of the business."
The GFLP consists of different rotations – how many have you completed so far? What's next?
"My first rotation in the Product Marketing role ended up being about three and a half months, and I've just recently started my second rotation as Chief of Staff for Data Center Group (DCG) Segments.
It's great exposure to a different side of the business – Even though I am very familiar with operations through my previous consulting career, I've found at Lenovo, it's really about bringing strategy and operations together, how you prioritize between different strategies. We're in the process of planning out my third rotation now."
How has your experience so far contributed to your growth as a professional?
"My initial hiring plan when joining Lenovo was to learn everything that I could about Product Marketing Management & Alliances through DCG, then move that knowledge over to IoT. However, after being exposed to the systems migration process where we retired an old sales enablement system and implemented a new portal, I learned not only how the portal worked but also all of the applicable processes and goals for the end users.
I had the ability to really get involved with the product collateral production, the sales enablement channel, understand our full go-to-market strategies – I got to see full spectrum for go-to-market, from product portfolio decision making to sales enablement, which I found really great for me to see how we operate at Lenovo."
 What does being part of the GFLP mean to you?
"I think it's a strong mix of opportunity and responsibility. On the opportunity side, you don't always get jobs that give you the opportunity to have this kind of exposure, the chance to engage in different roles, and to have some advocating for you in those roles. It's a lot of support for opportunities in your career.
On the responsibility side, for me, with all of this exposure, training, and investment, the standards and expectations are pretty high. It's easy to see that there are a lot of places where we can't contribute, but if you don't plan for how you can impact the business, you may feel overwhelmed or miss this great opportunity in your short rotation to make an impact. For me, it's not just a rotational program. It's training to be better for the future."
What's the biggest lesson you've learned from your experience?
"Because of my background in consulting, when I see an issue or an opportunity to improve performance, I naturally think about frameworks that I can implement. However, I think the biggest lesson that I've learned here is that, even before taking that approach – as a consultant, you have very limited time – but here, as a long-term contributor, you need to understand the people and why the process is being done that certain way in the first place.
It's not a one-time, 'I come here; I fix it; Now, on to the next problem.' It's now, 'Lets understand how we got here,' and help people make the changes instead of taking the entire responsibility on yourself. You have to have people engaged because once you're done with that engagement, that process remains. Everyone involved needs to trust that the decisions you make are the best for that group and that everyone is heard."
 What are you most looking forward to thinking of the remainder of your formal participation in GFLP?
"Especially being in DCG  – for our Intelligent Devices Group, everyone knows Lenovo as the leader of PCs – we've got two things going on that are really important: First, we're trying to get traction in the market, and second is to evolve with the changing market.
A few years ago when looking for a server, you were looking for server specifications. Today, it's not like that. You're looking for the total solution and you decide on that.
I think my biggest goal is to make DCG just as much of a leader as IDG. We have the capability; we have the people; we have the passion; we have the innovation, but the industry doesn't know it yet. We need to let them know, and we need to let them know through what they are looking for, not just what we want to tell them."
 Where do you see yourself 20 years from now?
"I really want to lead a part of the business. I want to drive a piece of the business, not because of the business itself, but because of the people related to the business. There's a sense of ease when you are part of a team where everyone is engaged – it's something that excites me, to enable people.
That's why now, I don't just think about the framework, I think about the people and the history of the process. I want to lead the business so that everyone can feel the same sense of excitement and accomplishment that I feel."
 What advice would you give to a recent college graduate interested in GFLP?
"I would say that you should consider Lenovo if you want to be whoever you are. If you want to adapt to become part of another company, that's fine. But if you really want to be who you are, achieve the goals that you have with the desire that you have, I cannot think of a better place than Lenovo.
It's been the first time in a ten-year career that I feel comfortable in my skin. I feel heard and recognized as who I am, not as who I'm pretending to be."
 It's been the first time in a ten-year career that I feel comfortable in my skin. I feel heard and recognized as who I am, not as who I'm pretending to be.
How can you bring who you are to Lenovo?
"It's more by observing reactions of others when I share my views that I knew that I could. Other places accommodate diversity, but don't celebrate diversity. I've worked at large corporations and start-ups through my consulting career. You can tell when whatever you're trying to contribute is heard with interest, or if you're only heard in order to check a box.
At Lenovo, I've observed that your past experience matters. Your vision for your future and the future of the business matters. The color of your skin, the language you speak – that doesn't matter; no matter how hard it is for you to express your point of view – once you get it out there, people actually consider it. By observing that, I know that whenever I have to stand up and say something, it doesn't matter how bad my accent is or how old I look – I am heard at Lenovo."
____________________________________________________________________________________
Want to be our next Global Future Leader? Learn more about program openings and opportunities near you by visiting our talent page at lenovocareers.com and search for "University" under the Departments tab.