Lenovo Foundation believes that innovation comes from everyone, and the most innovative solutions can only be created with diverse perspectives. During the month of October, Lenovo's Global Month of Service ("GMOS") projects are empowering minority populations around the world through access to technology and STEM education. We're highlighting the work of three projects in Latin America and North America, and how they are empowering minority students to use their diverse perspectives to become the next generation of leaders.
Valeria Abanto, Lenovo Peru Human Resources Business Partner, was excited to lead Lenovo's GMOS project with Mision Jesuita to alleviate the impact of the global pandemic on Peru's education system. Like most Latin American countries, Peru faces an urban-rural gap in educational access, and schools in rural areas have limited access to technological infrastructure, standard curriculum, and staff. Youth living in these under-resourced areas, many belonging to indigenous communities, are less likely to receive a proper education than their urban peers. The transition to a full online learning format, requiring access to laptops and online educational content, added an additional strain to these students.
In July, Lenovo Peru was elected, through a government licitation made by the Education Ministry, to be the partner who would deliver almost 10,000 tablets to students in public schools around the country. Lenovo employees addressed the second need of quality online educational content through their volunteer project with Mision Jesuita.
Mision Jesuita, a nonprofit organization with the mission to love and serve the community, works with Peru's Fe y Alegria network of schools to provide resources to communities with limited educational access. In this project, teachers from the Fe y Alegria school network assigned Lenovo employees an educational topic, and employees self-recorded a short virtual lesson on the topic. Mision Jesuita uploaded the lessons onto a digital platform for students and announced the platform during a virtual ceremony, during which Lenovo volunteers met with students and their families who benefitted from the tablets and online content.
Lenovo Perú is empowering minority and indigenous youth with the resources they need to advance their educational development during COVID-19 by drawing awareness to the need for equal educational access across Peru. "Lenovo is a responsible company towards its people and communities," said Valeria. "It also opens spaces for us, its employees, to help in the task of making this world a better one, a more inclusive one. I mean, Smarter Technology for All, right?"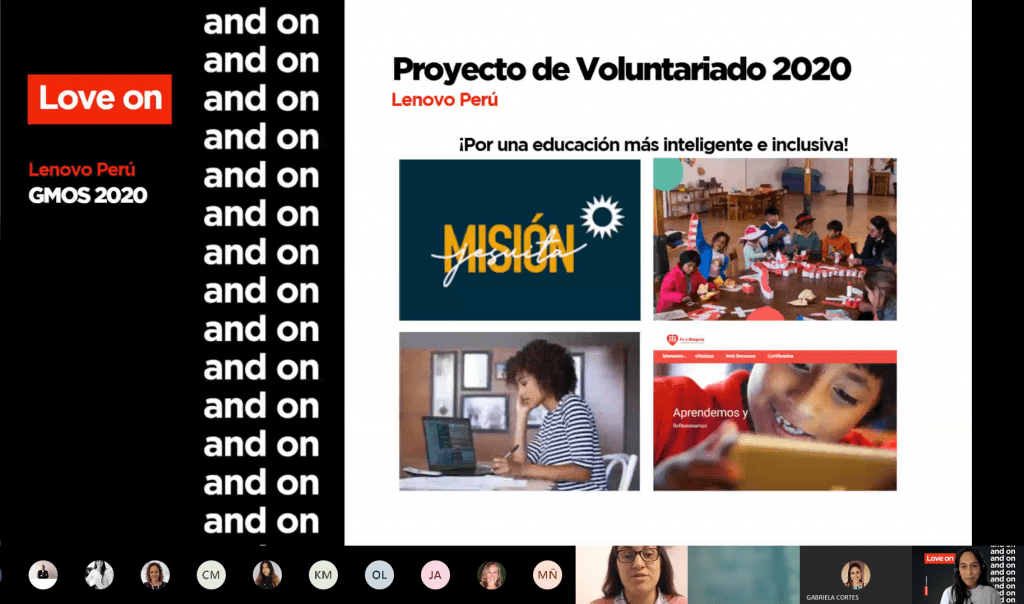 Global Month of Service projects in Raleigh, North Carolina, are taking a different approach by providing month-long virtual mentorship through work with the North Carolina Society of Hispanic Professionals (NCSHP).
The NCSHP has identified several educational needs in Raleigh-Durham's Hispanic/Latino community, including low high school retention rates, limited financial and educational resources, and underrepresentation of Hispanic professionals, especially in STEM-related fields. To address these needs, they have developed a dropout prevention program, the NC Hispanic Scholarship Fund, and the TuPortalSTEM initiative supporting Hispanic Students pursuing careers in STEM.
Throughout the month of October, Lenovo employees are working with the NCSHP to provide interactive livestreamed workshops for high school and college students. Lenovo mentors spoke about working in Lenovo's corporate environment, overcoming professional challenges, finding success in education as a Hispanic/Latino professional, and the strong value of being bilingual in today's workforce. More than 200 students attended Lenovo's workshops in early October to gain insight and network with Lenovo professionals.
"Providing awareness is the first step someone can take to empower minority communities," said Romy Milla Paz, Lenovo Program Manager for General Procurement Operations and project leader. "We need to show young Hispanic students or any minority that there are professionals in the workplace who overcame the countless obstacles that comes with pursuing higher education as a minority."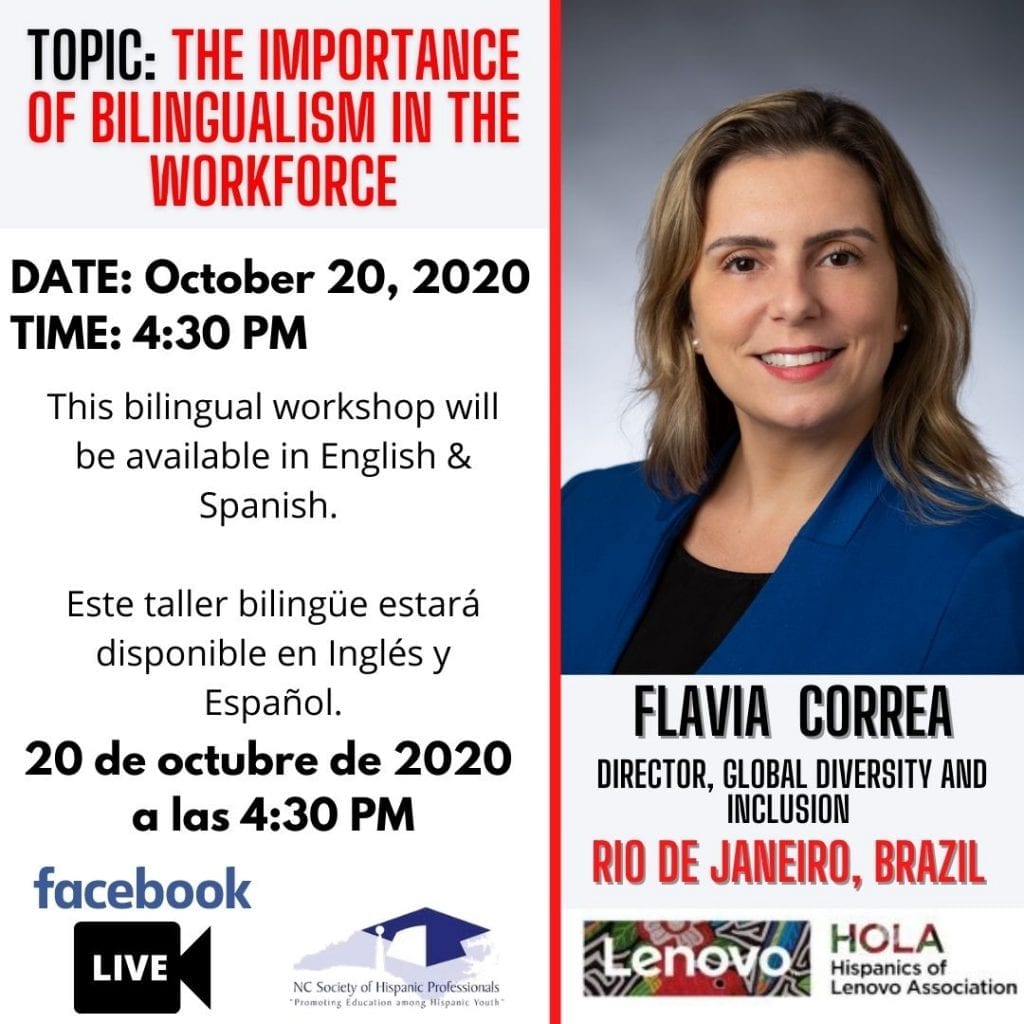 Lenovo regularly partners with the NCSHP. Last year, Lenovo sponsored the "Mi Exito, La Universidad" education fair for parents and students learning to navigate the school system. This year, Lenovo's employee resource group, Hispanics of Lenovo Association (H.O.L.A.), is collaborating with the NCSHP to provide resources to student immigrants.
To continue empowering minority students in the Raleigh-Durham area, Lenovo is also hosting a GMOS event with The Passion Project.
The Passion Project provides students with the resources and support needed to break free from the systemic disadvantages facing many of their communities. In the United States, 84 percent of youth from disadvantaged areas do not escape the generational cycle of poverty and are ten times less likely to graduate college than high-income youth. By providing scholarships, mentors, and professional development opportunities, the Passion Project encourages students to invest in their passions and become the next generation of leaders, change-seekers, and policymakers.
In this GMOS event, Lenovo employees self-recorded a short video about their personal pursuits, discussing topics like career development, working in STEM, and personal hobbies. The Passion Project uploaded these videos to an online platform available to students of all grade levels.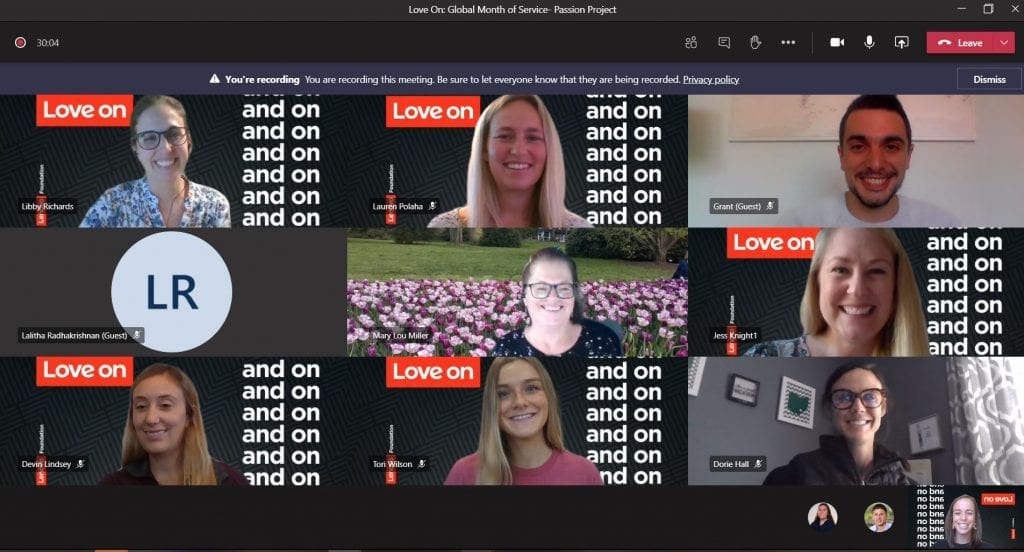 Lenovo is proud to help these students discover their passions, and to encourage them in their pursuit of professional and educational opportunities as they overcome systemic obstacles.
"Big change happens from everyone regardless of your age or background or status in the community," said Sydni Collins, Staff Project Manager for the Lenovo Foundation and project leader. "What I love so much about this program is that it tries to help these students say that this is my strength, this is what I can put out into the world…It empowers students to be change makers no matter what is against them."
During the Love On Global Month of Service, Lenovo is empowering minority populations around the world to discover their interests, pursue their educational goals, and become the next generation of leaders. Lenovo firmly believes that accomplishing its mission of Smarter Technology for All is only possible by investing in the diverse perspectives of everyone.
See more examples of how Lenovo is giving back around the world through partnerships featured in Lenovo's New Realities project.