Lenovo technology has enabled the customization of Ducati bikes to ensure they meet the needs of the track and the riders. From preparing MotoGP riders for races to simulating on-track scenarios, technology is reshaping a fast-moving sport.
Francesco Bagnaia and Jack Miller know a thing or two about speed.
The Ducati Lenovo MotoGP racers take the track almost like ballet dancers. Bagnaia's movements are smooth and flowing, his lines straight and clean. On the racetrack, he appears one with his bike as he takes each corner with grace, style and—most importantly—speed.
Miller's manner, on the other hand, is distinguished by a higher sensitivity on the grip level, said Christhian Pupulin, Ducati Chief Engineer for Miller. His distinctive style makes him well-suited to a variety of different track conditions and competitors.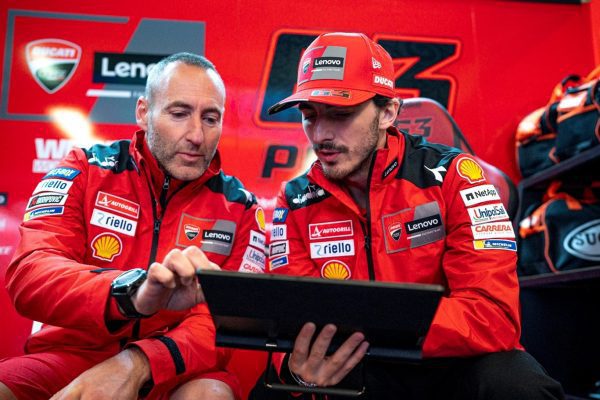 MotoGP racing requires robust technical expertise and ability from the rider, but it also requires impressive technology to tailor the bike to the rider's exact needs and specifications. Customization is key for superior performance.
"[Bagnaia] can keep a good corner speed, and he is able to brake very hard and deep into the corner," Cristian Gabarrini, Bagnaia's Chief Engineer, recently told Lenovo. "To maximize these strengths, he needs quite a stable bike."
Miller, however, "is able to enter corners with higher speeds," Pupulin said. Therefore, he requires a "specific setting with more static weight on the front wheel," as well as a more agile, responsive bike.
Though the two styles differ, the end goal is the same: win races and set records.
All Ducati Lenovo MotoGP riders race on the legendary Desmosedici GP, a bike known for its style as much as its speed. Yet each individual Desmosedici must be specifically adjusted and calculated to suit its rider. Human and machine must meld into a single, sinuous unit.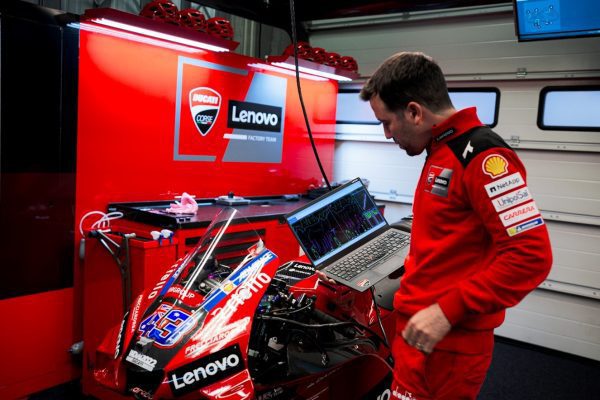 Lenovo devices and technology solutions play a significant role in helping develop the bike each rider requires. Using ThinkSystem SD530, SR630 and SR650 servers, Ducati models incredibly complex scenarios to predict what might happen when the rubber hits the road. Rainy day? Dust on the track? Especially sharp corners? Lenovo computers can model that—and fast.
"Lenovo helps us significantly in data analysis and in bike dynamic simulation, thanks to very high data processing power," Gabarrini said.
The potent computing power of Lenovo servers help Ducati engineers translate information collected from each bike's dozens of sensors, enabling the team to develop a rider's bike configuration quickly and more easily.
"This means saving time for engineers and selecting parts to test that we are quite sure can give the rider a real performance improvement," Gabarrini explained.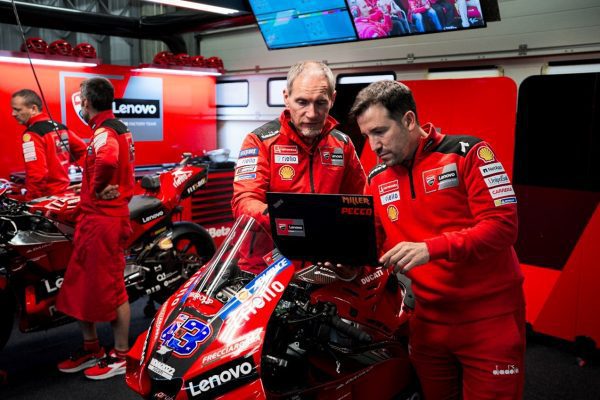 Every aspect of the bike's physics – from its torque to its tire configuration – can be modeled on a computer, which devises the ideal configuration for the bike before testing it on the track, saving time and gas. The algorithms run on Lenovo ThinkPad laptops, have increased the team's efficiency by 25 percent and slashed decision-making time by over a third.
"Lenovo technology is also strategic in the design and verification phases that include wind tunnel work for aerodynamics and verification loop for electronics," said Gabriele Conti, Electronic Systems Director, Ducati. "All of these processes are central  to the development of next year's motorcycle."
Lenovo technology helps to tailor Miller's bike to suit his temperament and riding style, just as teammate Bagnaia's bike is customized to his "smooth and flowing" ride. When the riders go out on the track, the bike's sensors are picking up nearly every aspect of their ride. Then, when they come back in the garage, this data is almost simultaneously transmitted to Lenovo computers and analyzed by the engineers to find the exact bike configuration required for each track.
"One problem we had in the past was the delay in downloading data from the bike during a practice session," Pupulin said, speaking of the time before Ducati teamed with Lenovo. "With the power of Lenovo laptops and PCs, now, as soon as Jack comes back in the box, I'm able to immediately check the bike's problems– and think about possible solutions."
Race preparation looks different today from even five years ago. By running thousands of simulations on high-powered Lenovo servers, Ducati engineers can prepare for just as many scenarios, delivering a stronger, more balanced performance from the rider.
"We use technology in all of the phases," said Conti.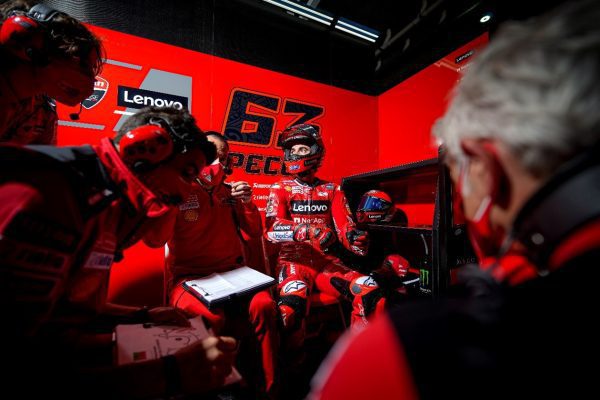 Simulations represent the flow field around the bike, or the distribution of the density and velocity of the bike through space and time. Each simulation starts with a concept, or with an idea of how the Ducati team wants the bike to perform under certain conditions. The goal is, ultimately, to "simulate what we have in our minds," said Conti. Lenovo computers can do that – and fast.