Luca Rossi, President of Intelligent Devices Group at Lenovo, on how breakthroughs from human-sized augmented reality to metaverse headsets are breaking down the barriers between devices, people and places
Imagine a business meeting where a life-sized hologram of a colleague on another continent appears in front of a room full of people, without the need for special glasses – and the 'hologram' is able to interact with 3D models and even 'high-five' people in the room.
The technology, using a layer of coated glass and advanced life-size augmented reality projections, sounds like science fiction, but it's just one example of how Lenovo is using innovative technologies such as 5G, augmented reality and VR to create new ways to seamlessly collaborate across the physical and virtual worlds.
Other Lenovo technologies which are breaking down the boundaries between devices, people and places, include PCs which unfurl a huge extra screen at the touch of a button, to XR headsets which can train top executives in the skills needed to become a world business leader.
These pioneering technologies are helping to reshape the way the world works, offering new, vivid ways to interact, collaborate and learn.
Let's get phygital
Watching a life-size human being on a screen in front of you, able to interact with virtual objects (for instance by interacting with 3D prototypes or digital whiteboads) is a surprisingly powerful experience.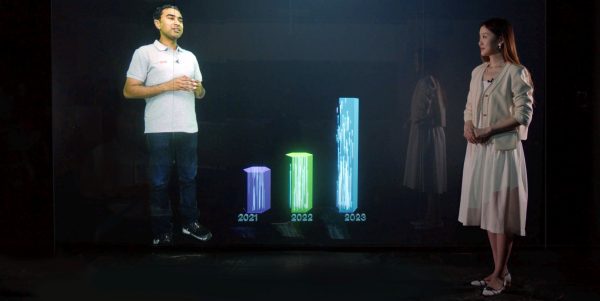 Lenovo's Cyber Space offers a vision of how 'mixed reality' technologies can create a new way for people to interact – whether it's a business conference, telepresence teaching, or two different offices mingling via two linked 'Cyber Space' set-ups.
The buzz word is 'phygital' (a cross between physical and digital), with people able to interact with digital objects such as 3D diagrams in the virtual world, or 'high five' people remotely to celebrate.
The technology, which is still at the demonstration stage, uses a type of coated glass which is semi-transparent and semi-reflective, allowing for a 'holographic' display where someone stands behind the glass and is able to interact with the content on the holographic display.
Users can interact with virtual content not just with their hands, but with their whole body. The 'phygital' display is powered by a high lumen UHD projector and real-time life-size AR, driven by 5G.
It's an incredibly powerful teaching tool, and a vivid, real-feeling way for colleagues to 'meet' without ever setting foot on a plane.
From rolls to roles
When it comes to the devices in our hands, the form they take helps to shape how we use them – which is why it is so important that design is 'human-centric', focused on new ways to use technology.
Lenovo's R&D teams are helping to reimagine the form factors of devices, to fit with a new way of work where the lines between the office and home working, between the physical and the digital, are blurred.
One technology built to enable on-the-go employees to 'switch up' their productivity at the flick of a button is Lenovo's rollable PC.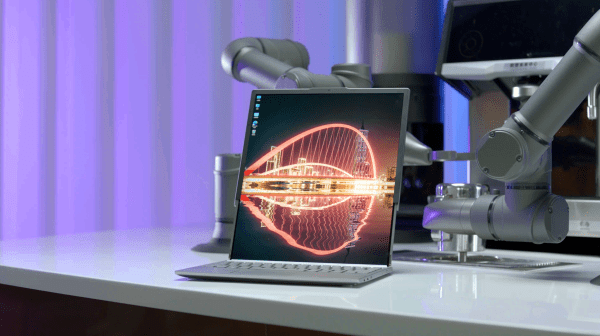 Lenovo's proof-of-concept rollable PC is a dainty 12.7 inch PC which rolls out a 15.3 inch screen for extreme productivity (think editing, or coding, or video editing).
The flexible screen is extremely thin at 17.9mm, and rolls out on command on a motor, meaning that users can carry a small package with them, but then roll out to a screen with a 4×3 aspect ratio when it's time to work or have it roll inward to contract.
Lenovo's Motorola Business Group has a working rollable smartphone concept which retracts to a  pocketable form (smaller than any premium smartphone on the market) but can extend on demand to a large 6.5-inch screen to immerse in content when you need it.
The movement is motorised, with a key on the side of the phone triggering the thin, blade-like screen to extend. The device concept is contextually aware and adjusts to expanded, compact, or peek states based on specific user activities, so users can enjoy a film in widescreen or retract to a compact size when on the go.
Moving to the metaverse
What is the point of the metaverse? It's a big question, but Lenovo is already pioneering technologies which might offer an answer – focused on enterprises, and the way we work, and helping to break down the barriers between the virtual and physical worlds.
At Lenovo we believe in an 'open metaverse' where technology and ideas are traded freely, rather than walled gardens, where one technology company dictates what experiences metaverse users can enjoy. It was that openness that drove the explosion of creativity behind the internet, and the same will be true of the metaverse.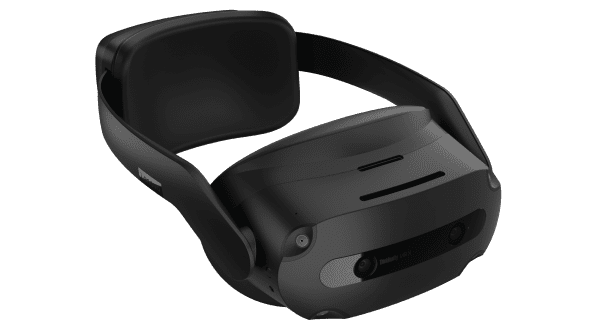 In terms of the evolution of the metaverse itself, we're probably at an equivalent stage to the mid-90s if we look at how the World Wide Web evolved. There's a long way to go – but the world of work is already changing thanks to VR and AR technologies, with headsets such as Lenovo's ThinkReality VRX headset enabling cheaper and more effective training, plus collaboration across countries and even continents, in AR or VR.
Instead of flight simulators, we have job simulators, with everyone from frontline employees to top executives being trained in VR. Augmented reality offers the potential guided workflows where workers wearing XR devices are shown how to perform tasks.
As we move towards a persistent virtual experience, customers who embrace a flexible, open and scalable metaverse will be perfectly placed to scale faster.
Embracing the future
Technology has the power to change the way we live and work, and innovative ideas like the Cyber Space and PCs and phones which can expand to become work machines are already breaking down our ideas about office spaces and workers, about screens and reality. These are devices which offer the power to bring people together, and change the way we think.
Learn more about Tech World and watch the keynotes here