Encouraging kids to code with Troy Hunt
Father's Day is all about celebrating the fathers in our lives. They're not just our heroes, guardians or mentors, they're also our teachers. So, in honor of all the dads out there, we've teamed up with a dad we know: Troy Hunt – technology professional, Pluralsight author, creator of Have I Been Pwned?, and Lenovo INsider. Troy is one of those dads that actively encourages his kids to get involved in technology. His thoughts on kids who code:
I reckon that in this day and age, there are few "life skills" you can teach your kids as valuable as learning to code. Technology has become such a fundamental part of what we do both socially and professionally that understanding how it all works is enormously advantageous. All of it – every little bit of digital technology – runs on code and it's never been easier to get your kids involved. There's a heap of fantastic online resources regardless of your child's age or interests and I've been getting both my kids involved in a number of them. They use a Lenovo Yoga for the highly visual lessons where they fold it back into tablet mode and move elements around the screen. Then, as they've progressed to written code, they've converted the Yoga back to laptop mode and typed away. This has been a great way to get the kids involved and as a father, there's been few prouder moments than this: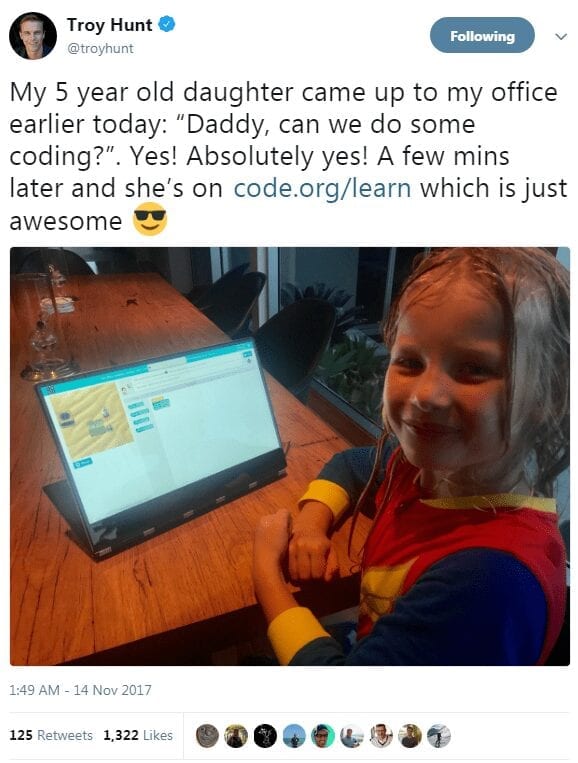 Here's how it all started with his then 6 year old son, in Minecraft.
For more from Troy, follow him on Twitter at @troyhunt, and stay up-to-date with his blog at TroyHunt.com.