Lenovo Research offered a glimpse into its commercial augmented reality (AR) platform a little more than a year ago on stage at Tech World 2017. The demo showed a technician working on a jet engine while wearing an AR headset that displayed information overlays to help diagnose issues and consult with colleagues. The collaboration unfolded in real time with unprecedented ease and precision—no need to look away at a technical manual or share photos after the fact.
Now, just 15 months later, that same technology is being used to power one of China's largest designers and manufacturers of passenger aircraft, COMAC (the Commercial Aircraft Corporation of China). On Nov. 6, at the Zhuhai Air Show in China, Lenovo Research and COMAC Shanghai signed a strategic partnership to help improve the quality and efficiency of China's commercial aircraft manufacturing and cut production costs.
"The combination of our two great teams will make huge contributions to artificial reality as it's used in the aircraft industry," said Daryl Cromer, vice president of Lenovo Research. "Lenovo believes what we do here today will improve manufacturing efficiency, improve quality, and reduce costs. Our partnership will be the example that companies everywhere look to, to realize just what truly is possible in an era of smart manufacturing, smart vertical transformation, and Smart IoT."
According to the agreement, both sides will work to explore how AR technology could be applied to China's commercial aircraft manufacturing, build up a joint AR Lab and team, develop new applications, and establish a set of industrial standards regarding the integration of AR with commercial aircraft manufacturing. More specifically, COMAC and Lenovo will use AR to intelligently assist in aircraft cable connector assembly, functional testing, installation inspection of complex structural parts and system parts, as well as remote assistance for factory equipment maintenance.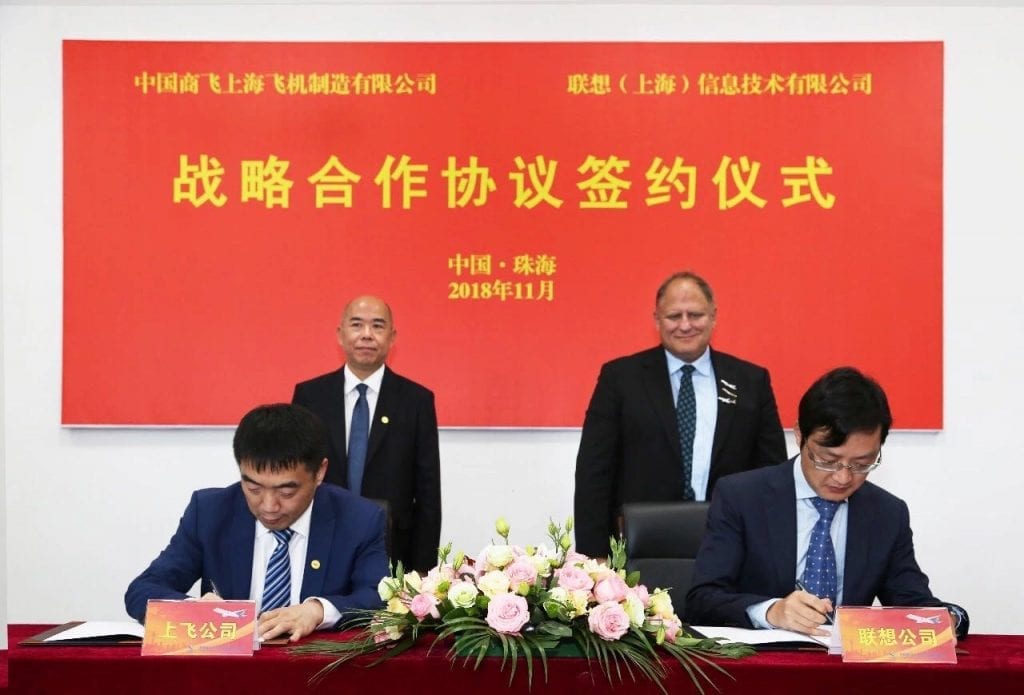 "Lenovo's new AR technology is an ideal solution to help build our Intelligence Manufacturing Park, ensure quality control, and contribute to product development," said Yu Zeming, the GM of COMAC Shanghai Aircraft Manufacturing. "It has been quite fulfilling for our team to collaborate with Lenovo Research to demonstrate how our cloud, data, and AI technology can make their way into commercial aircraft and bring benefits to our customers."
Lenovo daystAR
Lenovo Research unveiled its daystAR AR solution at Lenovo Tech World 2017. Since then, the solution has been applied to vertical sectors, including smart manufacturing, aviation, smart services and education. For instance, China's Suparna Airlines, which is affiliated with HNA Group, has introduced Lenovo daystAR solution into its airliner maintenance process.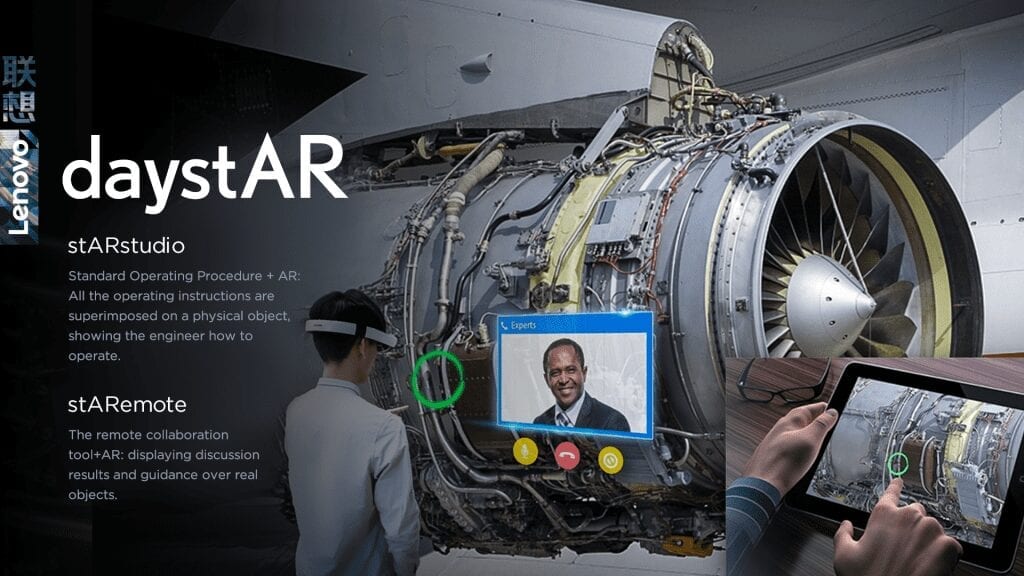 At Lenovo Tech World 2018, which concluded in late September, Lenovo Research launched the daystAR platform and stARkit SDK to enable more developers to push for the development of AR technology along with Lenovo.