A successful future starts with preparation and experience. Preparing for my career started by joining the career academy at my school, Lee County High School in Sanford, North Carolina, to take advantage of the career and college prep resources available. These programs connect students to business and community leaders to prepare students for successful futures in a variety of industries.
I personally became oriented with the Lenovo internship program through NAF. One of NAF's benefits is receiving an NAF track certification which states that you are well versed in corporate finance. To receive the certification, students need to complete a 120 hour internship. Last year, Lenovo reached out to NAF students to apply for their internship program. Having used a Lenovo ThinkPad throughout my high school career and knowing Lenovo was a global, Fortune 500 technology company, I saw the opportunity and took advantage of it. I'm one of the fortunate few to have a double internship with Lenovo – one in global communications in 2017 and one with Lenovo's Data Center group this summer.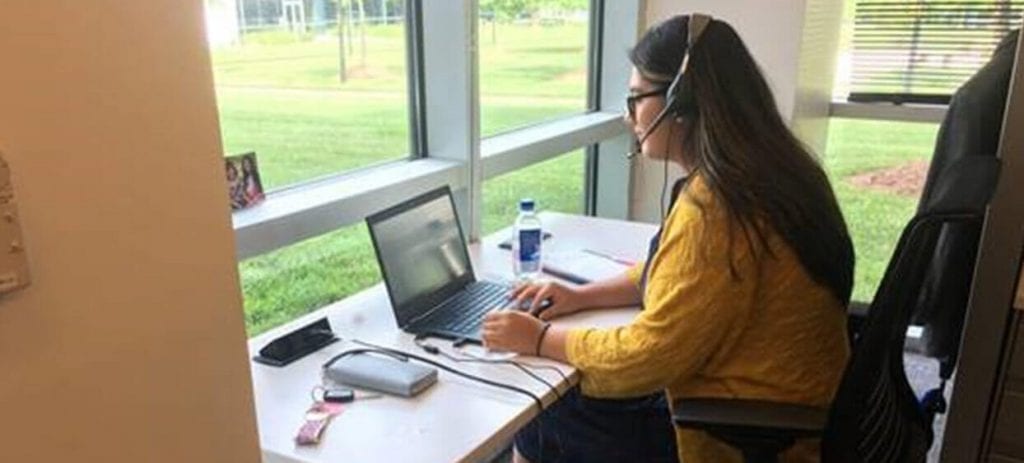 In my first internship, I wrote – a lot. I wrote a variety of articles for Lenovo Central – the global employee Intranet site. I wrote about everything from Girls Rock programming to STEM events for local elementary school kids to coding workshops. I was even given the opportunity to share my own internship story on the site. This is where I realized Lenovo's impact on the greater community. At these events, we taught elementary students about standards and workplace environments. Additionally, I conducted community outreach efforts and interviewed the people impacted through community relations.
I also developed and designed new content for the Lenovo Customer Center website. I was able to contribute to this project in a unique way because I helped my teams to understand the perspective of the end user and share what I felt would be most appealing to consumers.
I recognize the value of this internship for my future career. Working at Lenovo taught me that a corporation is like a machine – there are so many different business units and various skills that come together and make the entire company thrive. Not only did this opportunity teach me skills like time management, organization and confidence when taking initiative in the workplace, it brought new perspectives from the diversity of friendships I developed with my co-workers. I formed relationships through Lenovo's organized networking events, where I met fellow interns as well as executives and managers within the company. From the get-go, my colleagues welcomed and made me feel like a valued part of the team. I truly appreciative my time at Lenovo, and I will never forget this amazing experience.
Because of my positive experience last summer, I returned to Lenovo this summer. Lenovo gives me an opportunity to work with another side of the business, transitioning from working with the PC group last summer to working with the Data Center Group (DCG) communications team this summer, where I will be working with the social media team to create social and digital content.
I strive to take advantage of career growth opportunities and develop professional skills, and Lenovo has given me the opportunity to do just that. I believe Lenovo truly cares about their employees and investing in the future. This culture encouraged me to come back and continue my professional and personal growth at Lenovo and continue to prepare for my future career.
Olivia will be graduating high school in 2019 and hopes to study journalism or public relations in college. You can read more about Olivia's experience and Lenovo's internship programs in "From High School to Post-Grad: Lenovo Recruits and Develops Talent" and learn about Lenovo's available internships here.