At Lenovo, we are proud to have many employees in our business who are passionate about empowering underrepresented communities and fostering positive change.
One such individual is Santiago Mendez Galvis, EMEA Head of Philanthropy who led this year's Global Month of Service, an annual grassroots effort that champions volunteering to align with Lenovo Foundation's mission.
Last year marked our fifth annual Global Month of Service where we invited employees across 66 countries across Europe, the Middle East, and Africa to give back to their communities. Last year saw projects take place virtually, in line with Covid-19 restrictions, so we were excited this year to schedule several more in-person giving back initiatives, making a positive, yet safe impact.
"Central to our purpose is providing Smarter Technology for all and key to this is ensuring that children have the technology and tools they need to access education services," says Santiago. "So, this year's Global Month of Service was a great opportunity for our teams to work closely with local schools and education centres to provide them with a combination of equipment, knowledge, and manpower to make a difference."
There were so many inspiring projects that took place and I wanted to take this time to highlight just a few across the region.
In Tashkent, Uzbekistan, a team led by Aiherim Doskaray worked with a local school to prepare a syllabus for students aged between 16-18 years old from low-income families. The syllabus included a series of educational classes to develop skills related to future jobs with the aim of equipping young students with the knowledge and ability to achieve their dream jobs. The result of the project meant that 70 students were directly granted access to the syllabus with the hope that many more will have access in the future.
A similar programme also took place in Madrid, Spain where a team of 45, under the leadership of Juan Carlos Fuster and Victoria Silvela, launched TECH4ALL. The programme aimed to help 70 vulnerable children, aged from 5-12, succeed at school through a range of innovative, education programmes such as playing with robots through a programming script.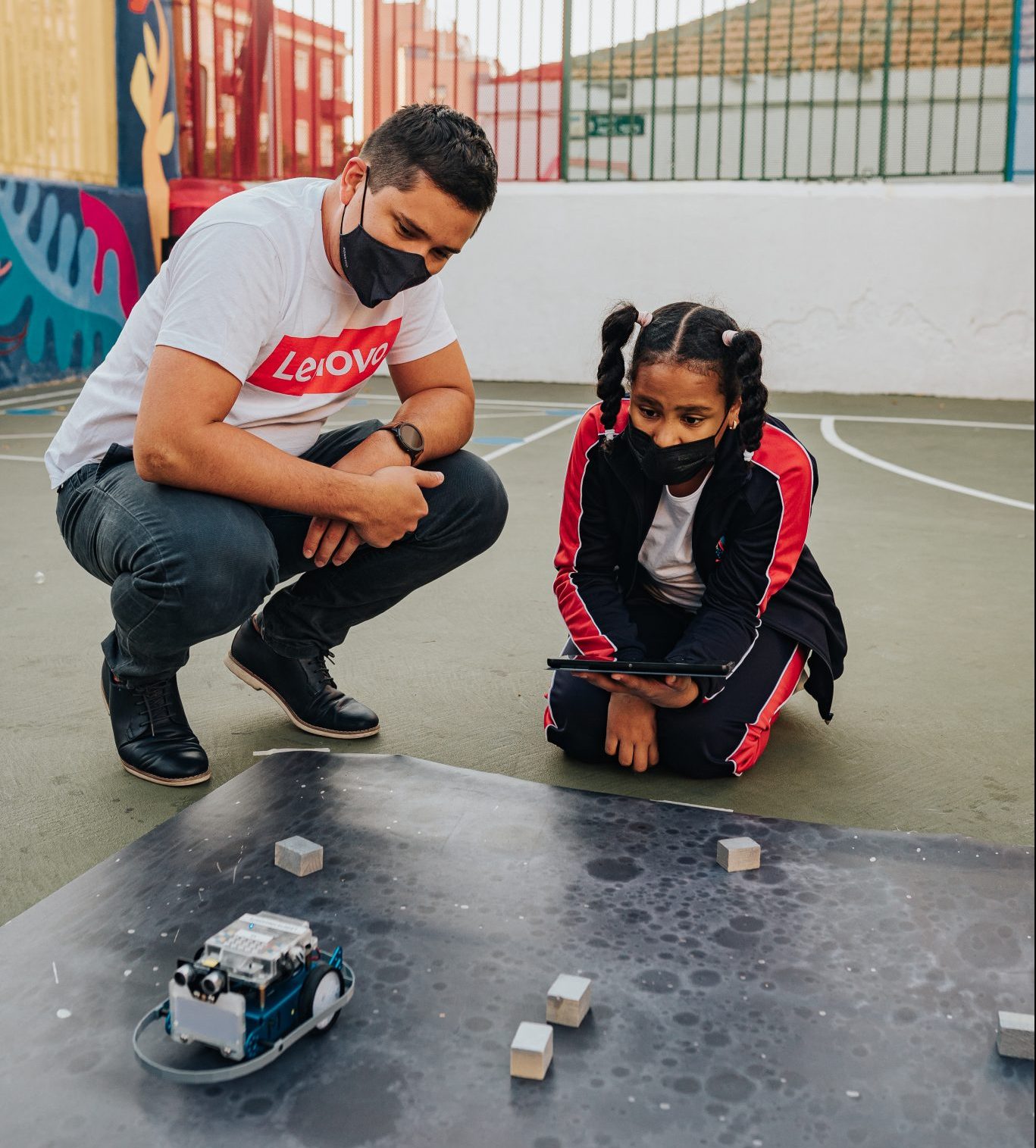 Our colleagues in Bratislava, Slovakia volunteered 56 hours of their time to create a virtual safari immersion experience for children with disabilities, headed up by Dominika Gajdosova. The session enabled them to meet and interact digitally with a range of animals in a new and exciting way. The immersive experience was available to 60 children from the centre who all thoroughly enjoyed the day.
In Riyadh, Saudi Arabia, with Rima Makki leading the charge, the team worked closely with both a local orphanage and the children themselves to understand what they needed to further their education and worked to fill these gaps with the supplies they were missing. The result was that Lenovo supplied 75 children and teenagers with school bags that included notebooks, pens and pencils, a pencil case and a water bottle, providing them with all the essentials they needed to return to the classroom.
Elsewhere, in Dubai, United Arab Emirates, our team worked with the Dubai Autism Centre to get them ready for the 160 school children returning for the new year. Led by Mazin Nagib, the team of 15 disinfected and sanitised the whole school, including classrooms, admin and play areas. This took the team 75 hours – a whole three days of cleaning.
In Paris, France, our colleagues invited 80 students from Becomtech and other schools to a conference debate on Quantum Computing with Fanny Bouton and Olivier Ezrattyt to find out more about the technology and how it is used in manufacturing. Following this the students were tasked with creating a working pinball machine using a 3D printer.
Similarly, in Istanbul, Turkey, students were also introduced to 3D technology for a 'Paint with Technology' day. The day saw students receive guidance and tutorials on how to paint and draw using 3D pens and colours to create paintings of their own. The team led by Cemre Devranoglu consisted of 25 volunteers who worked with 30 students in a fun and interactive workshop.
"Initiatives such as our Global Month of Service are so important to our business, allowing us to interact with our local communities and make a positive impact," adds Santiago. "From the bottom of my heart, I thank everyone who got involved. In EMEA alone, we had over 1,000 employees volunteer nearly 10,000 hours of their time to help with different projects across the region. This amazing effort meant we were able to directly impact over 9,000 members of local communities and over 20,000 more individuals indirectly."
Global Month of Service: Spotlight on Central Europe
Our fifth Global Month of Service saw colleagues across Europe engage in community projects in a number of different ways. Leading the charge was Santiago Mendez Galvis, EMEA Head of Philanthropy at Lenovo, who is passionate about helping our colleagues give back as part of Lenovo Foundation's mission to empower under-represented populations with access to technology and STEM education.
"There were so many amazing initiatives, and I would like to take this time to shine a spotlight on just some of our peers in Central Europe and the 166 volunteers that got involved in some truly inspiring projects," says Santiago.
In Bratislava Slovakia, several projects took place engaging nearly 1,000 people throughout the city, with our Lenovo team volunteering over 400 hours of their time.
For example, five of our colleagues volunteered with a partner we are long-term supporters of: the DePaul centre, a charity that works with homeless and marginalised people. As part of the ongoing partnership, Lenovo volunteers provide the staff and individuals who attend with groceries and toiletries as well as IT equipment to help them continue their great work. During Global Month of Service, the team, led by Timea Vorozova, tended to the garden and painted a homeless shelter for its occupants.
Petra Zatkova and her team of seven also worked with Pontis to help renovate the school centre for the 600 pupils who attend. As part of the project Lenovo provided equipment for the classroom as well as supplying a project management course to be added to syllabus – the volunteers even got their hands dirty by helping the teachers paint the fence around the school.
Additionally, with the Roma community largely being marginalised in Slovakia, our colleagues, headed up Alicja Skalna, provided English classes for 100 high school students from a Roma community, helping to give them access to the tools and education so they can succeed.
On top of all this great work in Bratislava, in Taraz, Kazakhstan, Alua Aituova and the team launched the Caring Heart project, to teach 20 children up to the age of 12, a masterclass on growing their own vegetables, waste management and recycling. The aim of the project was to shine a spotlight on how each and every one of us can do our part for the environment whilst connecting the kids to the planet.
Our colleagues in Warsaw, Poland, also undertook different projects, including working with children at the Kiesielany orphanage. Led by Monika Zelakievicz, the team of 81 arranged a picnic for the children including outdoor games and cooking workshops. The picnic was enjoyed by 74 children, teenagers and young adults helping to provide some light relief and a sense of community. The team didn't just stop there and will also be hosting children from the orphanage at Lenovo for an onsite tour so they can find out more about our work and hopefully inspire the youngsters into a career in technology.
Similarly, in Budapest, Hungary, Ildiko Arva and team worked with United Way Hungary to invite 23 students to the Lenovo factory to see what a typical day in the factory looks like. The students were able to enjoy a working session about careers in technology as well as tour of the factory and even the opportunity to test out some of the equipment.
And the list could go on and on of even more inspiring projects that took place across Europe. Thank you to everyone who got involved and made this year's Global Month of Service so impactful. I look forward to seeing what next year has in store!