Miniaturization is not a new concept. In fact, making things smaller is the holy grail of many industries, but none more so than the technology sector. Since the very early days of personal computing, engineers around the world have not only focused on faster and more intelligent, but also on smaller and more portable. The true transition to portable personal computing came in 1992 with the introduction of the ThinkPad 700C, with its timeless black bento box design with the red TrackPoint envisioned by Richard Sapper. However, further miniaturization of the classic laptop would result in an inefficient device, not suited to the rigors of today's working landscapes.
At this point, I could wax lyrical about ThinkPad engineering prowess over the years, and how 28 years of design and development have resulted in remarkable ground-breaking products. We have certainly been a leading innovator in the industry in form factor change and pushing the boundaries, sometimes maybe too far, but that isn't the point of this post. I want to talk about a new game-changing category, the foldable PC, that admittedly we have been talking about now for quite some time.

Three years ago, Christian Teismann unveiled a foldable concept at a Lenovo event in New York City. We committed to bringing this concept to market and while we could rationalize to delay considering today's global uncertainty, we strongly feel that the time is right to make good on that commitment.
As we formally launch ThinkPad X1 Fold order availability, I want to make a bold statement. X1 Fold is NOT a laptop. It has not been designed to be a "catch-all" device for everybody. It's a concept that illustrates the future of computing and offers a window to the potential that such a category can fulfil. In fact, I feel it's time for a major shift in personal computing, and the whole foldable category can and will redefine and reshape how we think of and use personal computing technology. Foldable screens are the future in all display categories and the potential is huge. To such a degree that we really need to find a catchier category name than "foldable"!
If not a laptop, then what is it? The best way to describe X1 Fold is that it is the chameleon of personal computing devices, adapting to its environment. You need it to be a laptop because you're drafting a long form blog like this one, sure it can do that. Open it up, put it on its stand, connect to a USB-C dock and multi-monitor setup at home or in an office and get to work. Classic PC functionality with no compromises.
So, it is a laptop? No, it's more, especially on the move. Fold it into a book and scan your social media posts. LinkedIn on the left side and Twitter on the right, or simply relax and read the latest blockbuster novel. But then an email comes in from the boss. She wants to review the quarterly sales tracker presentation. Quickly turn X1 Fold into laptop format (but remember, it's not a laptop!) and connect to the video conference on the upper half of the display, while you review the presentation on the lower half. Use the pen to make those all-important annotations. When you get to your appropriately social-distanced face to face board meeting, you can open the Fold up tablet-style to clearly present the sales tracker on the 13-inch display and simultaneously connect to the larger meeting room monitor. On the way to the airport, take advantage of 5G to video conference the family and then stream your favorite show while waiting to board your flight.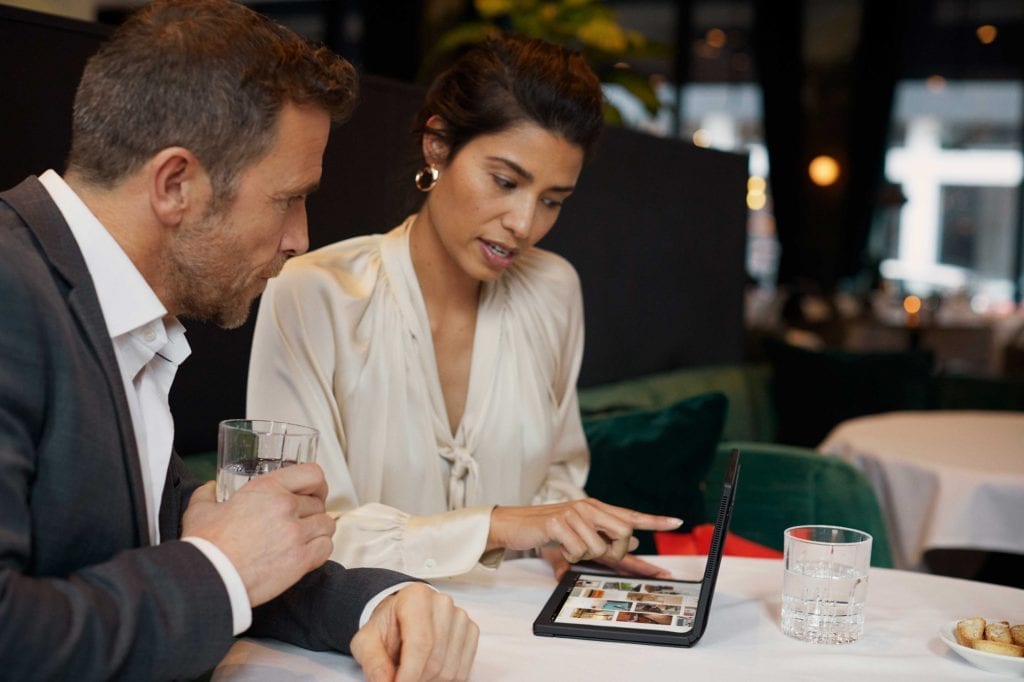 The point I'm making here is that X1 Fold and the whole foldable category fits into specific sweet spots, a single personal device that morphs into multi use cases and adapts to the scenarios you need without compromising screen size, durability, performance or versatility.
There are many potential use cases for a computing device with the power and display size of a laptop that can fold in half and virtually fit in a jacket pocket. Put in that way, why wouldn't you want one! And consider that this is not going to be a high-volume product. We are not going to call it a limited edition, but we are not making many, so if you do want one…
Use cases however are broad. Doctors and nurses can leverage the performance and portability as they move from ward to ward and even hospital to hospital without the size and weight inconvenience of a laptop. Construction site crews can manage materials, assets and workforce on the run. Highly mechanized farming would benefit from the light weight and small form factor, as well as 5G connectivity given them real time satellite imagery to better assess crop needs. Ship captains would have full access to crew and cargo manifests instantly on the upper display, while the lower display would show navigation plans and en route weather forecasts. Pick an industry and there will undoubtably be employees and sections of workforce that would benefit from a foldable computing device.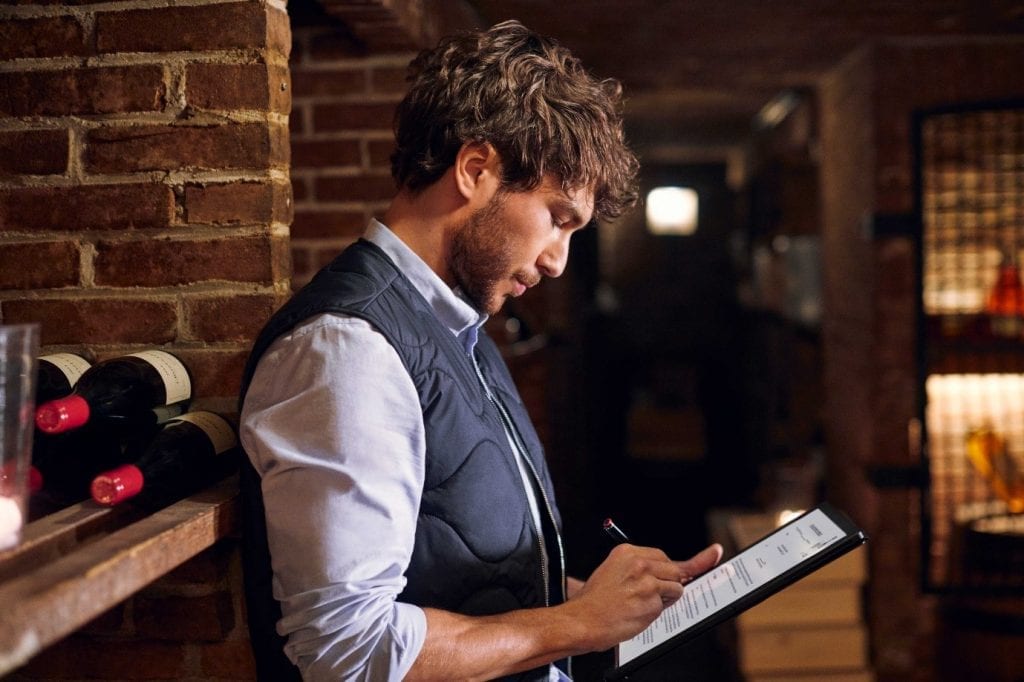 What are the compromises?
Not compromises as such but finding the sweet spot that marries customer expectations from a premium device that is adopting pioneering innovation, and a premium price point that ground-breaking technology dictates. Getting to that sweet spot is based on research, customer insight, feedback and trial and error in the concept and development process. This is something completely new and different, therefore we continue to learn and of course experiment.
In reality we don't know exactly what the optimum screen size is, but our research today suggests that 13-inch is the sweet spot for a device that needs to undertake multiple functions, and when folded offers the best compromise in size and weight for true portability. We fully anticipate different screen sizes in the future to address different needs and use cases. Customer insight and feedback however clearly stated that they would not accept any performance or productivity compromise and these requirements were critical factors in the assessment and selection of key partners. Working with Intel and their Hybrid processor technology was crucial in ensuring the right balance of power and performance management between different tasks and LG Displays were instrumental in the development of durable foldable display technology.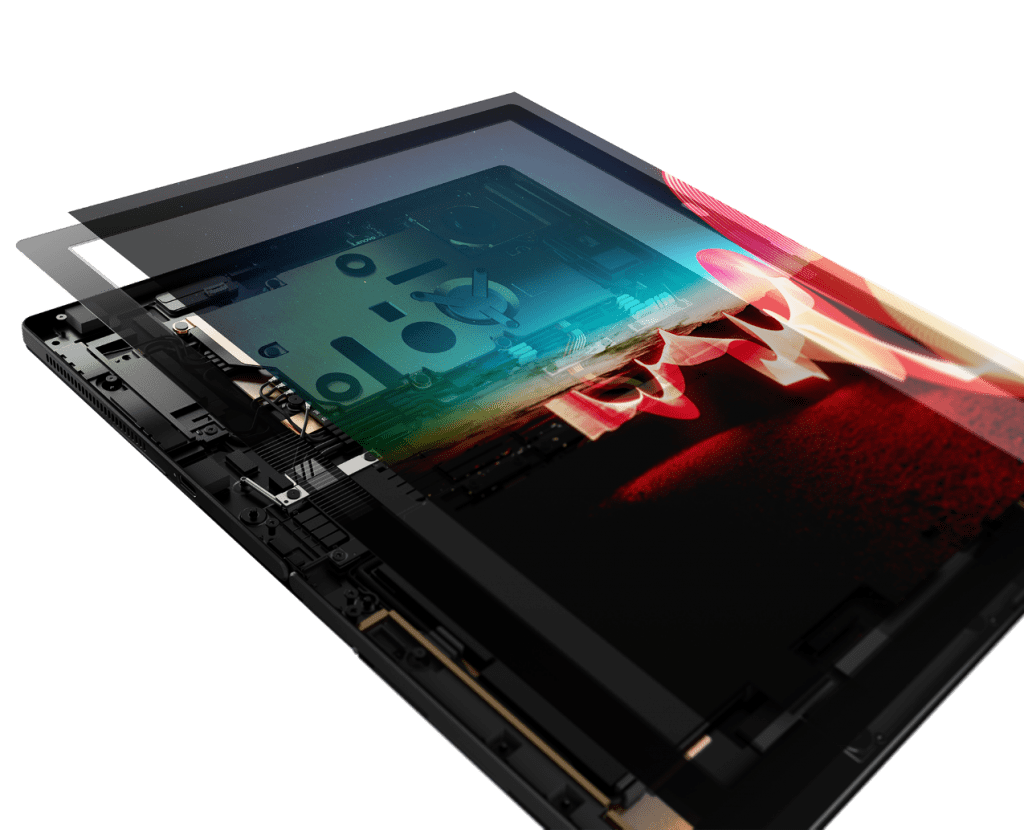 Customers also want familiarity and ease of use. Steep learning curves are unpopular and inefficient; hence operating system loyalty often prevails. Selecting Windows 10 was really a no-brainer for that reason, but the version itself was ultimately decided on availability to meet our time to market projection. We had to develop specific software to manage the various modes of operation and to make sure that user experience was as seamless as possible.
It is flawless? No operating system that has not been designed for a completely new category is faultless, nevertheless the user experience is pretty good. We expect future iterations of Windows to fully exploit the foldable category and further enhance a unique interaction.
For some it certainly will be. Twelve years ago, the ThinkPad X300 appeared on the cover on Business Week, with the headline "Building the Perfect Laptop". It wasn't perfect, but it was very good, and customers loved it! Fast forward to 2020 and some will feel that the X1 Fold is the perfect device…for them. Others have been talking about the price and there are many things in that respect to consider. A revolutionary folding display does not come cheap and manufacturing costs for such a device are high. Just looking at the tech market today reveals pioneering foldable or dual-screen devices command a significant premium. The ThinkPad X300 I mentioned earlier had a base configuration starting price just under $2,500, so in that context the X1 Fold that starts at $2,499 for a first of its kind, category defining PC device doesn't look so bad.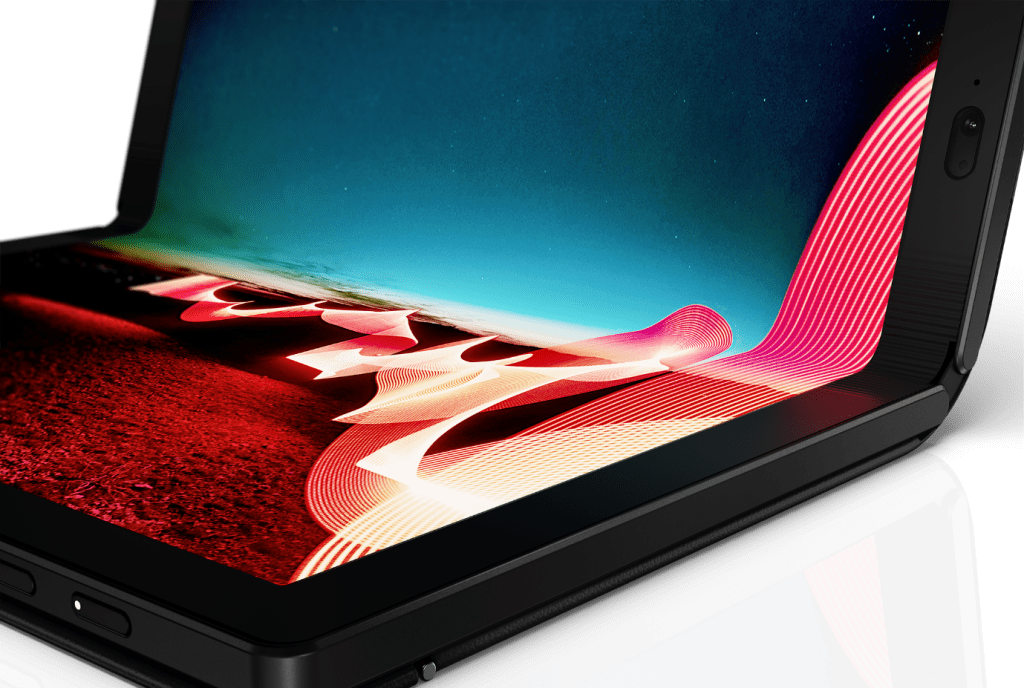 The overarching evidence however when introducing a whole new category to the world is not just about engineering marvels or magical designs, development involves an entire eco-system of people including user experience groups. Often, public reception to a completely new technology can be indifferent at best, even frosty. Human nature is typically averse to change. However, so many examples of significant change over history can be cited, but ultimately those that truly change the way we do things, perceive things, enjoy things will be successful.
Like many transformational events, all new things need full commitment, proper insight and requires early adopters, those who are excited and willing to take the plunge and want to be part of the ongoing development of an entirely new category. These are the trailblazers who help define and drive major shifts in technology.
But what do we call this category…answers on a postcard please!
Oh, and order your X1 Fold here 😊